Cobb County Gears Up for Battle to Control US Senate After Helping Joe Biden Win Georgia
Democrats and Republicans are focused on runoffs in Georgia's two U.S. Senate races that will determine control of Congress.
In Cobb County, pivotal in Joe Biden's electoral victory over Donald Trump, both major parties are preparing battle plans with national implications.
The Cobb County GOP has begun bringing in some heavyweights to mobilize registered Republicans to vote in the January 5 runoff election.
Last week in Marietta, the county seat, Sen. Marco Rubio of Florida campaigned with Georgia Republican Sen. Kelly Loeffler, and in support of Sen. David Perdue, at the Cobb County GOP Headquarters.The president of the National Federation of Republican Women, Ann Schockett, is scheduled to speak in the county on Friday.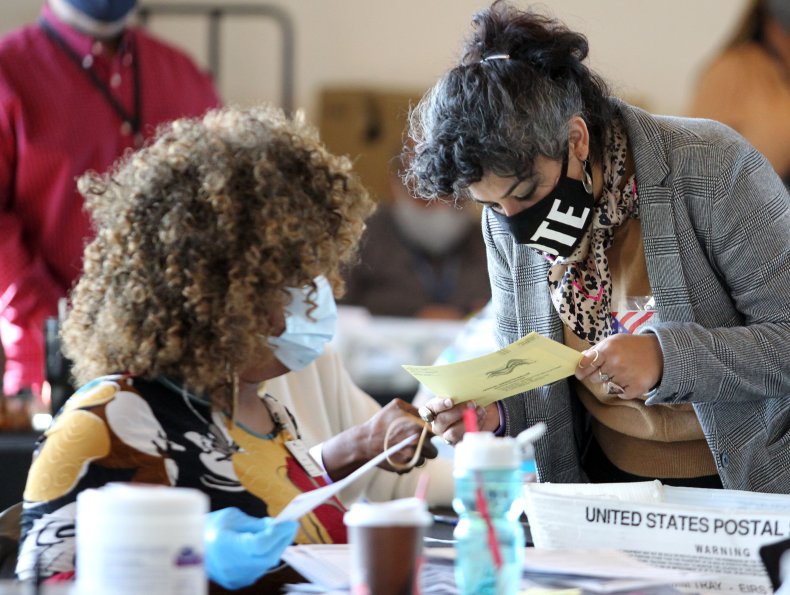 "Cobb is so important to winning this election," GOP county Chairman Jason M. Shepherd told Newsweek. "We need to make sure we get out our 160,000-plus voters in January to be able to win this."
Shepherd said the GOP Senate campaigns are restocking campaign signs and other materials in the early planning stages of the extended campaigns.
In Georgia, if a U.S. Senate candidate doesn't receive a majority of the statewide general election vote, the race goes to a runoff.
Perdue is opposed by Democratic challenger Jon Ossoff. Perdue has declined to debate his opponent in the runup to the January 5 runoff Election Day.
For Georgia's other U.S. Senate seat, Republican Sen. Kelly Loeffler, who was appointed to her seat, faces the Rev. Raphael Warnock, a Democrat.
Cobb County Democrats are developing their plan of attack to build on their successes. In the election on November 3, Democrats won control of the county Board of Commissioners, and will hold a 3-2 majority starting in January.
Democratic nominee former Vice President Joe Biden, the presumptive president-elect, captured a decisive 14.32% victory over incumbent Republican President Donald Trump in Cobb County, according to Cobb County Elections & Registration official results.
"It's a turnout election. Whoever can turn out the most voters is going to win," Cobb County Democratic Committee Chair Jacquelyn Bettadapur told Newsweek. "The name of the game, as far as I'm concerned, is to focus on people who did vote in the November 3 election and just try to get as many of them out to vote again as we can."
Typically, the number of voters casting ballots in runoffs and special elections is lower than in general elections, and that, combined with complications of the COVID-19 pandemic and the end-of-the-year holidays, will present challenges in matching the November 3 turnout, both county chairs said.
According to Cobb County Elections & Registration, 73.76% of the county's 537,611 registered voters cast a ballot in the recent election.
For the runoffs, in-person early voting is scheduled to begin on December 14, and absentee ballots will be sent to registered voters who request them.
In Cobb County, Ossoff beat Perdue by 10.54%, while Warnock defeated Loeffler by 12.23% in a race in which more than a dozen candidates appeared on the ballot.
If the Democrats win both Georgia runoffs, the US Senate will have no majority party, leaving Democratic presumptive Vice President-elect Kamala Harris to cast tie-breaking votes.
Biden has been declared the winner of the state and its 16 Electoral College votes by most major news outlets, and according to unofficial results, the Democrat leads Trump by less than 1%, approximately 14,000 votes.
Georgia Secretary of State Brad Raffensperger, a Republican, ordered a hand recount of the presidential vote. The count is ongoing, with a Wednesday night deadline. Both Republican senatorial candidates have called for his resignation, and he and his family have received death threats.
Bettadapur said the Cobb County vote audit is about to wrap up with no significant changes in the number of votes for the presidential candidate.
Once the audit is complete and the election results are certified, Shepherd said, he anticipates the president, and perhaps the two Republican incumbent senators, will file suit for a full recounts of votes.
In 2016, former Secretary of State Hillary Clinton won Cobb County by 2.1%, after Republican nominees Mitt Romney won it by 12.42% in 2012 and Sen. John McCain carried it by 9.4% in 2008.
In nearby Gwinnett County, Ossoff won by 16.25% over Perdue. Warnock had 13.5% more of the vote than Loeffler. In Gwinnett County, Joe Biden defeated Donald Trump by 18.22%.
In 2016, Clinton bested Trump by 5.79% in Gwinnett County. In 2008 McCain won Gwinnett by 10.21% and Romney took the county by 9.20% in 2012.