Cobie Smulders Spills on 'Friends From College' Season 2 and Whether Fans Should Like the Characters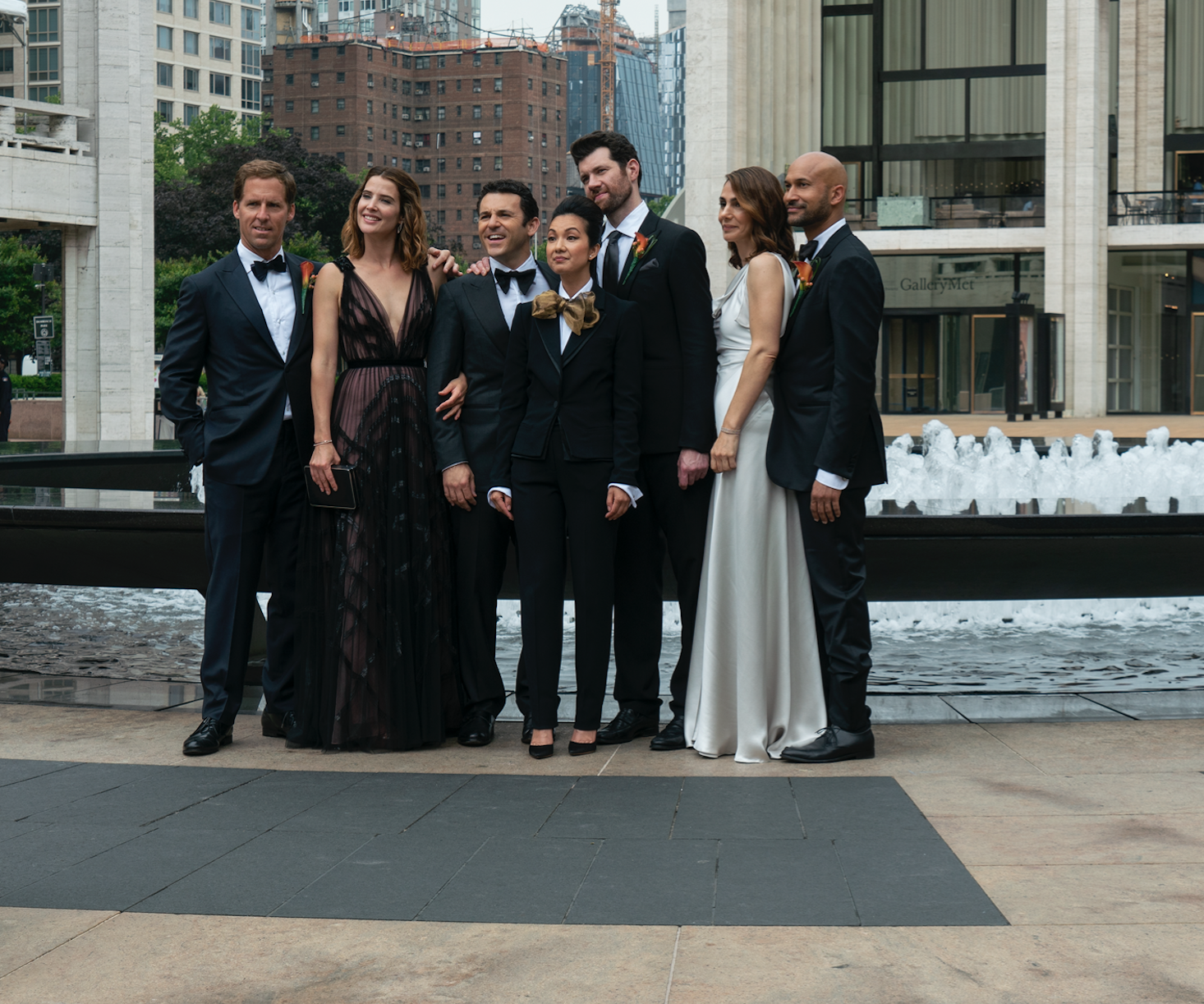 Whether you're ready or not, Friends From College returns to Netflix for Season 2 on Friday. Created by married couple Nicholas Stoller and Francesca Delbanco, Season 2 will pick up right where things concluded in Season 1.
Friends From College stars Cobie Smulders, Keegan Michael Key, Fred Savage, Billy Eichner, Annie Parisse, Nat Faxon and Jae Suh Park. The show follows a group of Harvard alumni residing in New York City as they embark upon the highs and lows of their 40s. When Season 1 hit Netflix in July 2017, the show concluded with Lisa (Smulders) revealing to her husband Ethan (Key) at Sam's (Parisse) birthday party that she cheated on him with Nick (Faxon). Ethan, however, forgives her instantly because he's still hiding his long-term affair with Sam. Lisa then suggested the couple take a break.
In Season 2, Ethan and Sam's affair is now known— even to Lisa. As the friend group remains broken, Lisa goes M.I.A.
"This entire season is dealing with [what happened in] the last season," Smulders, 36, told Newsweek. "Friendships have changed. Relationships have been totally broken. This group of friends is so weird in [that] they're more like a family, and you can't really let go of family. They are back together, but it is dealing with this new dynamic between each of the characters."
While Friends From College was successful enough in its premiere outing to score a Season 2, it wasn't a big hit with critics. Many reviews, in fact, cited the show's core friend group as the reason for their dislike of the show.
Vox suggested "there's a lot to be frustrated about with this show" but noted it's "indulging its characters' worst traits without offering any nuanced commentary to speak of." IndieWire, for its part, wrote: "It's shocking how dumb a group of Harvard alumni can be." With this in mind, the following question is worth asking: are viewers supposed to like these characters?
"I thought about that a lot with the last season, like, 'Why are we watching these characters? They don't even like each other,'" she said. "First of all, it's a comedy. So there is a layer of ridiculousness that's in there. The reason that I think it works for our show is it's about regression."
Smulders elaborated by explaining how the friends reuniting years after graduating from Harvard has influenced their regressing, adding: "It's about this interesting thing that happens...You kind of morph back into this version of yourself that was in [your] late teens or late twenties, or whatever time period that was. For these people, they spent this time in college together and there is this weird regression that happens. It's very childish."
Smulders said the characters on the Netflix series are "constantly asking themselves" why they're all associated with each other, but she suggested the group "can't help but kind of gravitate back to each other because there's such a deep history there."
Friends From College Season 2 is now streaming on Netflix.