Which 'The Karate Kid' Actors have Returned to 'Cobra Kai'?
The fourth season of Cobra Kai launched on Netflix on Friday, December 31 and it saw the return of classic Karate Kid villain Terry Silver.
Silver, portrayed once again by Thomas Ian Griffith, originally appeared in the ill-received The Karate Kid: Part III, and in the new season he joins forces with John Kreese (Martin Kove).
But Griffith isn't the only star from the original Karate Kid film franchise to return to the Netflix hit series, and here Newsweek will reveal all the cast members who have returned.
1. Ralph Macchio as Daniel LaRusso
The Karate Kid himself Ralph Macchio has been part of the Cobra Kai family since it first began in 2018.
Macchio once again plays Daniel LaRusso, who is now the owner of a successful car dealership and has a wife and two kids.
The events of the spin-off series sees him reignite his former feud with Johnny Lawrence, which brings us to...
2. William Zabka as Johnny Lawrence
William Zabka, like Macchio, returns to his iconic role of Lawrence for the show, which centers around the two rivals, and has starred in it since the beginning.
Unlike LaRusso, Lawrence is down on his luck and only reopens the Cobra Kai dojo after he helps a teen fend off bullies using his karate skills, which he was a student of himself in the Karate Kid movies under John Kreese's tuteladge.
3. Martin Kove as John Kreese
Martin Kove portrayed Kreese in all three Karate Kid movies, and he has returned to the role in Cobra Kai.
While he was a special guest in Season 1, he has since gone on to be a main character since Season 2.
Kreese takes back control of the Cobra Kai dojo in Season 2, and in Season 3 he agrees to shut it down if he and his prodigies lose to LaRusso, Lawrence and their students at the All-Valley tournament in Season 4.
4. Thomas Ian Griffith as Terry Silver
As previously mentioned, Griffith is back as Silver in Season 4 of Cobra Kai, and he is part of the show's main cast.
Silver is brought into the fray by Kreese, who called him at the end of Season 3 in order to get help in the tournament against LaRusso and Lawrence.
5. Elisabeth Shue as Ali Mills
In Season 3, Elisabeth Shue made a cameo as Ali Mills, who she played in The Karate Kid and The Karate Kid II.
Mills dated LaRusso in high school but they broke up by the end of the first film, and the pair reconnect when she bumps into him and his wife while on an outing with Lawrence.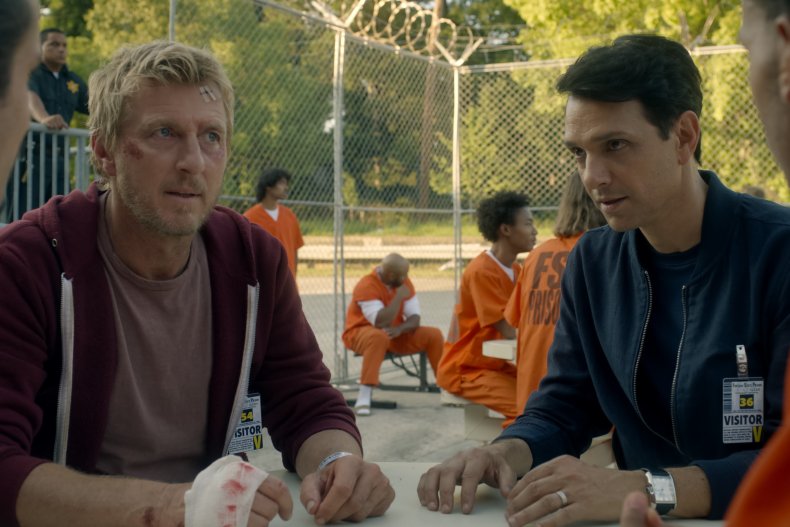 6. Randee Heller as Lucille LaRusso
Randee Heller reprises her role as LaRusso's mother Lucille in cameo roles in Cobra Kai.
While she initially has issues with her son's wife Amanda (Courtney Henggeler) she resolves this, and she also reminisces about Mr. Miyagi with her son.
7. Tamlyn Tomita as Kumiko
Kumiko was a character who originally appeared in The Karate Kid II, and Tamlyn Tomito reprises the role in Cobra Kai.
The character, who hailed from Okinawa, was a love interest for LaRusso in the original film, and in the sequel series she meets him after years apart when he decides to visit the island.
8. Yuji Okumoto as Chozen Toguchi
In The Karate Kid Ii, LaRusso also became rivals with Chozen Toguchi who challenged him to a fight to the death.
Yuji Okumoto reprises the role of Chozen in Cobra Kai and appears in Season 3, he reunites with LaRusso during a meeting with Kumiko and it is revealed he is a Karate instructor in Miyagi-Do in Okinawa.
9. Ron Thomas as Bobby Brown
Ron Thomas reprises his role as Bobby Brown in Cobra Kai, and he first appeared in The Karate Kid and The Karate Kid II.
His character was a friend of Lawrence and trained with him at the Cobra Kai dojo under Kreese's tutelage, and he is now a pastor.
10. Rob Garrison as Tommy
Tommy is also a friend to Lawrence and was part of the Cobra Kai dojo during the events of the original film franchise.
Rob Garrison returned to the role and first appeared in Cobra Kai Season 2, in it his character is terminally ill with cancer and he dies after leaving hospital and going on a trip with Lawrence, Bobby, and Jimmy.
11. Tony O'Dell as Jimmy
Like Bobby and Tommy, Jimmy is a friend of Lawrence's who also trained in the same dojo and he appeared in both The Karate Kid 1 and 2.
Tony O'Dell reprises his role as the character and has made several guest appearances in Cobra Kai.
Cobra Kai season 4 is available to stream globally on Netflix now.