'Cobra Kai': All the Clues That Elisabeth Shue Will Appear in Season 3
Cobra Kai Season 1 and 2 have featured plenty of Easter eggs to The Karate Kid, with cast members like Ralph Macchio and William Zabka returning to the world of the Netflix series. One character who has not made a return yet, however, is Ali Mills (played by Elisabeth Shue), the love interest from the 1984 movie of both Daniel (Macchio) and Johnny (Zabka).
There are a number of big clues, however, that the upcoming Season 3 will be the time that Shue finally turns up. There have been some unverified reports that she has been seen on set, the actress herself has made some hints, and the following clues and theories seem to hint at her return to the world of The Karate Kid.
All the clues that Elisabeth Shue will appear in Cobra Kai Season 3
The Season 2 finale
The final episode of Cobra Kai Season 2 offered the biggest clue yet that Ali-with-an-I will show up in the series. In that episode, titled "No Mercy," we see Johnny's phone, where a social media notification pops up and reveals that Ali has sent him a friend request.
This could just be the latest in a set of teases to the character, but it could also be the biggest clue that Johnny and Ali will go from being virtual friends to meeting again IRL for the first time in three decades.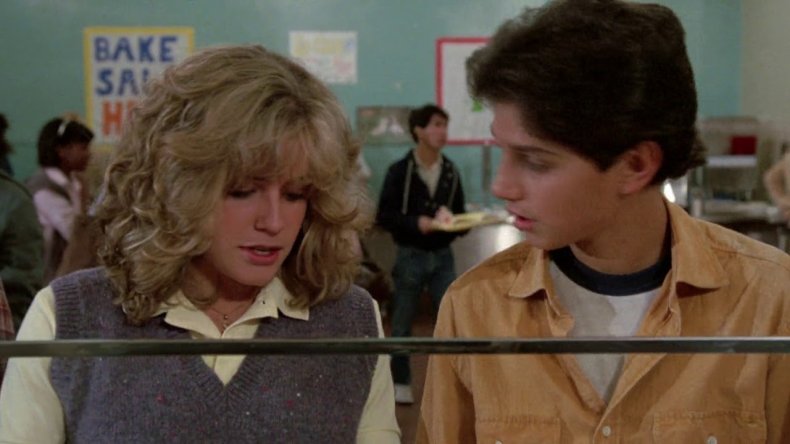 Cast members hint at Elisabeth Shue's return
Both Ralph Macchio and William Zabka have hinted that Shue will make an appearance in Cobra Kai Season 3.
Zabka told PopCulture.com: "Yeah, there's no secret that there's talk about it. I believe she's been approached and hopefully there could be a couple spots with her where she's kind of open to the possibility, and that's as much as I know."
Macchio, meanwhile, hinted to the added: "They certainly approached [her] and have questioned it. We know that she really enjoyed the show and sees the quality of the show. So yeah, I think the door is open for something there."
Elisabeth Shue teases return
Shue herself has also hinted that she will be back. Speaking to ET Canada, the actress said: "I have seen it [the show] and I thought it was really well done. I'm thinking about it [making an appearance]."
Asked in the interview by her The Boys co-star Anthony Starr whether she had been offered a part in the show, she nods.
Ali is Tory's mother
Fans wondering exactly how Ali will enter the Cobra Kai world have started to offer some theories that she may be related to a character that we have already seen in the Netflix show.
One major fan theory has it that she might be the mother of Tory Nicholas (Peyton List), the bad girl character introduced in Season 2. When Tory introduces herself as "Tory...with a Y," fans noticed the reference to Ali, who introduced herself as "Ali...with an I." Though this could just be a fun reference to The Karate Kid, it could also be that Tory learned this from her mother.
Fans have also noted that as Tory has made an enemy of Sam LaRusso (Mary Mouser), the child of Daniel LaRusso (Ralph Macchio), this would put Daniel at odds with his ex Ali, an interesting development for Cobra Kai Season 3.
Miguel's savior
Another fan theory revolves around the events of the Cobra Kai Season 2 finale. Ali's friend request to Johnny is one thing, but fans have also posited that her return may have something to do with the serious injuries that Miguel (Xolo Mariduena) was left with after being kicked down the stairs.
After all, the show has established that Ali is now a top surgeon, so she may be the only person who can help Miguel survive his injuries, which include a fractured spine.
Cobra Kai Seasons 1 and 2 are streaming now on Netflix; Season 3 is coming in 2021.