'Cobra Kai' Season 3: Why Episode 1 Pays Tribute to Rob Garrison
Cobra Kai is not usually a show with much time for sentimentality, but Season 3's first episode found time to pay tribute to actor Rob Garrison, who died in 2019 after appearing in both the Netflix series and the film it spun off from, The Karate Kid.
At the end of Cobra Kai Season 3, Episode 1, titled "Aftermath," the title card features an image of the actor in the original Karate Kid and then in Cobra Kai Season 2, alongside text that read, "Rob Garrison 1960 - 2019 Cobra Kai never dies."
In the Netflix show and the 1984 movie, as well as its sequel The Karate Kid Part II, Garrison played Tommy, a one-time member of the Cobra Kai dojo under John Kreese (played by Martin Kove). He is the fighter who says the "get him a body bag!" line during the climactic fight in the first movie.
Kove wrote in a statement to press following the death of Garrison in 2019, "To the Spirit of my friend Rob, I will see you up there one day and we will have the dojo to ourselves, because Cobra Kai down here won't be the same without you on 'this' planet."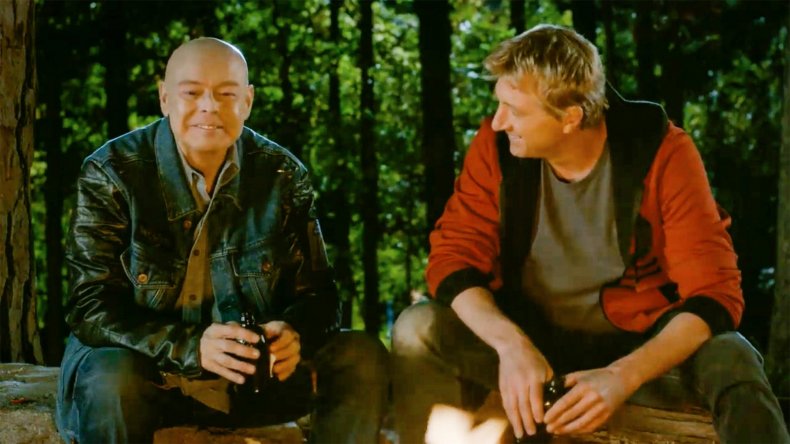 Daniel LaRusso actor Ralph Macchio, meanwhile, said, "Rob Garrison was a kind gentleman from the first day I met him to the last day we spoke. I am so glad he had the opportunity to show his range and genuine heart with his performance last season on 'Cobra Kai'...My thoughts are with his friends and family"
Per USA Today, the actor died after a month in hospital following problems with his kidneys and liver.
Garrison passed in September 2019, five months after he made his appearance in Cobra Kai Season 2, Episode 6, "Take a Right." In that episode, Tommy is among the former dojo members who Johnny (William Zabka) meets up with for one last time.
Poignantly, this episode saw the old team gather together because Tommy was terminally ill, and the episode ends with the character dying in his sleep.
Aside from his work in Cobra Kai and The Karate Kid movies, Garrison starred in the cult horror Prom Night and the Robert Redford film Brubaker. He also had roles in TV series such as St. Elsewhere, MacGuyver and Colombo.
In a Twitter thread, Cobra Kai showrunner John Hurwitz said of Garrison's Cobra Kai appearance, which was the actor's final onscreen appearance, "I'm heartened to know how much Rob enjoyed and cherished his time working on Cobra Kai.
"We were looking forward to seeing his smiling face again this season, as we had plans for Tommy to ride again. But he'll remain in our thoughts every day as we strive to make him proud."
Cobra Kai Seasons 1 to 3 are streaming now on Netflix.