'Cobra Kai': When Will Season 3 Come to Netflix?
Cobra Kai has now been released onto Netflix and has found a new audience. The Karate Kid spin-off was on YouTube Red until the end of August, when its 20 episodes (so far) moved to a new streaming service. Netflix, however, is not just airing the old episodes but is also making Cobra Kai Season 3, whose release date was teased in a recent trailer.
When will Cobra Kai Season 3 come to Netflix?
The recent promo for Cobra Kai's third season revealed that the next set of episodes are coming to Netflix in 2021. However, the trailer was not more specific about the month or day that fans will get more from the famous dojo.
However, there is a suggestion that the episodes will be streaming sooner rather than later. While dozens if not hundreds of shows have seen their next seasons postponed by the delays on filming caused by the coronavirus, Cobra Kai was able to finish filming Season 3 before lockdown—in fact, it seems that the show was ready to be released in early 2020.
Cobra Kai creator Josh Heald told CBR: "We were still doing some finishing touches for the effects and some quality checks on season 3 while the quarantine aspect of the pandemic was just beginning but we finished our final mix—the last big piece of post-production—that was done in-person with raising champagne and eating cupcakes and all the things you do to feel like you're at your absolute unhealthiest coming out of the completion of a season. So, there were no major delays in terms of COVID."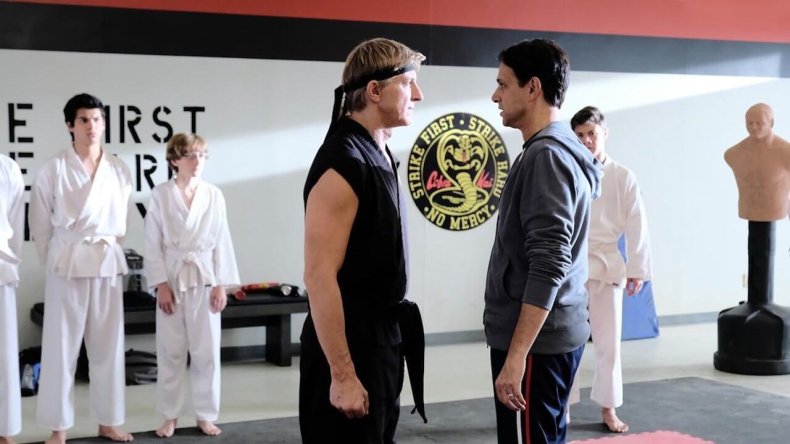 The show was presumably ready in early March because the makers were expecting the Season 3 to come to YouTube Red (or as it is now known, YouTube Premium) in April, a year after the previous season dropped. Initially, Cobra Kai was renewed by YouTube in May 2019, but just over a year later it was reported the show would be moving to Netflix.
As for why Netflix has chosen to delay the release of Cobra Kai Season 3, it is likely to be a combination of factors. Firstly, they would have had to likely make a deal with YouTube for when the episodes could come to Netflix (though they are also still streaming at their original home). Netflix then released the first two seasons in order to build up excitement and an audience for the third season of the show.
Based on previous shows which have been continued by Netflix, it could be anything from three months to a year before fans get to see Cobra Kai 3. When Netflix took over The Killing for Season 4, for example, that season came out only six weeks after the first three seasons were dropped onto the streamer. Designated Survivor, however, took 13 months between the last episode of Season 2 coming to the streamer and Season 3 airing.
However, as Cobra Kai Season 3 is already completed, it is likely to be sooner rather than later. It is likely that Netflix will try to leapfrog off the back of the success of the first two seasons by releasing the next one in between three or six months' time. This means a release date of anywhere between January and March 2021.
Cobra Kai Seasons 1 and 2 are streaming now on Netflix.