'Cobra Kai': Ralph Macchio Hints at Big Change For Season 3
Cobra Kai fans have binged the first two seasons of The Karate Kid spin-off since they have come to Netflix and are eagerly anticipating the next season, which has already been filmed and is ready for a 2021 release.
The show is sure to pick up on a lot of the threads left hanging in the last season finale, which saw John Kreese (played by Martin Kove) take over the Cobra Kai dojo from Johnny Lawrence (William Zabka) while Miguel's life (Xolo Maridueña) was in the balance after he was kicked off a staircase by Robby (Tanner Buchanan).
Fans of the Netflix show, however, may have noticed that compared to other characters, Daniel LaRusso (Ralph Macchio) was not left in a cliffhanger at the end of the show. Though Miyagi-Do is sure to face some problems after the mass karate brawl at the school, he personally is not left with any problems. His marriage seems to be back on the mend, after all, and he has got Mr. Miyagi's medal of honor back.
According to Cobra Kai star Ralph Macchio, there is a major reason why the show has tied up a lot of his storylines – because his character is set to leave the country for at least some of Season 3.
In an interview with Conan O'Brien, the actor said, "I have been to Okinawa, for some shooting of Cobra Kai Season 3, which I cannot talk too much about.
"But I can say it dives into the origin of Miyagi-Do Karate. We learn a little bit, some secrets of past history that is new to the audience, and to LaRusso, my character, and we actually went to Okinawa to shoot."
This latest plot move mirrors a similar one in The Karate Kid II, which saw LaRusso and Mr. Miyagi (Pat Morita) head to Japan—although, as Macchio pointed out, that time they never went to Japan and actually filmed in Hawaii.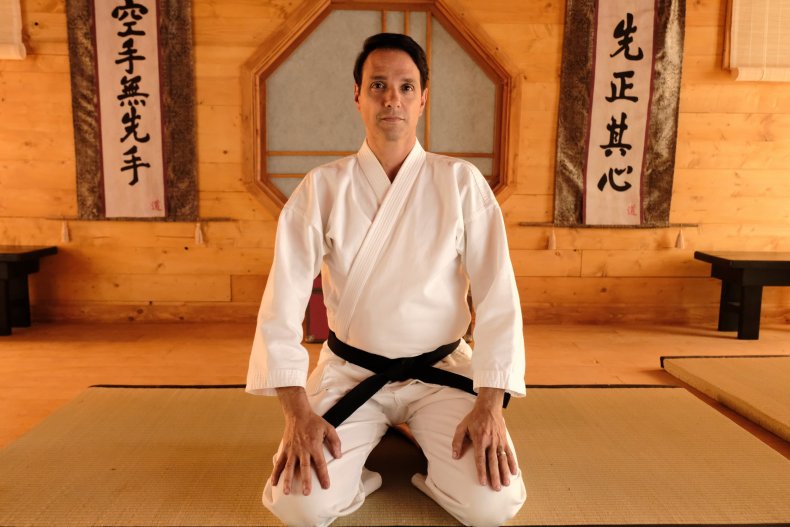 This new Okinawa subplot had been teased in the Netflix trailer for Cobra Kai. Though most of the promo features clips from Season 1 and 2, we did get a brief glimpse of Season 3.
In this trailer, we get a brief glimpse of what is presumably Japan, and we hear LaRusso say, "Mr. Miyagi treated me like a son, he wouldn't keep any secrets from me," to which an unseen person he is sparring with replies "are you sure about that?"
With LaRusso in Asia, this might set up another potential big plot for Cobra Kai Season 3; The return of Ali Mills (Elisabeth Shue). After the finale saw her send Lawrence a Facebook friend request, an appearance in the next season seems likely.
As such, the show could see Mills and Lawrence get closer, only for LaRusso to return and discover that the ex-girlfriend he never got over might be involved with his great rival.
Cobra Kai Season 3 is coming in 2021 to Netflix.