'Cobra Kai' Season 3: Show Boss Gives Release Date Update
Cobra Kai has proven a hit for Netflix, with the first two seasons of The Karate Kid topping the streamer's most-watched TV charts until, coincidentally, it was beaten by Away, starring one-time Next Karate Kid Hilary Swank. Viewers who have found themselves charmed by Cobra Kai will be pleased to know that the show has already been ordered for Season 3 by Netflix. The release date for the next seasons has not fully been announced, however.
Fans should not have that long to wait, however, before they get to see the latest installment in the rivalry between Daniel LaRusso (played by Ralph Macchio) and Johnny Lawrence (William Zabka).
According to the makers of the show, the next series of episodes are all ready to go. This was revealed by Cobra Kai showrunner Jon Hurwitz when a fan asked whether Season 3 had been filmed.
In a tweet, Hurwitz said, "Filmed. Edited. Ready to go. Look out for it on @netflix in 2021."
In fact, filming has long been completed on Cobra Kai Season 3. Filming ended on the season at the end of 2019, ready for its original release date on YouTube in April 2020. However, Netflix then bought the rights for the show, delaying its release.
Post-production on the show was completed just as filming shut down on other shows due to the coronavirus. This was all confirmed in an interview Cobra Kai co-creator Josh Heald had with CBR, in which he said: "Thankfully with Season 3, we wrapped production before the end of 2019 and we wrapped post-production...I think there was a little bit of overlap.
"We were still doing some finishing touches for the effects and some quality checks on Season 3 while the quarantine aspect of the pandemic was just beginning but we finished our final mix—the last big piece of post-production—that was done in-person with raising champagne and eating cupcakes."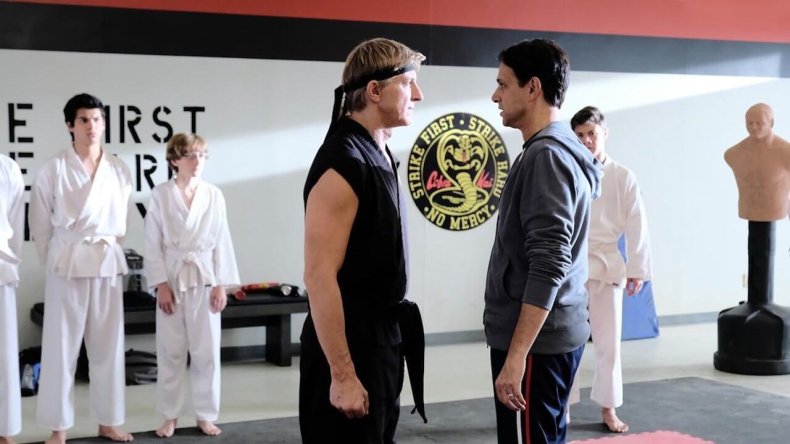 Speaking of the delay between Season 2 (which was released nearly 17 months ago) and Season 3, Heald said, "obviously, when Season 3 would've come out on our previous platform was impacted by the fact that we have moved to Netflix and this large audience is now getting the opportunity to experience [Seasons] 1 and 2 before rushing into getting Season 3 right out."
So far, Netflix has not revealed exactly when in 2021 the next 10 episodes of the show will be released. However, if they follow the previous release pattern of the show, it should be coming to the streamer in the spring.
Cobra Kai Season 3 is coming soon to Netflix.