Coca-Cola and the Supreme Court: How Coke Played Part in Ford and Hill Testimonies
When Dr. Christine Blasey Ford's hearing before the Senate Judiciary Committee returned from recess, viewers were quick to notice the bottle of Coca-Cola that she placed on the desk.
On Thursday, Ford appeared before the Senate Judiciary Committee to answer questions about her accusation that Supreme Court nominee Judge Brett Kavanaugh sexually assaulted her while the two were in high school.
After hours of answering questions, the hearing took a brief recess and when they returned, Ford reached into her bag, took a sip, and then placed the Coca-Cola bottle on the desk. The bottle, which appeared in almost every camera shot of Ford, prompted people to point out the advantageous placement for the beverage company. Newsweek reached out to Coca-Cola but did not receive a response in time for publication.
Journalist Kenneth Vogel tweeted that you "can't buy that kind of product placement." A company may not be able to pay for this kind of coverage, but best-selling author Thrity Umrigar said if she were an ad executive at Coke, she'd capitalize on the moment.
"I would spend $20 million on an ad campaign with a picture of Dr. Ford at the Senate hearing sipping from her bottle of Coke with one single word: Courage," she tweeted.
Given all of the television time the company received because Ford chose the beverage, some on social media suggested Coca-Cola pay for all of her expenses.
While some just pointed out the supreme advertising space the company received, others claimed all the attention Coke was getting was a pivotal point for the company.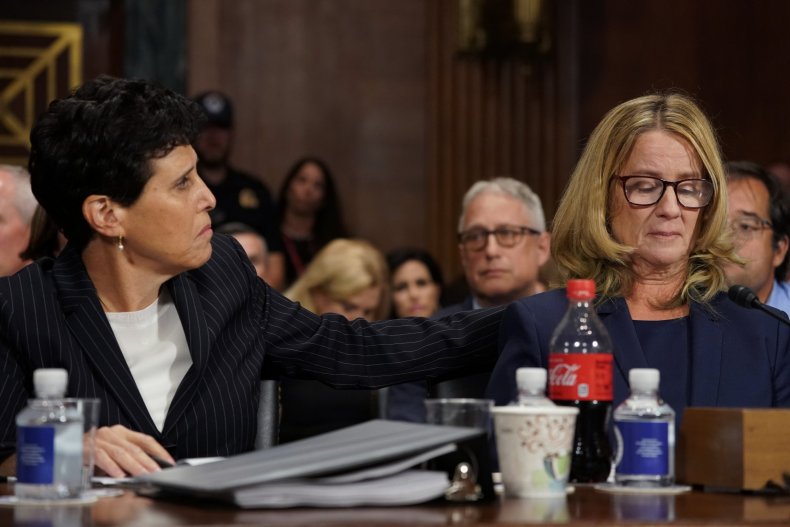 Filmmaker Morgan Freeman, not to be confused with the actor, tweeted that Coca-Cola has a "short window" to vocalize its support for Ford and all sexual assault survivors.
Others pointed out the unique connection the brand has to Anita Hill, who accused Supreme Court Justice Clarence Thomas of sexual misconduct. In 1991, she alleged that when Thomas was her employer, he made unwanted sexual advances and lewd remarks. On October 11, 1991, Hill testified about her accusation and the graphic details included a can of Coca-Cola.
"One of the oddest episodes I remember was an occasion in which Thomas was drinking a Coke in his office," she said during her opening remarks. "He got up from the table at which we were working, went over to his desk to get the Coke, looked at the can and asked, 'Who has put pubic hair on my Coke?'"
Hill also charged that Thomas would repeatedly make comments about the size of his penis, ask about women's breast size and ignore her repeated denials to go out on a date with him.
Thomas repeatedly denied the accusation and said that no job was worth the prying that had been conducted into his personal life.
"No horror in my life has been so debilitating," he said. "Confirm me if you want. Don't confirm me if you are so led. But let this process end."
On Thursday, Ford testified for multiple hours before swapping places with Kavanaugh, who then answered questions. The Senate Judiciary Committee is expected to vote on his nomination within the next few days.