Coca-Cola Blocks 'Transgender' on Bottle Customization Tool, Allows 'Nazis'
A new tool from Coca-Cola which allows people to personalize their own glass bottles has come under fire for censoring words such as "transgender" and "lesbians," while allowing words such as "fascism" and—at one point—"Nazis."
When tested by Newsweek the online tool blocked the phrase "Black Lives Matter," while allowing "blue lives matter," in previews of bespoke Coca-Cola labels. "Transgender" was not allowed, yet the word "transphobia" could be displayed on a rainbow backdrop.
Other words that were allowed included "jihadists," "QAnon," as well as phrases such as "White pride" and "Trump won."
There was no block on "fascism" at the time of publication. The word "Nazis" could also be chosen at one point, but it was later blocked—along with "blue lives matter"—after Newsweek contacted Coca-Cola for comment.
In response, the company said it was "continuously refining and improving" the feature.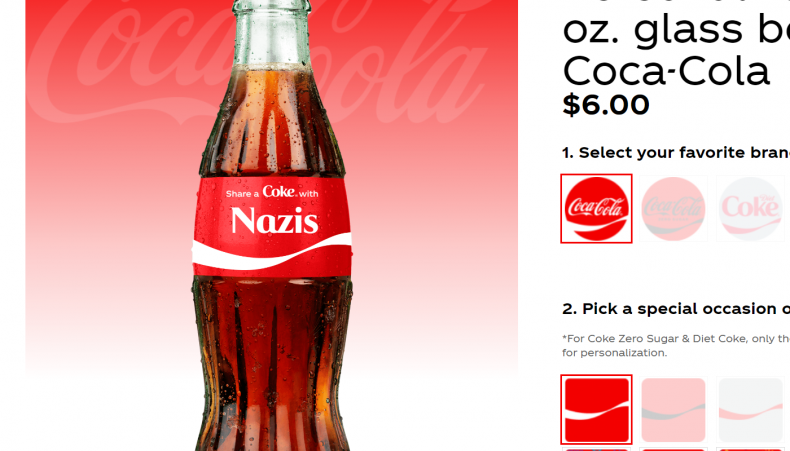 Every time a forbidden word or phrase is attempted, the Coca-Cola website states: "Oops! Looks like the name you requested is not an approved one. Names may not be approved if they're potentially offensive to other people, trademarked, or celebrity names.
"We've worked hard to get this list right, but sometimes we mess up."
Rami Ismail, a video game developer and founder of GameDev noted that he could not personalize a bottle with Palestine because it was offensive, but Israel was allowed. Newsweek also found the word Gaza to be blocked.
"Oh, and sorry [game designer Osama Dorias] can't share a Coca Cola with you. Osama is prohibited," Ismail wrote. And Mohammed also can't have a Coca Cola while we're at it. Well done, @CocaCola. Just banned the most common name on Earth because y'all don't consider Arabs or Muslims exist."
Fellow Twitter-user Nick McCormick wrote in reply: "To say that Coke f****d this one up is the understatements of the century.
"I kept going for a few minutes, and there's a lot more offensive ones that went through fine. Real glad they covered their bases with Palestine and common Muslim names tho."
It appears that the phrase "go Palestine" bypasses the block, but not the words "free Palestine."
Others on social media tried typing in other phrases to see which ones were allowed and which were not. Other banned words, names and phrases included Jesus, LGBT and gay pride.
"Spending like an hour trying to break that coke bottle generator thing with friends and it's so hilariously bad at what it allows and doesn't," wrote Twitter user @tondog. "You can seriously get it to allow some heinous s**t with minimal imagination."
In a statement to Newsweek, The Coca-Cola Company said: "We're continuously refining and improving our Share A Coke personalization tool to ensure it is used only for its intended purpose – for Coca-Cola fans to celebrate with one another and make connections.
"We add terms and phrases if we feel they are consistent with that intent."
Update 06/23/21, 2:23 a.m. ET: This article has been updated with comment from Coca-Cola.