Coca-Cola #LoveIsLove Ads With Same-Sex Couples in Hungary Spark Fine, Protest Against LGBTQ Visibility
Advertising featuring same-sex couples has led to a fine against the Coca-Cola Hellenic Bottling Group (HGB) in Hungary. The Consumer Protection Department (CPD) of Pest County alleges the soft drink manufacturer violated a portion of the Advertising Act which prohibits ads that may "damage the physical, mental, emotional, or moral development of children and adolescents," according to Hungary Today.
Hungarian news website Index.hu said one of their readers reported the HGB for the posters which were part of the "#loveislove" campaign. In response, the CPD said proceedings had begun against the HGB for the alleged violations.
"In view of its increased social interest, it has paid particular attention to the protection of children and minors, and to the restriction of advertisements harmful to them in order to protect their emotional and moral development," the CPD said in a statement. "Public announcements are a great help in uncovering such advertisements, and we thank you again!"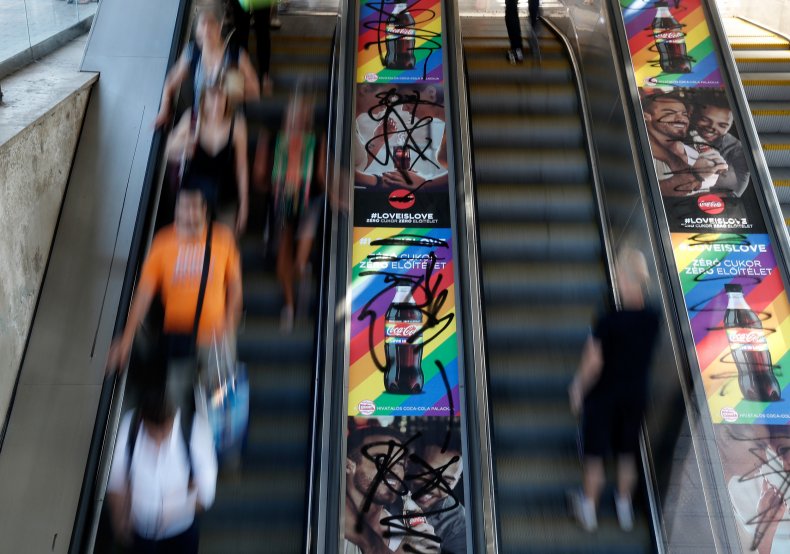 A fine was levied against the HGB in the amount of 500,000 HFU (Hungarian Forints), which equals $1,659.85. For its part, the HGB continues to state that equality and diversity are part of the company's core value system.
"We believe that we are all equal, regardless of nationality, religion, gender, age, ethnicity, spoken language, hobbies and opinions," said the HGB in a statement. "We believe that both heterosexuals and homosexuals have the right to love that person and the best they can. In our advertisements, posts, and messages, we express the principles we represent, and thus our belief in equality between people. We believe that in a world based on these values, everyone can live freely, happily. The right to love and love belongs to everyone."
The ad campaign was meant to coincide with the Sziget Festival held in August which incorporated the theme, "Love Revolution," according to the Independent. The posters also included slogans like, "Zero Sugar, Zero Prejudice."
Boldog István, a member of the conservative Fidesz Party, called for a boycott on Coca-Cola products, claiming he would not drink any until the posters were removed. Popular Hungarian celebrity Róbert Alföldi responded with a photograph of himself drinking a Coke.
Translated, part of the text in Alföldi's post reads, "I don't drink a lot of colas these days or anything, but love, love! And pretty good posters!"
The "#loveislove" campaign posters were taken down and replaced with photos of Coca-Cola bottles with rainbow labels. The HBC said they had entered the next phase of their ad campaign and were following a pre-established plan.
The conservative government of Hungary has never fully embraced LGBTQ rights, and the poster controversy has brought those ideas back into focus. Prime Minister Viktor Orbán said in 2015 that non-heterosexual people are tolerated, even if the government disagrees with their lifestyle choice.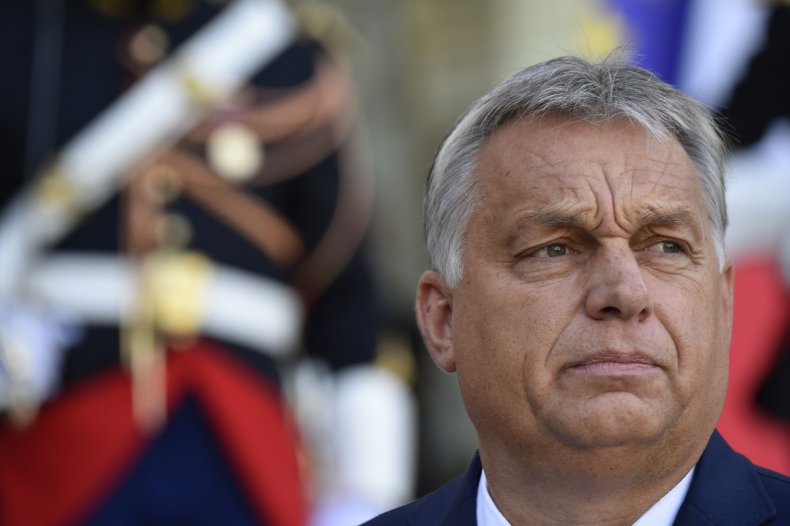 "Hungary is a tolerant nation," said Orbán. "Tolerance, however, does not mean that we would apply the same rules for people whose lifestyle is different from our own. We differentiate between them and us."
"Tolerance means patience," he continued, "tolerance means an ability to coexist, this is the basis of the Hungarian Constitution which clearly differentiates between a marital relationship between a man and a woman and other, different forms of cohabitation. We are going to keep this."
In December 2018, Politico reported that both Hungary and Poland attempted to remove inclusionary language from a European Union (EU) statement meant to promote gender equity in the digital age. Their refusal to keep a reference to the LGBTQ community in the document angered other member states of the EU.
"LGBTIQ inclusion and equality are core values of our European Union," said Walter Koolmees, the Dutch minister for social affairs and employment, in a statement. "This is where I draw the line. We will never compromise our principles. This is not up for discussion and should have never been an issue for any member state."
Local elections held in Hungary saw opposition parties winning a majority in the Budapest General Assembly, dealing a legislative blow to the ruling Fidesz party, according to Euro News. Challenger Gergely Karacsony defeated incumbent István Tarlós, who was backed by Fidesz, for the mayorship of Hungarian capital, Budapest.
"This is the first step towards changing Hungary," Karacsony said on Facebook. "We will take Budapest back to Europe."