Coca Cola Sparkling Water Release Date, Details as AHA Becomes Company's First New Drink in 13 Years
Coca Cola will launch a new brand of flavored sparkling water next year. The new brand will be Coca Cola's first new drink since it launched Gold Peak tea 13 years ago.
The new sparkling water brand is called AHA and will feature eight varieties of flavor fusions. It will debut in March 2020 in North America.
The debut collection will feature the flavor combinations Lime and Watermelon, Strawberry and Cucumber, Citrus and Green Tea, Black Cherry and Coffee, Orange and Grapefruit, Apple and Ginger, Blueberry and Pomegranate, and Peach and Honey. The Citrus and Green Tea and Black Cherry and Coffee will contain 30 mg of added caffeine.
To decide on the flavors, Nilesh Karava, who oversees R&D for Coca-Cola North America's water and active hydration portfolios explained in a statement: "We made a list of about 80 pairings of mainstream fruit flavors and trending, or niche, flavors, and ran them by consumers to see which would be the most appealing.
"From there, we pared the list down to 18 combinations to develop and test further. We did extensive taste tests in major cities across the country. By the end of May, we had our final eight."
The sparkling water will come in multipacks of 12-fl-oz cans and individual 16-fl-oz. cans, and will be calorie-free and sodium-free.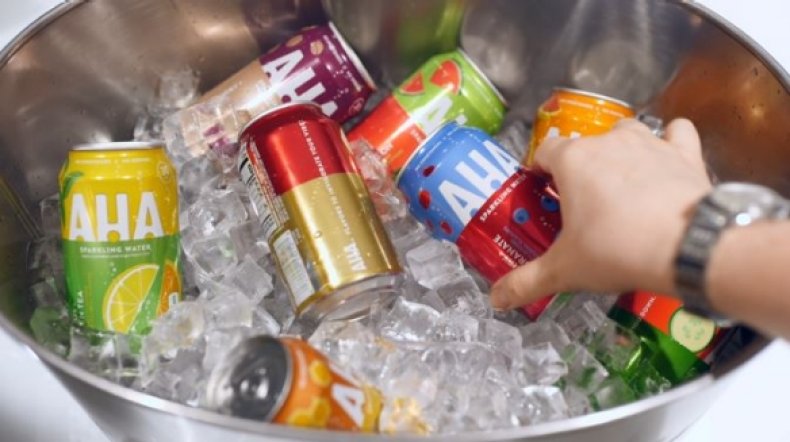 Trey Veal, who oversees visual identity system development and packaging design for Coca-Cola North America's water and active hydration portfolio explained the branding in a statement: "The naming, design, and flavor development processes all happened simultaneously. Settling on the AHA name opened up a lot of creative opportunity for us.
"We embedded a fun, subtle exclamation point in the "H" of AHA logo as a bit of a creative wink, and we included some fun romance copy that speaks to the need states certain flavors appeal to. These include "Flavors to Invigorate Your Vibe", "A Renewed Sense of Hydration" and "A Can of Cool You Down"."
Coca Cola already has other water brands on the market such as DASANI, smartwater, smartwater sparkling and Topo Chico. AHA will replace DASANI in all retail locations, but DASANI will remain available on DASANI PureFill and Coca-Cola Freestyle.
Coca Cola's other water brand, smartwater, will also enter the flavored water category in 2020, with new flavors cucumber and lime, strawberry and blackberry, watermelon and mint and pineapple and kiwi being introduced to the market.
Celina Li, VP, Water, Coca-Cola North America said in a statement: "As the largest and fastest-growing part of the water business, mainstream flavored sparkling water is a segment we know we must double-down on. AHA is our big-bet brand in this big-bet category."
Julie Siwemuke, sparkling water director, Coca-Cola North America added: "There are unmet needs for consumers in the category today, both for those who don't drink sparkling water regularly today and for those who do.
"When shoppers browse the sparkling water aisle, they're looking for interesting and approachable flavors that offer a refreshing treat. They're also drawn to fun, colorful brands with personality."