'Cocaine Cowboys' Soundtrack: All the Songs From the Netflix Documentary Series
Cocaine Cowboys: The Kings of Miami tells the incredible true story of high school dropouts Augusto 'Willy' Falcon and Salvador 'Sal' Magluta and their meteoric rise to becoming kingpins of a billion-dollar drug empire and their catastrophic fall from grace.
The documentary comes from Billy Corben, who was behind Cocaine Cowboys in 2006, Cocaine Cowboys 2 in 2008, and 2014's Cocaine Cowboys: Reloaded and as per tradition, there is a stand-out soundtrack to accompany the story of Willy and Sal.
Newsweek has a full breakdown of the soundtrack below, episode by episode, including the catchy theme-tune from American rapper and singer Pitbull.
All the songs from 'Cocaine Cowboys: The Kings of Miami'
The Cocaine Cowboys theme song
"Bloodsport," written and performed by Pitbull, is the documentary series' theme song, playing as the opening credits roll.
The track may have been made specifically for Cocaine Cowboys: The Kings of Miami as it has not yet been officially released and does not feature on any of his other albums.
The song sees Pitbull rap from the perspective of cocaine, with the lyrics: "I've been called all types of names/Like Perico, Yayo, Snow, Blow, and Kane" and "I've been processed, packaged, delivered in bricks/I've been cut, cooked, chopped and whipped."
The song was supposed to feature in 2014's Cocaine Cowboys: Reloaded which featured footage and unseen interviews which did not make it into the original 2006 documentary, reports Insider.
Creator Billy Corben told Insider: "I thought the song was brilliant. It's all from the perspective of cocaine. He takes over the voice of cocaine and talks about it in the first person, which I thought was very clever."
Episode 1 — Willy & Sal
Episode one of Cocaine Cowboys introduces viewers to Willy Falcon and Sal Magluta, two high school buddies with humble beginnings who eventually ascend to the top of Miami's drug trade.
The songs which feature in Episode 1 are:
"We Are Family (Somos Familia)" by La Charanga 76
"Cuba" by The Gibson Brothers
Episode 2 — 75 Tons
In episode two, Willy and Sal evade arrest and imprisonment and even dip their toes in the LA drug trade.
"Rhythm Is Gonna Get You" by Gloria Estefan & Miami Sound Machine
"Bad Boys" by Inner Circle
"In the Hall of the Mountain King" by Edvard Hagerup Grieg
"Wedding March" by Jakob Ludwig Felix Mendelssohn Bartholdy
Episode 3 — Mountain of Evidence
The high-profile trial of Willy and Sal begins in 1996 where they faced numerous drug trafficking charges.
"You Should Be Dancing" by JP Castillo
Symphony no.5 in C minor 1st Mov. Allegro con Brio by Ludwig Van Beethoven
Episode 4 — Only in Miami
The credibility of jurors in Sal and Willy's case is questioned.
Episode 5 — Femme Fatale
In episode five, the spotlight shines on Sal's on-and-off girlfriend Marilyn Bonachea.
Episode 6 — Adios, Muchachos
Sal and Willy's empire falls in the sixth and final episode of Cocaine Cowboys: The Kings of Miami.
"Willy Falcon" by DonCu
"Kings of Miami" by Oliver Jenkins
In 2003, Willy and Sal were retried on dozens of charges, including corruption, conspiracy to obstruct justice by bribing jurors, paying witnesses to lie and murdering three witnesses, and the laundering of drug profits.
Today, Sal Magluta is serving his life sentence at ADX Florence, a supermax prison in Colorado.
At first, Magluta received a 205-year prison sentence, which was then cut to 195 years. He is expected to spend the rest of his life behind bars.
Willy Falcon was released from federal prison in 2017 and faced immediate deportation.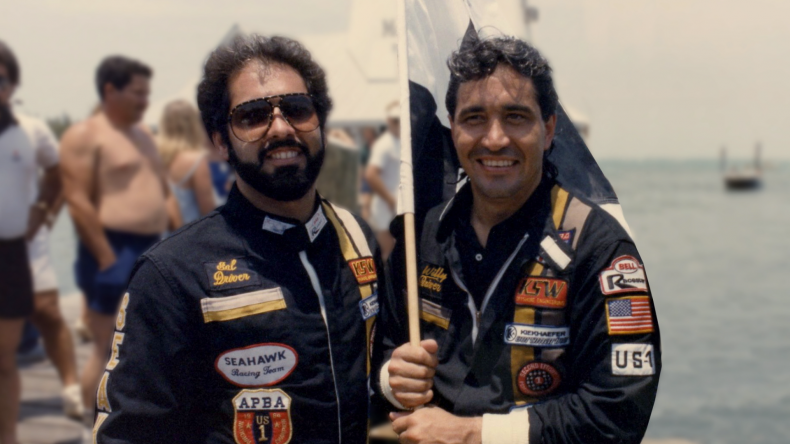 He was eventually deported to the Dominican Republic on November 6, 2018, instead of his native-Cuba.
Director Billy Corben explained to Newsweek Willy's whereabouts are unknown after he was released almost four years ago.
He said: "Willy is out and about. I think I know where he is, but I can't confirm it so I won't say, but he was released several years ago held in immigration detention because he never became a US citizen and so he was eventually deported."
Cocaine Cowboys: The Kings of Miami is streaming on Netflix now.