Bricks of Cocaine Found Hidden Inside Boxes of Laundry Detergent in Brazilian Supermarket
Police in São Paulo, Brazil, confiscated more than 110lb of cocaine paste Monday that was hidden in boxes of laundry detergent inadvertently sold in a neighborhood supermarket.
Bricks of the potent powder were reportedly uncovered by customers when they tried to do a load of laundry.
"I had never found anything like this. It's the first time I found cocaine inside a soap box," Detective Olívio Gomes Lira told the Guardian. A post on the official São Paulo twitter account teased, "Cleaning the streets of criminals."
One customer reportedly went back to the store to complain there was no detergent in the box, but was threatened by gang members. Another went straight to police.
The smuggled drugs were sold at an undisclosed grocery store in Ermelino Matarazzo, on the east side of São Paulo, according to G1. When police arrive, Lira said, the store owner tried to flee in his pickup truck but was apprehended.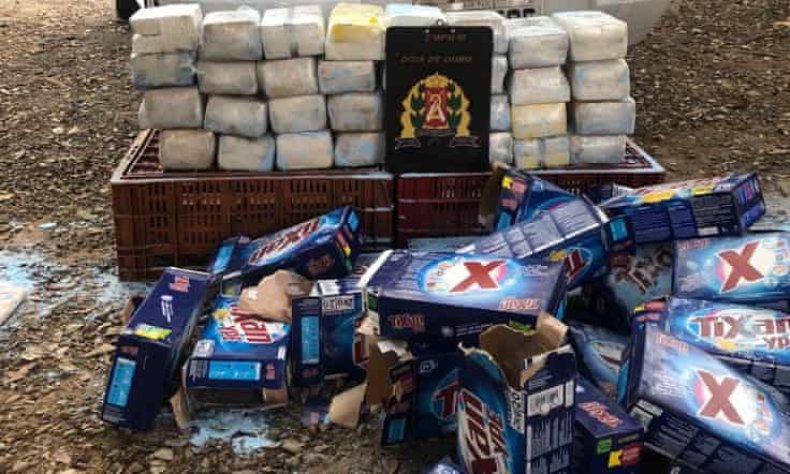 Thirty to forty boxes of Tixan Ypê brand detergent were confiscated in all, containing enough cocaine paste to make 440lb of salable cocaine. One arrest was made, and three other suspects have been detained.
"The first hypothesis we are working on is that someone put these on the shelf for sale by mistake," Lira said. "We believe he used the business as the front to wash dirty money."
Amparo Chemistry, which makes Tixan Ypê, released a statement condemning what it called "a clear violation of packaging of products for illicit purposes."
Cocaine seizures in Brazil have skyrocketed between January and May 2019, up 70 percent from the same period last year. Late last month, a pilot was discovered smuggling nealy 90lb of the drug on a plane used as part of President Jair Bolsonaro's contingent flying to the G20 in Tokyo.
In 2018, a Brazilian man was arrested at a Lisbon airport when he tried to smuggle 2.2lb of cocaine inside a pair of fake buttocks. At least 5,000 packets were discovered attached to the lining of his swim trunks.
Bad ideas plague drug runners from across South America: This week a Colombian smuggler was arrested at Barcelona's Josep Tarradellas Airport with more than a pound of cocaine poorly concealed under his toupee. The street value of his stash is estimated at over $33,000.
And in a bit of a reversal, in 2016 a British man trying to sell laundry detergent as cocaine was hit with fraud charges, in addition to the attempted sale of an illegal controlled substance.
"It's an unusual case. He has not been supplying drugs to anyone," his defense attorney told The Telegraph.