Authorities Find Nearly 150 Pounds of Cocaine Hidden Inside Hollow Pineapples
Authorities in Spain discovered nearly 150 pounds of cocaine hidden inside carved out pineapples at MercaMadrid, Madrid's main wholesale fruit and vegetable market.
On Sunday, police arrested three people in Madrid and four people in Barcelona after the 67 kilograms (148 pounds) of cocaine were discovered. Authorities said the illegal drugs were transported in hollowed-out pineapples that were then filled with cocaine compacted into cylinders.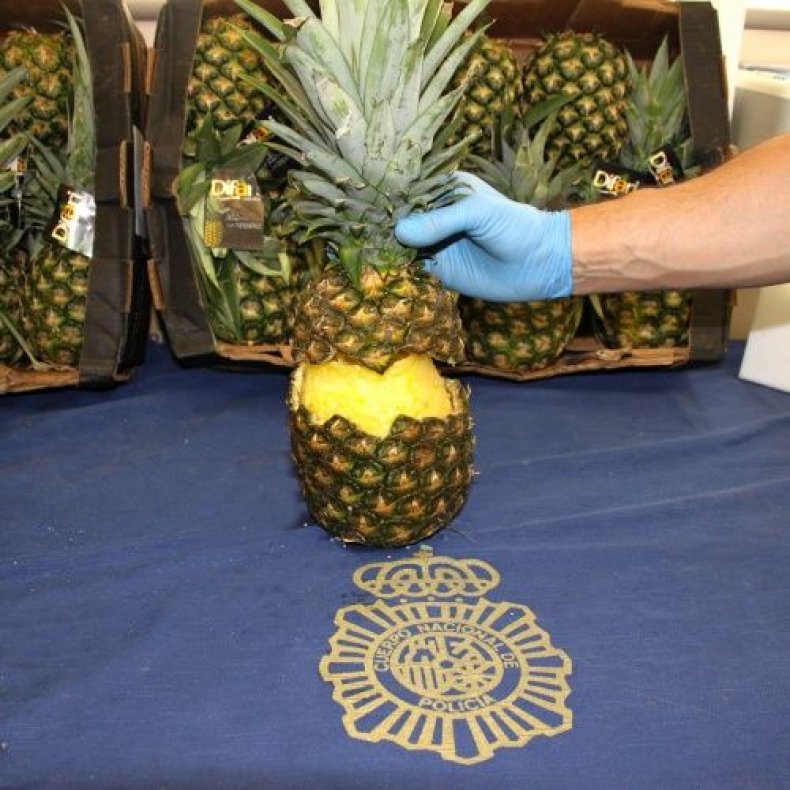 The cocaine cylinders, which carried between 800 and 1,000 grams each, were then coated in a yellow waxy substance. The wax coating also helped conceal "odors of the chemical products which the drug contains and avoid its detection," police said.
Investigators discovered that the drug shipment came from Costa Rica and arrived at a port in Setubal, Portugal. Officers nabbed the illegal shipment as it was being unloaded at MercaMadrid.
Authorities said they needed to crack open each pineapple to locate the drugs. Footage released by the National Police shows an officer piercing the fruit and later smashing it against the ground to reach the cocaine.
This is not the first time law enforcement in Spain have seized cocaine shipments found hidden inside fresh pineapples. In January, police in Portugal and Spain joined forces and discovered hundreds of kilograms of cocaine.
Police found 747 kilograms (1,642 pounds) of cocaine in shipping containers after an investigation that began in April 2017. The cocaine was coated in the same pineapple-yellow wax that the latest shipment was found with and was hidden inside hollowed-out pineapples.
Nine gang members were charged in connection with transporting the illegal drug from South America. The gang had two labs in Pinto and Nuevo Baztan near Madrid, the New York Daily News reported. The cocaine was held in Barcelona before being transported to Madrid every 15 to 20 days.
Spain is the main entry point for cocaine from South America to Europe, the New York Post noted. Authorities have discovered cocaine in a variety of vessels, including breast implants, a plaster cast surrounding a man's broken leg, a wheelchair cushion and a wig.