Cocaine Yacht Carrying $77 Million Worth of Drugs Captured During Atlantic Storm
A pleasure boat carrying more than a ton of cocaine was captured during a rough Atlantic storm by an international team of law enforcement officials.
According to the Portugal News, the bust — codenamed Operation Gloria — was the culmination of two weeks of investigation by the Drug Trafficking Unit of the Portuguese police in conjunction with the Air Force and the Navy.
The investigation began with another collaboration, as information assembled by the DEA in the United States, the UK's National Crime Agency, French and Spanish law enforcement and Portugal's Maritime Analysis and Operations Centre-Narcotics led to a profile of a smuggling organization that was using sailboats to move drugs.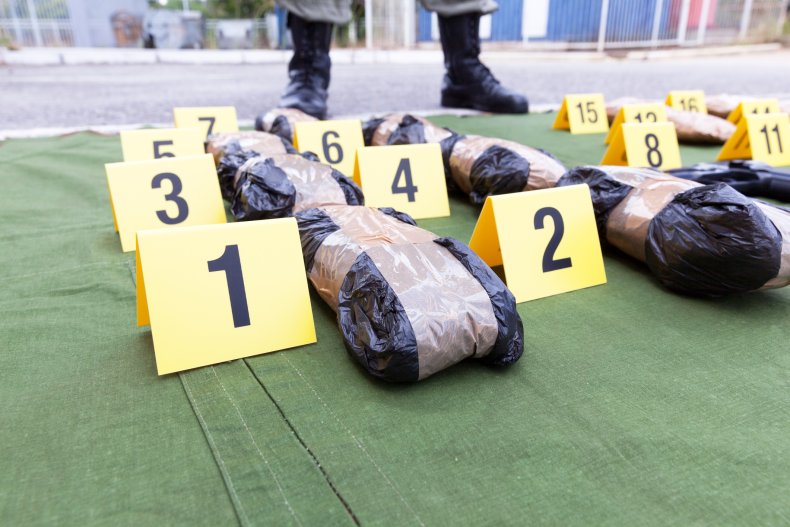 The Portuguese police pinpointed an incoming vessel and ventured out into a wild Atlantic storm to intercept it before it could make land. They boarded the sailboat, arresting two men on board and seizing over a ton of cocaine. The drugs have a street value of more than $77 million, authorities said.
"In the course of this operation in the middle of rough weather in the Atlantic Ocean, the PJ located and then intercepted a sailboat that was being used to transport 1,820 kg of cocaine," a spokesperson told the News.
The men arrested were not Portuguese nationals, authorities said. They are expected to appear in court Monday.
The sea route to Portugal is popular for drug smuggling. In May 2019, the Portugal News reported a similar interception of a fishing boat off the coast of Cape Verde with more than a thousand kilograms of cocaine on board.
That boat was crewed by seven Brazilian nationals, who had picked up the drugs near the coast of Brazil with the intent of distributing it to the European market.
The drugs, which were parceled out into 50 raffia bags, were seized by Portuguese police after the vessel was brought by the Navy to Alfeite harbor. They discovered that the so-called fishing boat had not engaged in any actual fishing activity since leaving Brazil, with the only sea life on board frozen in the ship's kitchen, the Portugal News reported.
The lawyer for the vessel's owner protested the ship's seizure, claiming that because the boat was in Cape Verdean waters, it was illegal for Portuguese police to impound it.
Brazil is one of the most common sources for cocaine smuggled to the Atlantic coast, especially through the Iberian peninsula. Drugs are produced in other South American countries including Colombia, Bolivia and Paraguay and shipped there for intercontinental transport.
Traffickers have tried myriad methods to disguise their illegal cargo. The BBC reported that in 2018, a shipment of more than 1,600 pounds of cocaine was seized there hidden inside fresh pineapples.