'Coco' Disney Plus Release Date: Movie Leaving Netflix and Coming to the Streaming Service This Week
Disney+ subscribers who are making their way through the service's extensive catalogue may have noticed that some of Disney's most recent movies are missing from the streamer. Among those currently absent is Coco, Pixar's 2017 Oscar-winning movie set during the Mexican Day of the Dead celebrations.
The film is currently streaming on Netflix in the U.S., but the movie is coming very soon to Disney+ as the first of the Disney, Pixar, Star Wars and Marvel films still currently on Netflix to migrate over to the new streaming service. The Disney+ release date of Coco will be Friday, November 29, with the movie expected to leave Netflix shortly before that date.
In other territories, the film is expected to stay on its current streaming services until Disney+ launches internationally. In the U.K., for example, Coco will be available on NOW TV until March 13 and will then be available at launch on Disney+ when it releases on March 31.
Coco is the first of three Pixar films which are currently missing from Disney+ and will come to the streamer in the coming months, with The Incredibles 2 and Toy Story 4 not currently streaming on the service.
The former will move from Netflix to Disney+ on July 30, 2020, while Toy Story 4, as previously reported by Newsweek, will be a Disney+ exclusive when it is released onto streaming services. Though its release date has not been fully confirmed, it is expected to come in February 2020.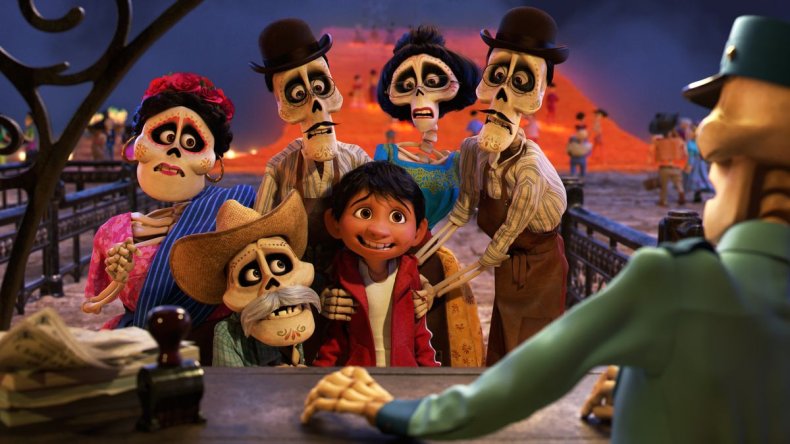 Coco is one of a number of films Disney+ is releasing this Thanksgiving weekend. On Sunday, December 1, the 2004 movie Garfield, starring Bill Murray as the lasagne-loving kitty, comes to the streaming service to join its sequel Garfield: A Tale of Two Kitties. Also arriving on the same day are sports drama Glory Road and Expedition Amelia, a National Geographic documentary following the deep-sea diving team attempting to solve the mystery of aviator Amelia Earhart's disappearance, as well as a number of other TV shows and movies reported in our guide to what's coming to Disney+ this December.
Released in 2017, Coco is the ninth Pixar film to win best animated feature at the Oscars, as well as netting the animation company's first best original song win since 2010 for "Remember Me." The movie, which currently holds a 97 percent fresh rating on Rotten Tomatoes, follows 12-year-old Miguel (voiced by Anthony Gonzalez) as he heads into the land of the dead to meet his ancestor and reverse his family's ban on music.
Coco is released on Disney+ on Friday, November 29