Coco Gauff Crashes Out of Wimbledon: How Much Did She Earn? What is Her Ranking?
The fairytale run of tennis phenomenon Coco Gauff came to an end on Monday, when the 15-year-old was knocked out of Wimbledon in the fourth round by seventh seed and former world number one Simona Halep.
Gauff lost in straight sets 6-3, 6-3 to the 27-year-old Romanian at the All England Club, but has won over legions of new fans after her remarkable journey to the last 16 of the prestigious tournament.
An unknown who received a last-minute invitation to play a Wimbledon qualifying tournament this year, the youngest woman in the this year's draw made headlines after beating former champion and her idol Venus Williams 6-4, 6-4 in the first round. She then went on to knock out Slovakia's Magdalena Rybarikova 6-3, 6-3 in the second round and Polona Hercog of Slovenia 3-6, 7-6, 7-5 in the third round.
Not only did Gauff become the youngest person to win a game at Wimbledon since Jennifer Capriati in 1991, but she has also attracted admirers from some of the game's greats. Seven-time Wimbledon singles champion Serena Williams said of Gauff: "I think she's definitely on a different level, so I think she's totally capable and ready, to be honest."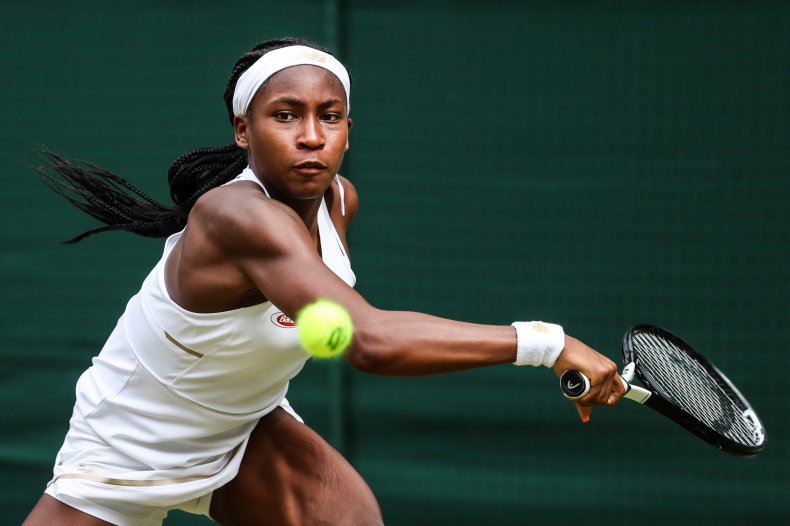 Meanwhile, eight-time Wimbledon singles champion Roger Federer said in a press conference: "Coco's doing an amazing job, it's fun to watch...she's really won over all the hearts from all the fans around the world who like tennis. She's been great. Me on the other hand, I'm don't know many years I have left."
So how much did the 15-year-old make from her incredible debut performance at Wimbledon, and what will happen to her career next?
Coco Gauff's earnings
Up until Wimbledon, Gauff had earned $61,101 on the court in 2019, according to Forbes. After her extraordinary run in the U.K. tennis tournament, she is set to bank $233,500. This includes the prize money from her singles run to the fourth round, plus her appearance fee for losing in the first round of the mixed doubles with British partner Jay Clarke. The duo reversed 6-1, 6-4 to Sweden's Robert Lindstedt and Latvia's Jeļena Ostapenko.
But as Forbes notes, she is likely to face significant and complicated taxes for competing in the U.K. where any income over roughly $189,600 is taxed at 45 percent.
Aside from prize money, Gauff has sponsorship deals with sports footwear company New Balance, pasta maker Barilla and racket manufacturer Head. She is due to earn at least $1 million from this trio of endorsements in 2019, according to Forbes.
Coco Gauff's ranking
As well as the prize money earned, Gauff's dream Wimbledon debut will also see a significant rise up the tennis rankings. Her highest ever singles ranking was 299 in the world on June 10 and going into the tournament she was ranked 313th.
But after reaching the last 16 of a Grand Slam, she is set to soar up the rankings when they are announced on July 15, the day after the tournament concludes. According to unofficial site WTA Live Rankings, Gauff is set to jump up 174 places to number 139 in the world after the tournament concludes.
If she continues to rise up the rankings over the summer, Gauff could qualify for a place at the U.S. Open in Flushing Meadows on August 26. Automatic entry is usually reserved for roughly the top 100 players in the world, otherwise she may have to qualify for the tournament. Gauff was knocked out in the first round of qualifying for the 2018 edition of the tournament.
But due to her being as a promising young American star, it is more likely that the organizers would hand Gauff a "wild card," allowing her to automatically enter the U.S. Open first round.
Coco Gauff Crashes Out of Wimbledon: How Much Did She Earn? What is Her Ranking? | Sports