A Coconut Crisis Is Looming With Major Shortages Worldwide—but Cloning Could Prevent It
The world is facing a coconut shortage on a massive scale. Demand has surged and the coconut palms planted over 70 years ago have become senile and need replanting. However, disease and limited propagation options mean that soon, there will soon be a massive deficit that could seriously impact global trading.
Coconut, a palm with multiple uses and known by the producing communities as the "tree of life", has been supporting the livelihoods of approximately 20 million workers around the globe. Coconut is a staple nutritional resource for communities, especially around the tropical world, in the form of products such as milk, cream, oil and coconut juice.
In world trade, it has a commercial history dating back to the 1880s, when there was a high industrial demand for coconut oil to produce soap and cooking oil. The demand for such products led to the widespread development of coconut plantations by colonial investors, throughout the tropics including the Caribbean, Indian Ocean, Southeast Asia, coastal Africa, Mexico and the Pacific.
Now, there are over 100 food and general products made from the coconut palm. Coconut oil in the form of copra was the principal edible oil being traded worldwide until World War II. However, the popularity diminished when it was deemed to be a risk of causing heart disease by the American Heart Association—a move supported by soybean and other edible oil producers.
These concerns are likely to be unfounded as there is growing evidence that coconut oil reduces the risk of heart disease by raising the good cholesterol levels and has supported the excellent health of the traditional communities who have consumed it for generations.
In recent decades, coconut products have gained popularity in the U.S., Europe and Australia due to the development of virgin coconut oil and access to exported coconut water.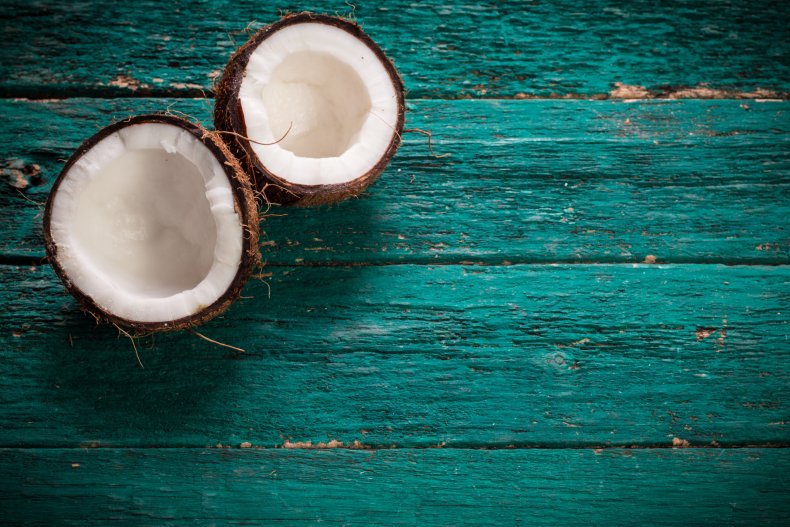 However, a crisis is imminent as most of the present-day palms are senile and declining in productivity. The industry now requires palm replacement on a large scale.
There are also serious diseases, for example, lethal yellowing disease that has destroyed millions of palms in Mexico, the Caribbean and parts of Africa. Rhinoceros beetle and other insects also pose lethal threats to coconut production in the Pacific, hence requiring the selection and planting of resistant varieties.
Traditionally, coconut is propagated from fruit at a rate of one seedling per fruit and there is no natural vegetative propagation approach available for coconut. As a result, the large production of coconut seedlings is unlikely to occur from the traditional breeding method.
In addition, the number of coconut fruit produced per palm is low and the production rate is often too slow to meet the farmers' needs. Secondly, the fruit produced do not necessarily have the same traits as the mother palm especially for Tall types which depend on cross pollination. Thirdly, the most common form of palm is the Tall palm type and these take at least five years to produce fruit.
With the increasing number of food products and other industry demands for coconuts, these production problems pose a serious concern—a concern that cannot be overcome by taking a billion fruit out of production to produce a significant number of new coconut palms.
Thus, serious coconut fruit shortages are unavoidable and this will critically impact on global trading.
Coconut clones
Nevertheless, coconut palms can be found with highly desirable traits such as disease resistance, drought tolerance and high yield. The University of Queensland is concentrating its effort on coconut cloning through tissue culture to meet the anticipated demand for these new elite seedlings.
Coconut cloning will enable palms with resistance to the principal threats to be multiplied in the local regions once the technique has become affordable.
Since the first study—conducted by Cutter and Wilson in 1954—to germinate the coconut embryo, in vitro studies have been undertaken. Biotechnological interventions have now been developed for coconut embryo culture, clonal propagation via somatic embryogenesis, anther culture and cryopreservation of germplasm.
Coconut cloning through a process known as somatic embryogenesis is the focus of our present work. This process involves the formation of a somatic embryo from one or several somatic cells and is aimed at shortening the time to produce plants (plantlets) as well as increase the number formed.
The process begins with the selection of a responsive tissue from the mother palm which has the desirable trait, and growing them in sterile conditions in vitro. These explanted tissues are stimulated to multiply by using plant growth regulators to gain embryogenic competence.
Some cells will respond to the stimulation and begin to express certain genes to form an embryogenic mass. Many factors are involved in this process. Cell growth is promoted through factors such as nutrient composition, plant growth regulator concentration and culture environmental conditions.
The embryogenic structures will then be developed, through a number of different media, to eventually regenerate into complete plantlets. Finally, the process brings plantlets from the laboratory to the field for growing into mature palms. From there, environmental factors play an important role in the growth of the coconut palm.
The improvements through coconut cloning will definitely bring advances to the farmers as well as development in coconut biotechnology and most importantly counteract the coconut crisis.
The Cocobio Laboratory at the University of Queensland, Australia, is made up of a team of coconut lovers with Prof Steve Adkins as the chief, other team members include Mr Mike Foale, Dr Julianne Biddle and Dr QuangThien Nguyen. There are also three PhD students namely Eveline Kong, Zhihua Mu and Amirhossein Bazrafshan, and an Honours student Kai Xiang Koh as part of the team. The team has been conducting research for over 26 years focused on coconut propagation technologies (embryo rescue and clonal propagation) and conservation of coconut germplasm through cryopreservation. This is extremely important as the industry urgently needs coconut to be propagated on a large-scale and cryopreservation work can conserve elite coconut germplasm for future food security.
Views expressed in this article are the authors' own.