Is Coconut Water Good After a Workout? Nutrition Experts Weigh In
A video discussing the merits of coconut water as an energy recovery drink has gone viral on TikTok, gaining nearly a million views in just a few days.
The video is a collaboration between Dr Brian Boxer Wachler, a U.S. eye doctor, and Mehran Rowshan, a youth mentor and football coach.
In the video, seen here, Rowshan asks viewers what sort of drink they might consider having after a workout while looking over a supermarket shelf. He settles on coconut water with no added sugar, stating that it is a "great choice" since it is low in calories and contains potassium and electrolytes. Wachler appears to nod in agreement.
In addition to 1 million views, the video had gained over 127,000 likes and just under 300 comments as of Wednesday morning, four days after it was posted on Wachler's TikTok account.
On Rowshan's account, where the video was originally posted last year without Wachler's reaction edited in, it gained over 500,000 likes.
Coconut Water vs Sports Drinks After a Workout
Speaking to Newsweek, experts agreed that coconut water does have some nutritional benefits that could lend themselves to exercise recovery—though the evidence seen in studies is mixed.
David Rogerson is a sports nutritionist in the Academy of Sport and Physical Activity at Sheffield Hallam University. He told Newsweek that coconut water contains minerals like potassium, calcium, magnesium and sodium—electrolytes that play a role in muscle contraction.
"We lose these electrolytes when we sweat and they are a common ingredient found in sports drinks–coconut water therefore contains these naturally," he said. "This means that coconut water can help with rehydration and replacing these lost minerals in a similar way that commercially-available sports drinks do. On top of this, coconut water also contains carbohydrates which will help to replenish muscle glycogen that gets used up during exercise."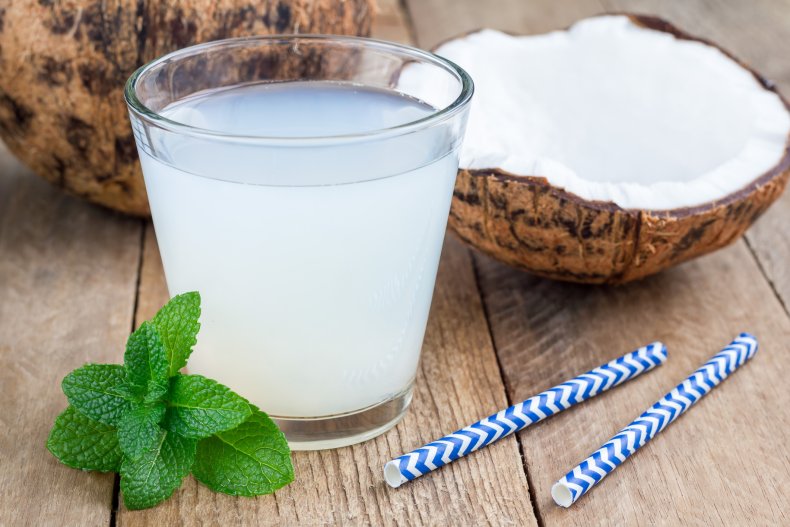 The point was echoed by Neil Clarke, assistant professor at the School of Life Sciences at Coventry University in the U.K. He told Newsweek that coconut water contains some ingredients that would also be found in some sports drinks, such as the aforementioned electrolytes.
"Studies, for example Kalman et al. in 2012, have reported that coconut water is capable of promoting rehydration and supporting subsequent exercise with little difference between coconut water and a sports drink with regard to markers of hydration or exercise performance in a sample of young, healthy men," he said.
Clarke, while agreeing that coconut water has similar characteristics to some energy drinks, highlighted that not all studies are conclusive on the matter.
Some, he said, have not reported enhanced rehydration with coconut water compared with plain water—though it has been suggested that coconut water could still be better "due to its high palatability and its ability to maintain blood glucose levels."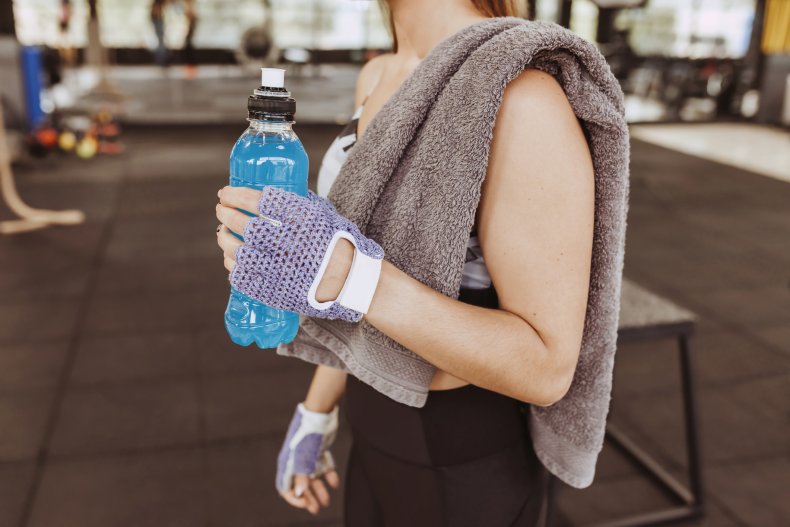 Clarke also cited findings by Peart et al. in 2017 that suggested that due to subjective differences in taste there was a significantly reduced volume of voluntary intake of coconut water by participants in a trial that examined hydration compared to water.
"I am not aware of any side effects of consuming coconut water post-exercise," said Clarke, "but I do think what this highlights is that everyone is different… Those wishing to include coconut water in their nutrition plan should consider trialling different products such as sports drinks, but in the end, it is likely to come down to personal preference."
On potential drawbacks, Rogerson said evidence that coconut water improved recovery is not yet clear and added that it does not contain any appreciable amounts of protein.
"A good recovery strategy will address hydration and muscle glycogen replenishment–as coconut water might do–but will also include protein too to help with the repairing of tissues," he said.
Some people may also be allergic to coconuts.