Code Geass returns in a brand new movie fans of the anime won't want to miss, continuing the story of the 2017 series. The film premieres in U.S. and Canadian theaters this week.
Newsweek has obtained an exclusive clip of Code Geass: Lelouch of the Re;surrection from Funimation ahead of its theatrical release. The new footage introduces fans to the brand new villain, Shamna. Check out the clip above.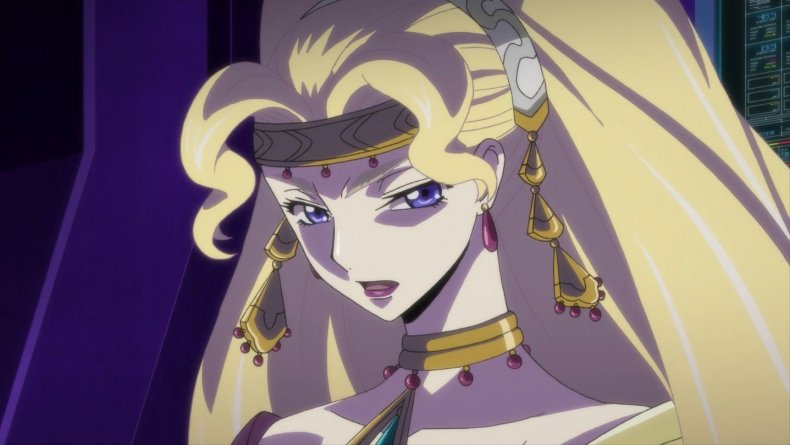 In this exclusive scene, Shamna (voiced by Elizabeth Maxwell) pleads with C to grant her the power to build up Zilkhistan and create a world in their image.
Code Geass: Lelouch of the Re;surrection will launch in select theaters starting next week. Fans looking to watch the film in Japanese with English subtitles can do so on Sunday, May 5. If the English dub is more to your liking, screenings will happen on Tuesday May 7 and Wednesday, May 8.
You can find theater locations and purchase tickets on the official Funimation website.
The new Code Geass movie takes place two years after Lelouch vi Brittannia's death and follows the rest of the cast as they try and keep the peace that Brittannia worked so hard to keep.
Here's the official synopsis for Code Geass: Lelouch Re;surrection
He gave up his life to save the world and protect the ones he loved. The day Lelouch vi Brittannia fell was the day this war-torn world found peace. Now, as his friends work to keep the peace, a terrorist attack could risk everything. Can the brilliant tactician outwit death and save them all? Or will Lelouch's legacy fall here?
The original Code Geass anime can be streamed anytime and anywhere on the Funimation Now app.
What do you think of the latest clip for the new Code Geass movie? Which screening are you going to attend? Let us know in the comments section below.