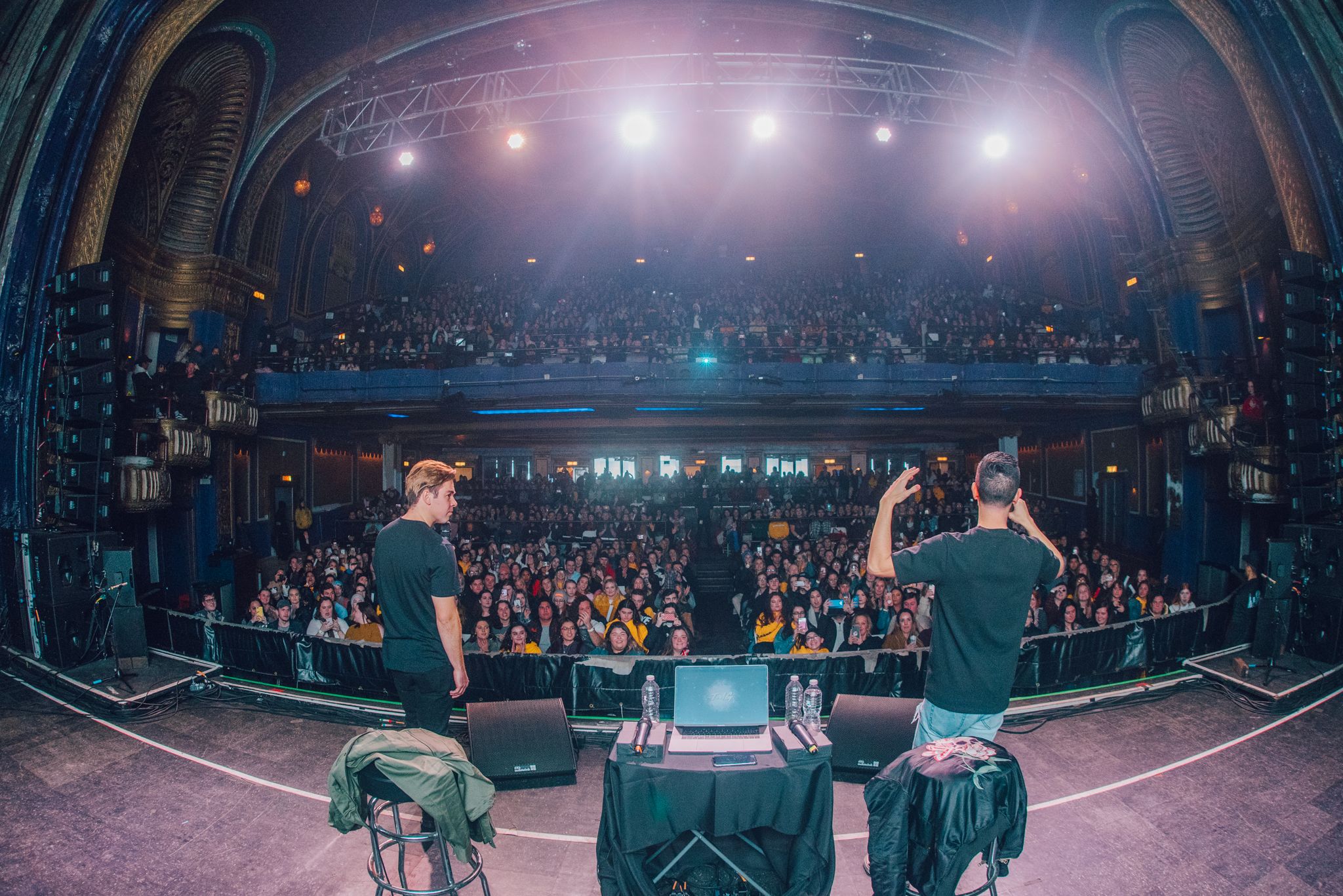 There isn't a perfect way to describe Cody Ko and Noel Miller. They're YouTube and former Vine stars, podcast hosts, musicians and stand-up comedians. As they run out on the stage in Chicago, narrated by their own intimidating, yet satirical music, it's clear the crowd is exactly what they expected: wild.
Ko and Miller haven't always been entertainers. Miller had a dream of being a stand-up comedian, while Ko never imagined a life outside of tech. That's how they met: Ko as a software engineer and Miller as a web designer at media company Fullscreen. Miller was met with surprise when Ko sat down at the desk next to him on his first day after the pair had briefly chatted online. Now, as full-time entertainers, the pair is managed by the company where their working relationship started.
The Chicago venue has been upgraded, and since, sold out, the same as all of their shows through February. Each venue is filled to capacity, and overflowing with loud, rambunctious young adults wearing yellow, sweatshirts reading "Tiny Meat Gang," which is the name of the duo's tour and their famous podcast. It's not what they envisioned when they began the tour, but now, they're getting used to it.
"They feel like they're friends with you," Ko told Newsweek of the crowds. "When they come to see you live, they want to interact with you. We've had crowds that are super rowdy—rowdy to the point that we can't do stand up material. They just want to engage. So we make a point to interact with the crowd for a solid amount of time."
And they're right: the Chicago show is full of wild audience members who want to yell phrases instead of cheers. It's an audience that wants to communicate. Miller and Ko insist their fans have been nothing but respectful when they meet off stage, but in the theater, two women are kicked out for flashing the celebrities mid-show.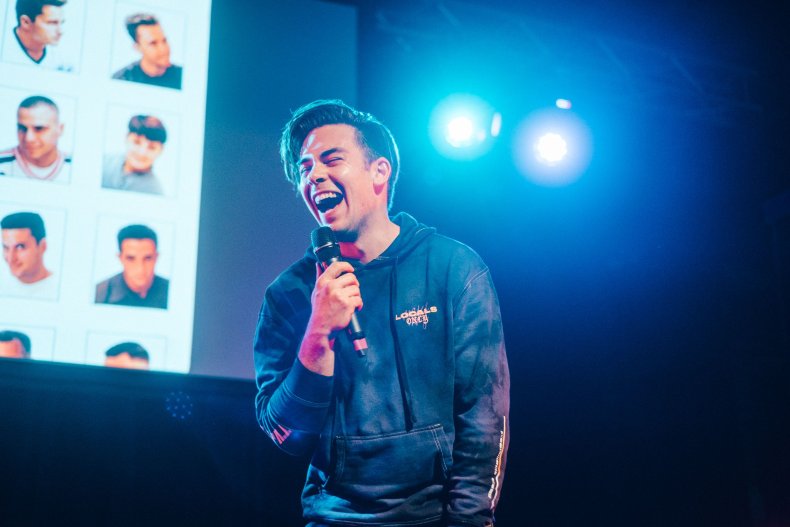 As for how they deal with the extra loud groups, Ko explains. "We just roast them until they shut the f*** up."
The tactic doesn't fall far from what they're best known for: their That's Cringe series on YouTube. For each segment, the pair picks a ridiculous YouTube video to mock, but they aim to draw a line between comedy and cruelty. They encourage their fans to do the same.
"It's so hard to find the right video," Ko shares. "Cause you don't want to bully someone, someone random. These videos could very easily be mean, right? You have to find the right video where someone is being absurd enough so other people are like 'This is ridiculous.' Then they're automatically on your side, and you can poke fun together in a light way."
Miller expands. "I've seen feedback from people where they say we don't go hard enough, but they don't understand when you have the ability to reach that many people, you have to be really careful with the message you deliver. At the end of these videos, we make a point to say 'don't go mess with this person. They're a person, after all.'"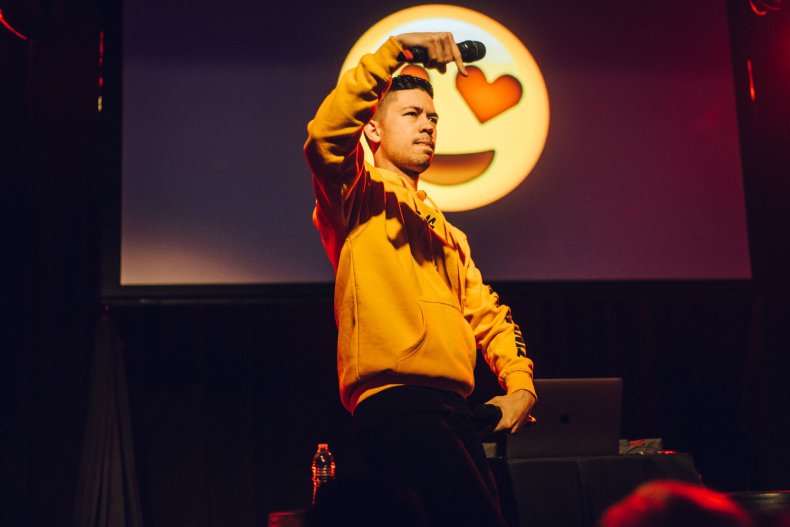 Most of the internet stars they've poked fun at have become their friends. They even play Fortnite with Matty Smokes, the subject of their most popular cringe video. There are exceptions though, like the infamous "girl defined" duo who Ko and Miller vocally disagree with when it comes to moral choices.
But the conversations they prompt aren't set on convincing. Ko and Miller don't want their fans to think they're more than entertainers. "The one thing I'm always worried about is people will think we think we're an authority on stuff," Miller told Newsweek.
"I feel like that gets very dangerous. We avoid some of those heavier topics, or we talk about them in a tongue-in-cheek way. Outside of comedy, we would just be writing code somewhere and writing s***** jokes on Twitter. We're not the smartest people in the room, so we don't feel like we should be the ones commenting or telling people how to think."
Ko added: "We're just here to make people laugh. And we're happy that people are f****** with it."
This article has been updated to include mention of Ko and Miller's former work.