It was early on a warm November morning that 14-year-old Jolman Perez Lopez crept out of his family's home in Corquín, Honduras, and disappeared without a trace.
Saying goodbye to his family would have been too painful—besides, he knew that as soon as his father woke up and found him missing, he would know exactly where he had gone.
"Around here," his dad, Julio Perez, tells Newsweek, sitting on the porch of the house he built for his family, "many people have left."
In fact, across the fields of coffee plantations that surround his home, dozens of houses just like his sit empty.
"At least 80 families have gone," Perez says. "They lost everything and they had to leave... and right now, we're in the same boat."
Like most of the families in Corquín, in Honduras' Copán region, Perez's family has, for generations, relied on coffee production as a way to make a living—and as a way of life.
But a perfect storm of plummeting global coffee prices, coupled with the spread of a disease that can put a coffee plantation out of business for years, has forced some families across the municipality to take on insurmountable debt, while driving others to flee Corquín altogether.
'I wanted a better life'
The latter is what Lopez tried to do, with the 14-year-old, seeing no hope of a future in following in his father's footsteps, trying to make it to the U.S., where he hoped to find work and to be able to send money back home to his family.
Those plans were cut short, however, when he and the friend he had left with were stopped by immigration authorities in Mexico and put on a bus back to Honduras.
"I wanted a better life," Lopez says. "It was a hard decision to leave, but I was just so disappointed and felt there was no work."
A large part of why there is little work to be done is that many of Corquín's coffee plantations have been decimated by the spread of a disease caused by the fungus hemileia vastatrix.
Known in Honduras as the dreaded la roya, or the rust, the disease has been a major problem for coffee plantations not only in Honduras, but across Central America and around the world.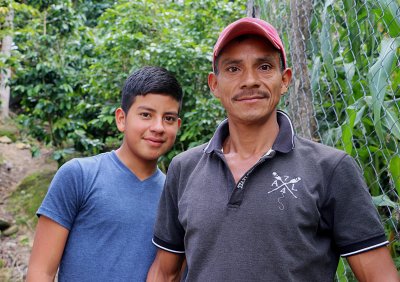 In 2012, parts of Central America, including Honduras, were hit by a major outbreak of coffee rust that nearly crippled the industry in some countries, while forcing producers across the region to cut their plantations down and start over again.
While some parts of Honduras, have been able to largely bounce back, Corquín is not one of them. A study published in peer-reviewed journal Science Advances, in January found that climate change could play a role in exacerbating the problem in years to come, with rising temperatures bringing more drought and potentially aiding the disease's spread.
When a single plant shows signs of la roya, the entire plantation could be at risk—and the impacts of that are long-lasting, taking as many as four years for new shrubs to start bearing fruit, depending on the variety.
'There are times when I feel like just leaving'
With harvesting season just weeks away, Perez is seeing just how devastating the consequences of la roya can be, with the majority of his plants infected with the disease.
"Production time begins in October and as you can see, the plants, they have no leaves left... It's a bad sign," he says, looking out across his plantation. "I can't do anything about it though. That's just the way it is. This year, very little can be salvaged."
Were the plants not infected with rust, Perez says he would have as many as 35 units containing roughly 200 pounds of product to sell. With the rust, which can be seen pocking the leaves of countless shrubs, "I can sell just four units."
The shortfall, Perez says, could literally be the difference between life or death.
"It's just not enough," he says. It is not enough to keep his family fed; it is not enough to clear the more than 10,000 Honduran lempiras ($400) he has accumulated in debt—a staggering amount for a single parent in Corquín, and it is not enough to keep him from losing the house that he built for his family with his own two hands.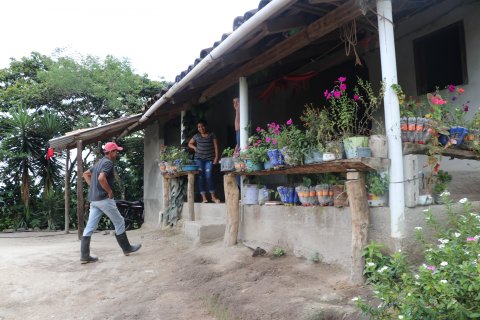 Between running his coffee plantation, which grows just beside his home, and finding employment at other plantations across the municipality, Perez says he has been working hard his whole life to be able to build and keep his home, as well as support his family.
His wife left 11 years ago, he says, to live in San Pedro Sula 123 miles away. While his daughter has since moved out of the family home, now expecting a child of her own, Perez still feels the weight of his children's futures on his shoulders.
"I'm worried about my debt and I'm worried about the fact that my son wants to build a house of his own, but I can't see how... not yet," he says.
"I've told my son there are times when even I feel like just leaving. There are times when I just think, there's no way that I can live like this, that I need to leave. I've thought about it, but then, I think, I cannot leave my kids and this house," Perez sighs. "Sometimes, all you can do is ask God and let Him guide you."
'It's been a real problem'
Sitting in Corquín's town hall, Deputy Mayor María Lastenia Ayala laments the situation that Perez and many other families across the municipality are finding themselves in.
"The coffee, it's been a problem... and not just in Corquín, but also at the national and international level," Ayala tells Newsweek. "It's affected families, as well as the income of the municipality. It's been a real problem."
In Corquín, Ayala explains, there are two types of coffee plantations. "One is the big coffee plantation owner who hires people to work on their plantation and pays workers a daily fee. Then, there are the smaller coffee growers who have their own smaller plots."
While there are only five or six largescale companies in the municipality, there are "many, many smaller plantations."
"There are 18,000 people in Corquín," Ayala says. "The majority of these people have small plots. In fact, there are few that don't have small plots."
In the past, Corquín was "always a municipality that had good coffee production," she says. "But, the coffee rust has had a great impact. Many coffee plantations have been lost due to coffee rust."
Meanwhile, Ayala says, "the low price of coffee also affects us."
"Both issues together have been bad," Ayala expands. "Had it been just one of the two problems, it might have been okay, but both together... It's been a problem for the health and well-being of all people here because coffee is one of the main products of this municipality."
While some coffee producers have started trying to grow other crops, including Hass avocados, the income they are seeing is rarely enough to sustain themselves or their families.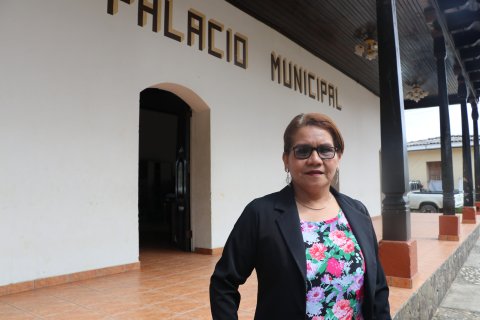 Ayala says the municipality has been doing what it can to support coffee growers, including working to grow varieties of coffee plant that are more resistant to la roya and distributing welfare packages, including basic food items such as rice, oatmeal—and even coffee—through municipal and federal programs.
The local government has also been working to develop workshops where young people can learn new skills outside of the coffee business, including carpentry and artisanal craft-making.
Despite those efforts, however, what the local and federal governments have to offer is simply not enough to keep an entire community running.
"Often, we get people coming in here and asking for assistance to meet the most basic needs," she says. "it's sad for me to see, you know, a mother with for or five children coming into the office asking for help because she has nothing to eat."
"Many people have migrated because of this," Ayala admits. "A lot of families and kids leave."
'We met working at a coffee plantation'
Among those who have tried to leave Copán is Marta Sanchez, a 29-year-old mother of three who tried to make it to U.S. with her 2-year-old son Gerson and 10-year-old daughter.
For Sanchez and her husband, 31-year-old Roy Alexander Lopez, coffee production had been a way of life for many years—so much so that coffee is what brought the couple together in the first place.
"We met working at a coffee plantation," Sanchez smiles. "That was 11 years ago."
More than a decade later, the couple have, for the most part, been forced to give up on coffee as a way to make living, taking out a loan to start up a grocery store instead, which they now operate out of their home.
With three children to raise—Keilyn, 10, Samuel, 7, and Gerson, 2—Sanchez and Lopez have struggled to make ends meet, particularly with the family constantly worried about Gerson, who suffers from a heart condition.
"That's why we tried to leave," Sanchez says, "because of the situation with Gerson. Because he needs medication and medical exams."
'The need makes you get over the fear'
In the summer of last year, she and her husband had heard talk of a "caravan" of asylum seekers planning to make the journey to the U.S. from San Pedro Sula.
The couple saw the caravan, which would go on to make headlines around the world and ignite the ire of President Donald Trump—who vowed to stop it—as their chance to seek treatment for their son's condition.
"We saw it in the news and I decided to just pack up and go," Sanchez says. The 29-year-old departed Corquín with her youngest son and daughter, leaving her husband and Samuel to watch over their home.
While she felt anxious about making the journey without her husband and one son, Sanchez says: "Just the need makes you get over the fear."
Eventually, she and her children were able to track down and join the caravan. However, shortly after they made it to Guatemala, Gerson became sick with a fever and a cough.
Fearing the worst, Sanchez approached local police and asked them for help getting him to a hospital emergency room. The authorities did help, she says, and they even offered to assist her family in reuniting with the caravan once they were discharged from the hospital due to her "special case." However, after Gerson's health scare, she was too afraid to risk the rest of the journey.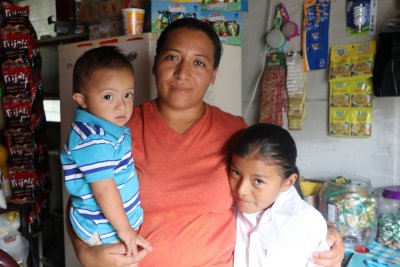 Now, Sanchez says, she and Lopez feel that their only choice is to do what they can to build a life in Corquín and to try to save up money to get more help for their son.
"The coffee rust has affected a lot of plantations and vegetables are really expensive to grow and there just isn't a lot of work," the mother says.
Meanwhile, business at the family's shop is not doing well. Already in their neighborhood, several other families have opened up similar shops selling the same products—and also struggling to pay off their loans.
"There's so much competition," Sanchez says. "I want to look for other opportunities...maybe start a store that is a bit more profitable selling clothes or shoes or something else that might see more profit."
"Basically working on coffee plantations is the only other thing you can do here," Lopez adds. "In the last five years, it's been harder. Since coffee is the main source of income here and the price has gone down, it's really affected us."
Lately, Gerson has been struggling with repeated bouts of sickness.
"There is a health center here in Corquín with nurses, but there are no doctors and there is very little medicine," Sanchez says. "If they do give me a prescription, I have to buy it myself with my money somewhere else. That was always the hope, to get medication in the U.S."
'Here, everyone lives on coffee'
While countless Honduran families have been turned away from the U.S. border, the coffee produced in Copán is always happily received. In fact, you could be drinking a cup of Copán coffee right now.
If you are, that coffee might have been exported by a company like Café Aruco, a coffee exporter in Copán that works closely with California's own San Francisco Bay Coffee company.
Because of its strong relationship with SF Bay Coffee, Aruco "taste tester" Ana Cecilia Estevez tells Newsweek, the exporter has been able to hand local coffee growers higher paychecks than they are typically able to get for their product.
"SF Bay Coffee is our main buyer," Estevez, who is also the daughter of one of the coffee exporting company's founders, says, while making an espresso in the facility's taste-testing room.
"With San Francisco Bay Coffee, they've given us a fixed price for the last four years," she says. "So, for us, things have been more stable compared to 2012."
Whereas the international price of coffee per pound falls at around 10 to 15 lempiras (41 to 61 cents) today, compared with the roughly 30 lempiras ($1.22) it used to be sold for in 2015, Estevez says, Aruco is able to sell it at more than 20 lempiras per pound to SF Bay Coffee.
SF Bay Coffee Honduras representative Becky Stygar tells Newsweek that after milling costs in the 2018-2019 harvest, the California company was able to purchase dry Honduran parchment coffee at 30 lempiras per pound for organic coffee and 26 lempiras per pound for non-certified coffee.
"This price was nearly double the market value of (dry) parchment coffee in Honduras," she said.
The SF Bay Coffee Honduras representative said the higher-priced purchasing is part of a conscious decision on the coffee company's part.
"Early in the company's history the inequalities and difficulties faced by coffee farmers were recognized as being both intolerable from a human rights' perspective and unsustainable for the production of high-quality beans," Stygar says.
Part of the company's operating principles, she says, include guaranteeing to sell farmers' coffee at prices "above the cost of production, as well as providing support to improve the quality and quantity of coffee produced and providing "additional resources to improve the social conditions on their farms and within their communities."
For example, Stygar says, in 2017, SF Bay Coffee financed a project to "gift" 1,000,000 coffee plants to Honduran farmers affected by coffee rust outbreaks, including "new rust-resistant and climate change resilient grafted varieties" that were introduced as part of the initiative.
In addition, in both the 2017 and 2018 academic years, SF Bay Coffee provided scholarships at a school for five underprivileged students from the Corquín community, while it also plans to support the school with the construction of eight formal classrooms in the coming harvest.
According to Stygar, it was a former U.S. Peace Corps volunteer to Honduras who helped establish a direct-trade relationship between SF Bay Coffee and Aruco.
The company has directly traded the ever-in-demand product from Honduras since 2012, the same year that a surge in the spread of coffee rust rocked coffee-producing communities. Now, its coffee is sourced from eight single estates, as well as 18 small-farmer organizations throughout parts of Western and Central Honduras. More than 22,000 families in Honduras form part of SF Bay Coffee's supply chain.
For growers in Copán, partnerships like this one offer some small hope, but only to the select farmers who can participate in the program.
At the end of the day, Estevez says, this is Copán—and "here, everyone lives on coffee."
"Maybe not all of the harvesting seasons will be good," she says. "Many people have had a hard time... but since this is our industry, we're forced to continue working, to continue to struggle."