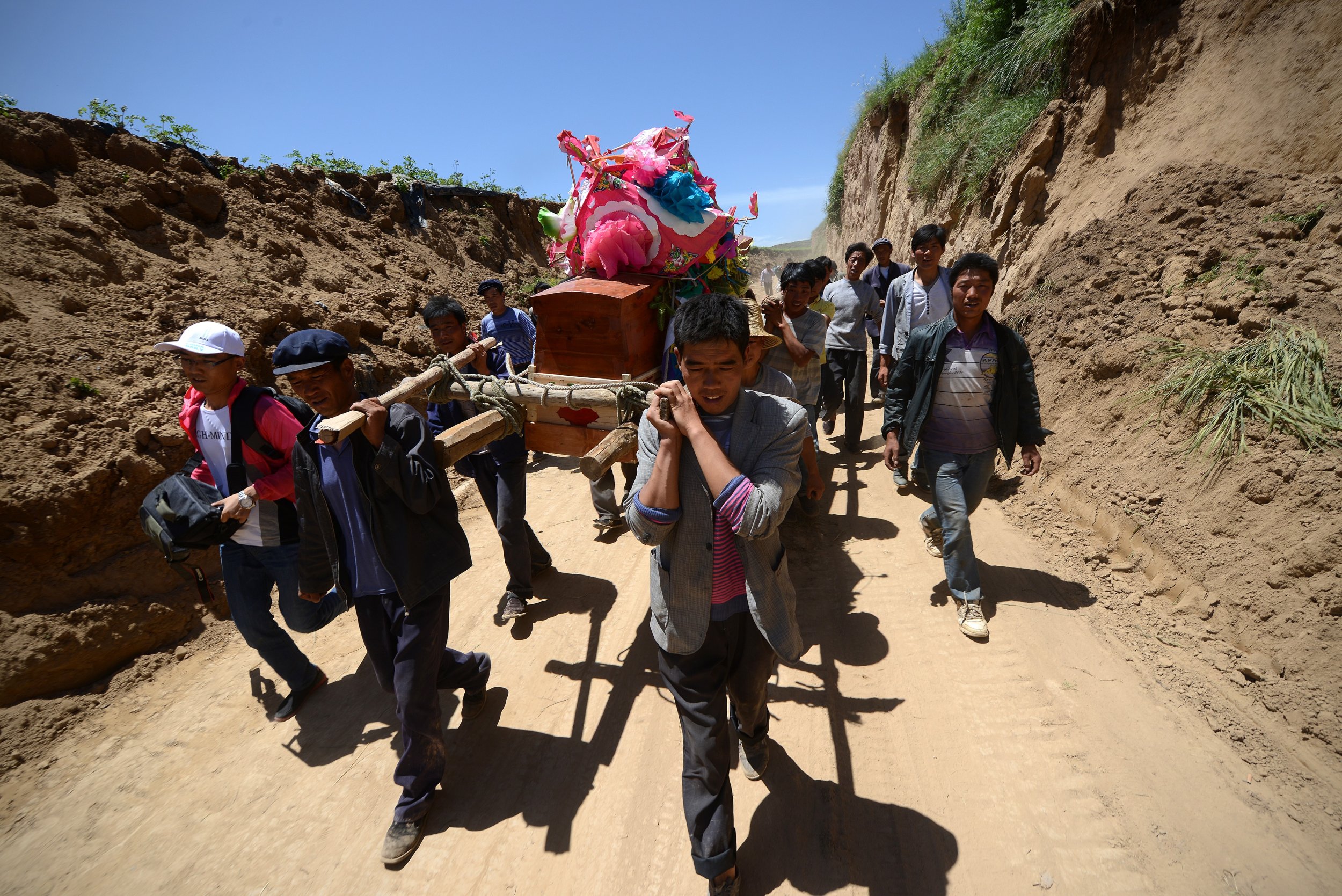 Authorities in southeast China have reportedly been destroying coffins to enforce a burial ban issued by the local government.
The burial ban in Jiangxi province is meant to save land and went into effect about six months ago. The government intends to have cremation be the only approved method of remains disposal. But the policy has not been popular with locals, who see it as waging a war on traditional funerary practices, South China Morning Post reported Tuesday.
Videos and photos of provincial authorities rounding up coffins and smashing them have been widely shared on Chinese social media, drawing intense backlash, according to the Hong Kong–based newspaper. In some videos, elderly residents appeared to lie in their coffins in hopes of keeping the special funerary boxes, only to be dragged out by officers. At least one case has been reported of a deceased individual's illegally buried casket being dug up and destroyed.
"These coffins had been stored in ancestral halls and had been with my grandparents for more than 30 years, as they were made by carpenters using wood grown from our own land," an unidentified 29-year-old Chinese man told the South China Morning Post. "Not only are they confiscating coffins, but they're also banning local burial traditions. No coffins, tombstones or paper money are allowed."
Although individuals have reportedly been compensated by the government for confiscated coffins, many complained to the newspaper that the amount given—2,000 yuan ($290)—is not nearly adequate to cover the financial loss, usually costing individuals more than twice that amount.
Back in 2014, the eastern province of Anhui also banned burials, forcibly confiscating coffins from local residents. Several elderly Chinese living in the province killed themselves, according to The Guardian, so they could be buried in the traditional manner ahead of the policies implementation. In a tradition dating back thousands of years, many Chinese worship their ancestors, and the practice generally requires relatives to construct a tomb for a deceased loved one's burial.
The local government initiatives to crack down on the historic practice have come in an effort to preserve land for other uses. A report by Forbes from last November also revealed skyrocketing prices for grave plots in other parts of China where burials are still allowed. With the world's largest population of any country—just under 1.4 billion—China also has the highest number of deaths per year. The report revealed that the cost of graveyard plots is rising so fast it is starting to outpace the housing market.
Nonetheless, the provincial governments' efforts have drawn substantial criticism, including editorials from state-controlled media.
"Is there any reason to carry out such a rough and even barbaric move?" asked an editorial from People's Daily, an official publication of China's Communist Party, according to South China Morning Post. "Even if the funeral reforms are effectively carried out, the hearts of the people are hurt and [the administration's] credibility is lost…[and] built-up resentment triggers instability."