The Department of Justice and Federal Election Commission were asked Wednesday to investigate whether a $1.6 million payment made by a top fundraiser for Donald Trump to a former Playboy playmate was intended to help the president's 2020 campaign and thus potentially violated federal campaign finance laws. The complaint over the payment, which was arranged by the president's former personal lawyer Michael Cohen, was filed Wednesday by non-profit watchdog group Free Speech for People.
The group questions whether the monies paid by former Republican National Committee deputy finance chair Elliott Broidy to former Playboy model Shera Bechard were meant to silence her extramarital affair not, as has been claimed, with Broidy, but with Trump.
Broidy previously admitted to making the payment—as arranged by embattled former Trump "fixer" Cohen—to Bechard and told The Wall Street Journal in April that he had "offered to help her financially" when she informed him she was pregnant after their relationship had ended. Bechard terminated the pregnancy.
But the complaints filed to the FEC and the Justice Department seek to have investigators determine whether the payment to Bechard was meant "to cover up an alleged affair between Mr. Trump and Ms. Bechard for the purposes of influencing the 2020 presidential election…" If so, Free Speech for People asserts, the payment could be an in-kind campaign contribution in violation of federal laws.
"Federal campaign finance laws are intended to protect the integrity of our elections and give the public confidence in the democratic process," senior counsel for Free Speech for People, Shanna Cleveland, said in a press release. "If this $1.6 million payment was actually intended to influence the 2020 presidential campaign by covering up yet another damaging scandal for Mr. Trump, then the American public deserves to know."
Cleveland added: "The Federal Election Commission and the Department of Justice have the authority and the responsibility to hold candidates and their agents accountable to the rule of law. That's why we're calling on both agencies to open investigations."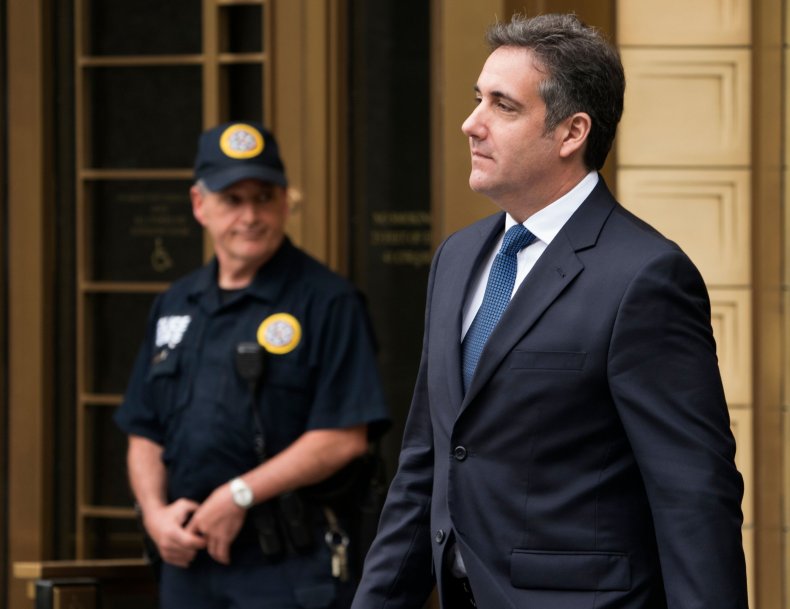 An FEC press officer told Newsweek that the agency does not "comment on enforcement matters."
Representatives for Broidy, the Justice Department and the White House did not immediately respond to Newsweek's request for comment.
"The meritless allegations do not deserve a response," a person close to Broidy told Newsweek.
Serving as Trump's personal attorney, Cohen has admitted to paying former adult film actor Stormy Daniels, whose real name is Stephanie Clifford, $130,000 in October 2016 for her silence about an alleged sexual encounter with Trump in 2006.
Other watchdogs have accused Cohen of violating campaign finance law when he paid Daniels, asserting that the payment was a contribution intended to affect the 2016 election.
Cohen's office, residence and hotel were raided by federal investigators in April, reportedly, in part, due to the funds paid to Clifford and another former Playboy Playmate, Karen McDougal, who also claimed to have an almost year-long affair with Trump.
The president has denied Daniels's claim, but also initially denied having any knowledge of Cohen's payment to her. One of Trump's current personal attorneys, Rudy Giuliani, revealed last month that the president had reimbursed Cohen for the money he gave to Clifford.
This story was updated to include a comment from a person close to Elliott Broidy.