Cohen Plea, Manafort Verdict Are 'Beginning of the End for Donald Trump,' Omarosa Claims
Former White House aide Omarosa Manigault Newman said that Tuesday, which saw a guilty plea and conviction from President Donald Trump's former lawyer Michael Cohen and ex-campaign manager Paul Manafort, respectively, was "the beginning of the end" for the commander-in-chief.
"I will say that today changed everything. This is the beginning of the end for Donald Trump," Manigault Newman said on MSNBC's Hardball.
"Because he knows that the person who knows everything about him, about his relationships with these women and others people may not know about, are going to come to light," she continued, referring to Cohen.
Manigault Newman also shared an iPhone video she recorded of Cohen boarding Trump's plane during his campaign in September 2016.
"Michael Cohen, Michael Cohen," Manigault Newman said in the video as Cohen stepped up onto the plane, gave her a thumbs up sign, smiled and responded "my number one photographer, man." Manigault Newman said that "you are on my video just so you know," and followed Cohen into the plane, before adding: "Now I got to stalk you."
Cohen on Tuesday afternoon pleaded guilty to eight criminal counts. They included one count of excessive campaign contribution at the request of a candidate or campaign, one count of unlawful corporate campaign contribution from June 2016 to October 2016, one count of false statements to influence lending and five counts of tax evasion.
Manigault Newman claimed that Trump and Cohen are "in the business of silencing people and using campaign funds to do so."
Cohen's decision to enter into the plea agreement in order to avoid possibly facing an indictment was an undoubted blow to Trump. Cohen also directly implicated the president, stating in court that he made a payment to silence Stormy Daniels's claims of an affair at the direction of Trump.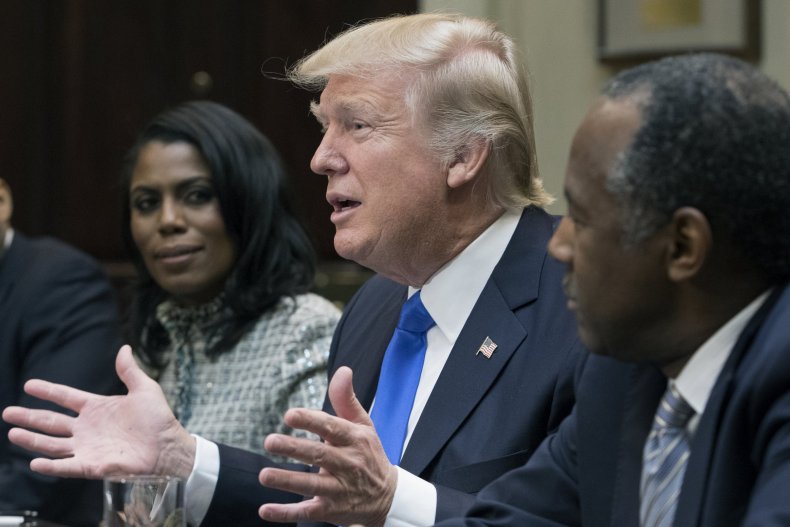 At about the same time as Cohen's plea, Manafort was convicted of eight counts of fraud—five counts of tax fraud, two counts of bank fraud and one count of failing to file reports of foreign bank and financial accounts. Additionally, a mistrial was declared in three counts of failing to file reports of foreign bank and financial accounts and seven counts of bank fraud and bank fraud conspiracy.
Manigault Newman in her book Unhinged: An Insider's Account of the Trump White House released last week made numerous scathing allegations about Trump, that led him to tweet: "When you give a crazed, crying lowlife a break, and give her a job at the White House, I guess it just didn't work out. Good work by General Kelly for quickly firing that dog!"