Cohen Prepared to Tell Mueller Trump Lied About Russian Lawyer Meeting: Reports
President Donald Trump knew in advance about a June 2016 meeting between his aides and a Russian delegation offering to help his election campaign, his former attorney Michael Cohen said.
The president has long denied having any knowledge of the meeting before it took place. Cohen, however, has said that is not true, claiming he was present when Trump's eldest son, Donald Trump Jr., told his father about the planned meeting.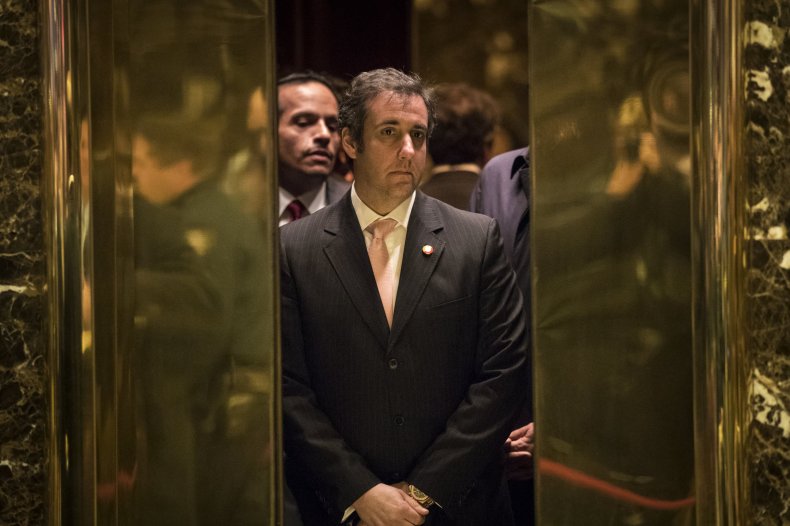 Cohen is also reportedly willing to give his statement to special counsel Robert Mueller as part of his investigation into Russian meddling in the 2016 election, according to reports from CNN and NBC that cited anonymous sources.
Lanny Davis, Cohen's attorney, told Newsweek that "the CNN leak did not come from us." But a source in the Cohen camp told Newsweek they are furious about the leak because it undermines his ability to talk to Mueller.
"This is a Saturday Night Live satire," the source said. "This cannot be real. The president of the United States, who lied about this meeting, and his son, who lied two or three times about this meeting—and they both got caught—are now accusing Michael Cohen of not having credibility. Are you serious?"
In the June 9, 2016, meeting, Donald Trump Jr., Trump son-in-law Jared Kushner and former campaign chairman Paul Manafort met with four Russians, including a lawyer alleged to have Kremlin ties. An email to Trump Jr. arranging the meeting said that the Russian government had incriminating information on Hillary Clinton.
All parties involved have insisted that the meeting did not amount to anything significant. Still, Cohen's claim would contradict Trump's repeated claims that he had no knowledge of the meeting until he was asked about it by The New York Times in July 2017.
According to CNN, Cohen is not believed to have any evidence to support his claim that Trump knew of the meeting, but the lawyer has said he would be willing to at least provide testimony about Trump Jr. notifying his father of the plans.
Related: These are the Trump tweets Mueller is reportedly investigating over pressure on Sessions and Comey
Speaking with CNN's Chris Cuomo on Thursday evening, Trump attorney Rudy Giuliani called Cohen a "pathological liar" and claimed that he has been "lying all week" and "lying for years."
"I don't see how he's got any credibility," Giuliani said of Trump's former long-time confidant. He also said Cohen was the "kind of witness that can really destroy your whole case."
Trump has repeatedly called the investigation into Russian election meddling a "witch hunt," with a recent analysis from Statista showing the president has ramped up his rhetoric dismissing the probe in recent months.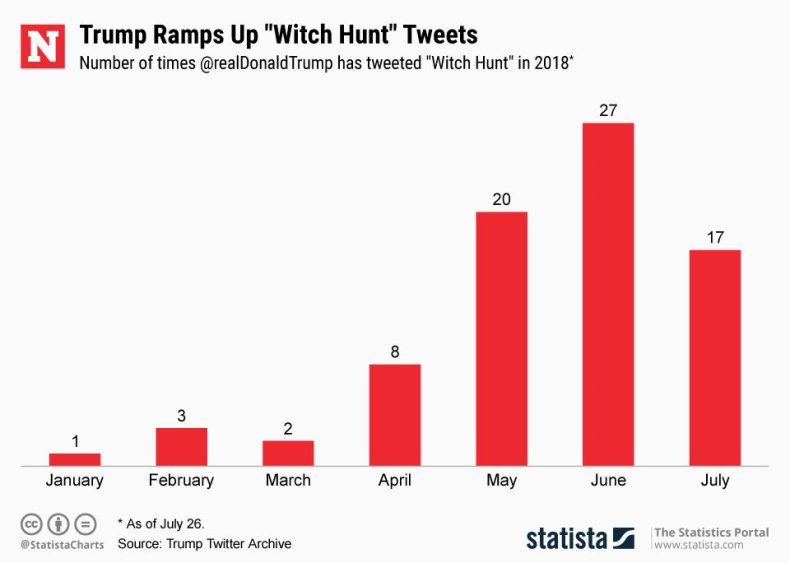 In June alone, the president tweeted out the words "witch hunt" in connection with the investigation 27 times. He has tweeted out the same words 17 times so far in July.
Trump's tweets are also expected to play a role in Mueller's investigation, with the special counsel reportedly investigating several of the president's Twitter attacks on former FBI Director James Comey and Attorney General Jeff Sessions as potential attempts to obstruct justice or pressure top Justice Department officials.
This article has been updated to reflect that NBC and CNN cited anonymous sources, as well as comment from Lanny Davis and a quote from a source in the Michael Cohen camp.