Michael Cohen Will Be Threatened to Sing Like 'Canary' About Trump to Avoid Life Imprisonment, Dershowitz Says
The investigation into President Donald Trump's personal attorney has reportedly put some of the Republican's allies on edge, leaving them fearful that Michael Cohen could turn on the president to avoid spending the rest of his days in prison.
Cohen, whose office, home and hotel room were raided last week by the FBI, has long served as Trump's "fixer," making apparent problems go away behind the scenes while Trump ran his global real estate empire and later hit the American political stage.
It's that kind of closeness and access to potential information about Trump's dealings that have two people close to Trump worried Cohen could flip, according to a Politico report Thursday.
Famed attorney and television pundit Alan Dershowitz said federal prosecutors were likely to threaten Cohen with serious jail time.
"That's what they'll threaten him with: life imprisonment," Dershowitz told Politico. "They're going to threaten him with a long prison term and try to turn him into a canary that sings."
The same claim was made by the attorney representing Stormy Daniels, Michael Avenatti, earlier this week. He told MSNBC that he believed Cohen would be charged soon and that within in the next six months or so Cohen would "flip" on Trump.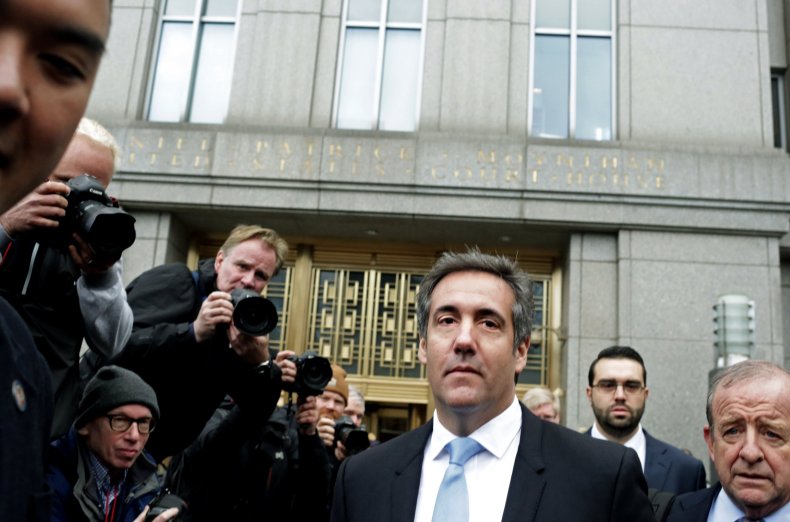 The FBI has reportedly been investigating Cohen and his business dealings for months. The raid was at least in part intended to find information about payments made to Daniels and another woman who claimed to have had an affair with Trump. Cohen has stated publicly that he paid Daniels $130,000 less than two weeks before the 2016 general election. The payment has since been scrutinized as a potential campaign finance violation.
To date, Cohen has not been charged with any crimes but his attorneys are angling for the federal judge overseeing his case to appoint a "special master" to review the materials seized by the FBI before Southern District of New York prosecutors. On Tuesday, Cohen's lawyers offered up four attorneys as recommendations for the special master, or independent counsel.
Cohen's lawyers have argued that some of what the FBI obtained through search warrants would be covered by attorney-client privilege. They were also tasked with naming each of Cohen's clients, which turned out to be Trump, Elliott Broidy, the former Republican National Committee deputy finance chair, and Fox News anchor Sean Hannity.
Trump's lawyers initially argued that the president's very status afforded him the highest of attorney-client privilege, but the judge denied them access to seized materials.