Michael Cohen Said Trump Knew 'Everything' About Russia, Tower Meeting, Says Friend of President's Former Lawyer
President Donald Trump knew "everything" about the infamous meeting between a Russian lawyer and his eldest son in June 2016 involving possible political opposition research, or dirt, on opponent Hillary Clinton, Michael Cohen has said, according to a friend of the president's former personal attorney.
Donny Deutsch, a longtime friend of Cohen's, said Friday that he had heard "several months" ago from Cohen that the president had previous knowledge of the infamous Trump Tower meeting that many have said is evidence of collusion with Russia to steal the White House.
"What Michael's made very clear to me is No. 1…nothing went on in this business without Donald knowing about it. And he had led me to believe that he could bring Trump back to Russia," Deutsch said on MSNBC Friday.
Deutsch's claim followed reports from CNN and NBC, citing anonymous sources, of Cohen's apparent willingness to testify before the special counsel investigating Russia's interference in the 2016 election that the president knew his eldest son would be meeting with Russians who could have damning information about Clinton.
"What came out yesterday to me was not a surprise, based on conversations Michael and I had had," Deutsch added. "I don't want to use his exact words, but everything that was going on, Trump knew about."
Deutsch said that Cohen, who worked as Trump's "fixer" for more than a decade, now finds himself conflicted over whether to be silent or to punch back and not allow himself to be used as the president's scapegoat. He added that the news of the the subpoena of the Trump Organization's longtime chief financial officer Allen Weisselberg was an even bigger revelation than Cohen's apparent turn against Trump, given Weisselberg's intimate knowledge of the company's dealings around the world.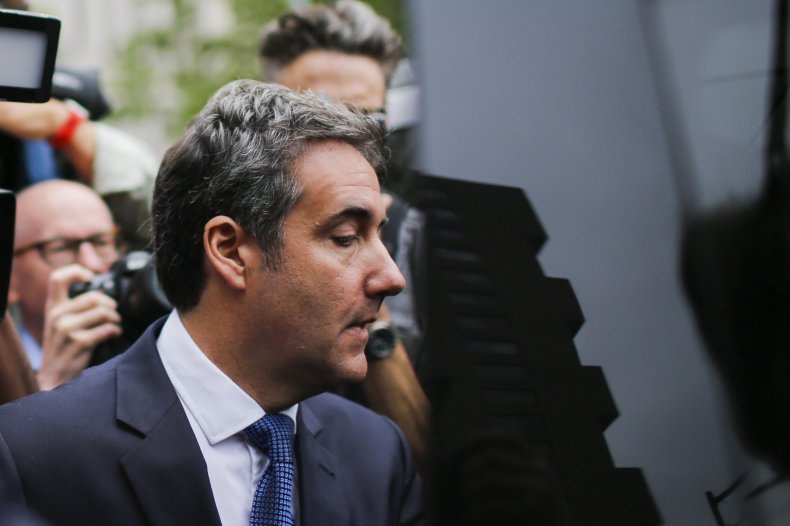 The meeting, attended by Donald Trump Jr., current White House senior adviser and Trump son-in-law Jared Kushner and former campaign manager Paul Manafort, was originally described by the president's son as pertaining to adoptions. But Trump Jr. later admitted that he could have "done things differently" and released emails showing he would "love" political dirt on Clinton as he set up the sit-down.
The president has repeatedly denied any collusion took place between his campaign and Russia, while labeling special counsel Robert Mueller's probe a "witch hunt" led by "13 Angry Democrats" intent on creating an excuse for Clinton's election loss.
Over the past week, Cohen has increasingly turned on Donald Trump, including the release of a recording that depicts then-Republican candidate Trump discussing a payment for the rights to a former Playboy model's story about an alleged affair with the president.
However, a source in the Cohen camp told Newsweek Friday that Cohen's camp is furious about the leak of his claims about the Trump Tower meeting because it undermines his ability to talk to Mueller.
"This is a Saturday Night Live satire," the source said. "This cannot be real. The president of the United States, who lied about this meeting, and his son, who lied two or three times about this meeting—and they both got caught—are now accusing Michael Cohen of not having credibility. Are you serious?"
Shane Croucher contributed to this report.
Michael Cohen Said Trump Knew 'Everything' About Russia, Tower Meeting, Says Friend of President's Former Lawyer | U.S.