Will Trump Fire Gary Cohn? President 'Furious' After Charlottesville Comments, Report Claims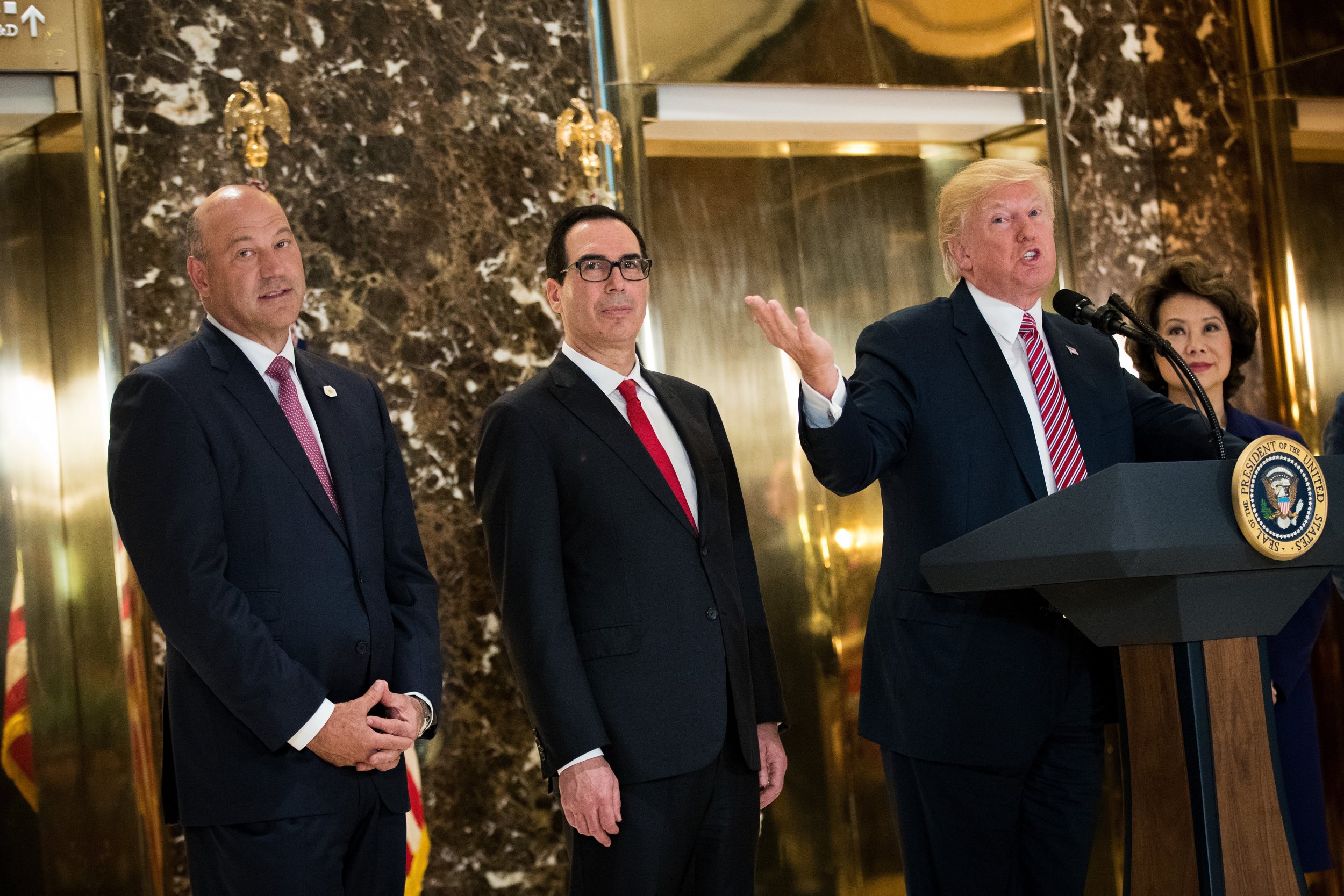 Gary Cohn, chief economic adviser to President Donald Trump and director of the National Economic Council, reportedly angered the president with his recent interview about Trump's response to the racially charged melee in Charlottesville, Virginia, and had even considered resigning, according to reports Friday.
In an interview with the Financial Times published Wednesday, the former Goldman Sachs executive said the Trump administration "can and must do better" in admonishing hate groups and help to "heal the deep divisions that exist in our communities."
Cohn's comments, according to The Washington Post, made Trump privately "furious." In public, White House Press Secretary Sarah Huckabee Sanders said no one "was surprised" by Cohn's reaction.
"Gary has not held back how he feels about the situation," Sanders aid according to the Post. "He's been very open and honest, so I don't think anyone was surprised by the comments."
Cohn's comments against the president did not stop at the interview. During a dinner at a Long Island restaurant Wednesday night, he was overheard saying he sometimes held back on presenting plans to Trump out of fear the president could release them prematurely and hurt their rollout, according to the Post.
Cohn has widely been considered a leading candidate to take over for Janet Yellen as the head of the Federal Reserve once her term is up. But his comments against Trump may have hurt that candidacy.
Following Trump's wild press conference on August 15, during which he went back on a previous condemnation of white supremacist groups the day prior and instead said "many sides" were to blame for the violence in Charlottesville, Cohn reportedly wrote a resignation letter but did not sign it, and for more than a week contemplated leaving the Trump administration, The New York Times reported, citing three sources familiar with Cohn's letter.
Cohn, who had been standing behind Trump during the now infamous Trump Tower press conference that caused outrage within the Republican Party, spoke to his wife and friends and ultimately decided he could be more effective within the administration.
But he could be the next one out. On Friday, adviser Sebastian Gorka had reportedly been pushed out one week after former chief political strategist Steve Bannon had left, and a little more than a month removed from ex-chief of staff Reince Priebus's exit.
Bannon's departure also was preceded by a media interview that ultimately undermined Trump's strategy against North Korea. Bannon told The Federalist there was no true military option to thwart Kim Jong-un's regime, and angered the president over perceptions in the media that he, not Trump, had been key in claiming the White House in last year's election.