Coin Marking Trump Summit With Putin Has Three Typos, Including the Word 'Helsinki'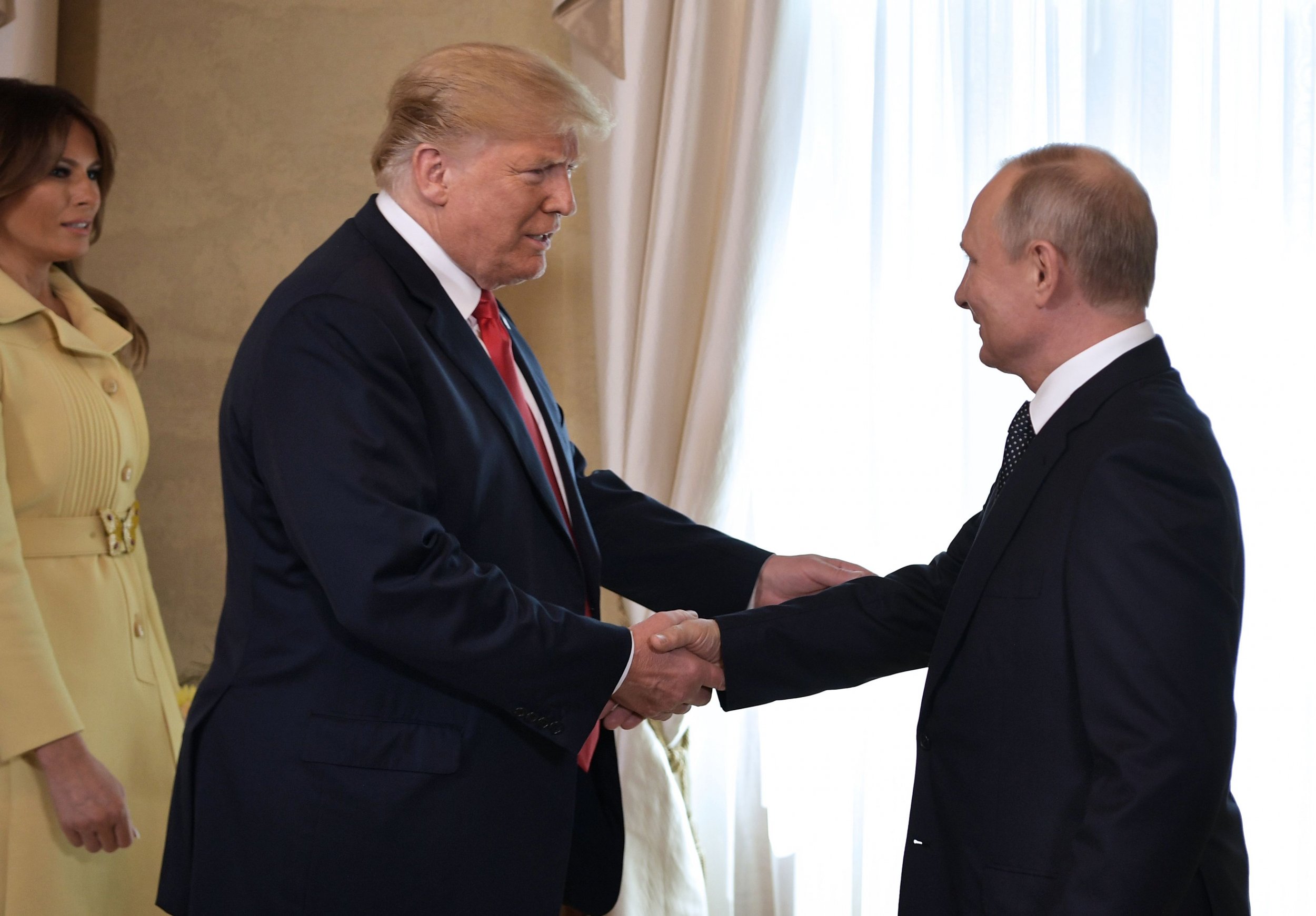 The summit between Donald Trump and Vladimir Putin was billed as a red-letter day—however the coin marking the occasion could not get those letters right.
The White House commemorative coin for the Helsinki meeting on July 16 between the Russian and American presidents has inscriptions in the native languages of both leaders.
However, they probably should have enlisted the services of a better copy editor after three howlers were spotted in Russian on the coin.
On one side of the coin is an image of a dove—presumably signifying peace—flying past Helsinki Cathedral.
On its outer red rim read the words in English: "New generation, new era, new leadership, new hope," referring to the presidents, although one of them has been in power for nearly two decades.
But the problems started with the Russian versions of the diplomatic language—including the word diplomatic, which is spelled with an additional D.
Another error that might have made a Saint Petersburg schoolteacher shudder was the Cyrillic rendering of the Finnish capital, which in a possibly Freudian slip was spelled "Helpinski."
The third error was a more subtle point of grammar that could have been cleared up by any native Russian speaker and involved the translation of new era into "novoye era."
It should in fact be novaya era. The adjective new needs to agree with the noun, which is feminine.
Michele A. Berdy, who is culture editor of The Moscow Times and has been a Russian translator for more than four decades, said that any a first-year Russian student would have caught the mistakes.
"It's incredibly unprofessional and embarrassing. The United States should able to get it together to spell-check 10 words in a foreign language," she told Newsweek.
It is not the first time that the good intentions of American diplomacy have been undermined by typos, known in Russian as opechatki.
In 2009, then-U.S. Secretary of State Hillary Clinton, hoping to repair ties with Moscow, handed a red button to Russian foreign minister Sergei Lavrov. It had the Russian word peregruzka underneath, which she thought meant "reset."
But the word for reset is actually perezagruzka, and Lavrov had to point out peregruzka means "overload." It was perhaps a harbinger of tenser times to come between Moscow and Washington.
The newest coin is available for $100 and is the latest in a number of other commemorative coins minted this year, including ones marking the North Korean summit and the proposed U.S. Space Force.
The quote on the latest coin by Trump, "The past does not define our future," is actually taken from the Kim summit.
Trump and Putin are scheduled to next meet in Paris on November 11 on the sidelines of commemorations marking the 100th anniversary of the end of World War II.
This story has been updated to include a quote from Russian translator Michele A. Berdy.