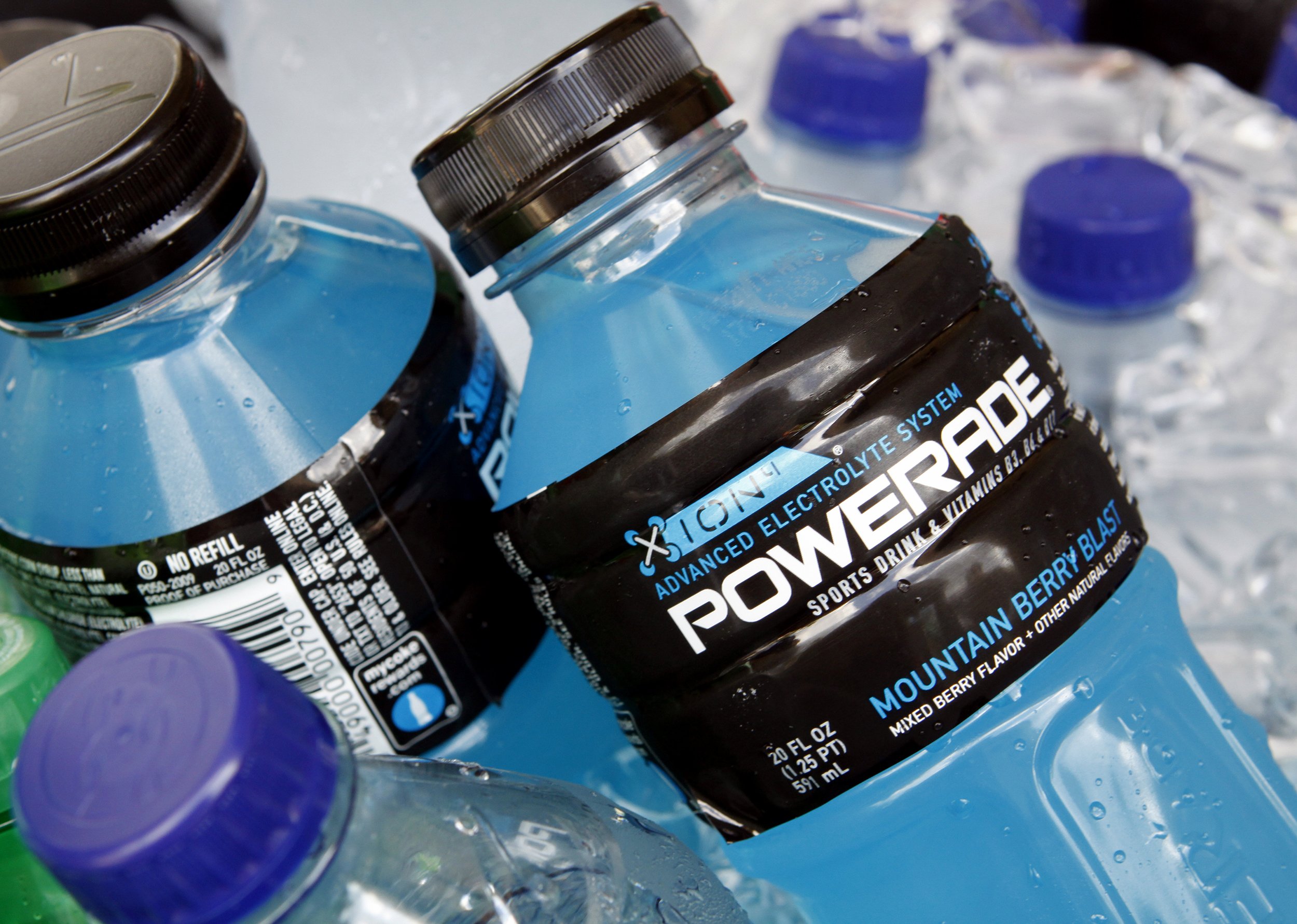 Coca-Cola is in the process of removing brominated vegetable oil from its entire line of beverages, including Powerade, Fanta Orange and Fresca, a representative for the company confirmed to Newsweek on Monday. The move comes one year after PepsiCo announced it would remove the controversial chemical, also patented as a flame retardant, from Gatorade.
The move follows an online Change.org petition from Mississippi teenager Sarah Kavanagh urging soda companies to remove the Brominated vegetable oil (BVO). Her Powerade petition gathered 59,000 online signatures, while her Gatorade petition had more than 200,000, according to the AP. Despite removing the chemical, Coca-Cola says it stands by the safety of its drinks, including those that contain BVO.
"All of our beverages, including those with BVO, are safe and always have been—and comply with all regulations in the countries where they are sold," Coca-Cola said in a statement.
BVO is not approved for use in food the European Union or Japan. The U.S. Food and Drug Administration approved its use in food products on an interim basis, "pending additional study." Mountain Dew, also made by PepsiCo, still contains BVO, along with Squirt and Sunkist Peach Soda, from the Dr Pepper Snapple Group, according to The New York Times.
The Associated Press reports bottles of Powerade in fruit punch and strawberry lemonade flavors sold in Detroit; Omaha, Nebraska; New York, and Washington, D.C. no longer have BVO on their ingredients list, but some bottles elsewhere still list it, suggesting Coca-Cola may have already begun phasing it out.
BVO is used as an emulsifier in fruit-flavored sports drinks and sodas to evenly distribute flavoring oils throughout the liquid. Without BVO, "your favorite lemony-limy soda would look like the Gulf of Alaska in the wake of the Exxon-Valdez," as the San Diego Reader put it in 1999.
"In the coming months, the Coca-Cola Company will be transitioning from the use of brominated vegetable oil (BVO) to sucrose acetate isobutyrate (SAIB) and/or glycerol ester of rosin (singly or in combination)," Coca-Cola said in a statement. "Glycerol ester of rosin is commonly found in chewing gum and beverages, and SAIB has been used in beverages for over 14 years."
Coca-Cola expects the transition to be complete by the end of the year, and says Powerade fruit punch and Powerade strawberry lemonade flavors have already eliminated BVO. However, the AP reported that some bottles of Powerade still list the chemical.
The safety of BVO has been a matter of debate in the scientific community for decades. BVO contains bromine, the same element found in brominated flame retardants used on upholstered furniture and some children's bedding and clothes. Research found brominated flame retardants can build up in the body and breast milk, and human and animal studies have linked them to fertility problems, precocious puberty, neurological impairment, and changes in thyroid hormones.
A history of BVO by Scientific American notes that in 1970, a U.K. study found that rats fed brominated maize oil gathered stockpiles of bromine in their fat tissue, and the bromine remained there even after the rats returned to a bromine-free diet.
Shortly after, another study confirmed that bromine was building up in humans. Bromine serum levels found in people in the U.K.—where BVO was in use—were higher than levels in their counterparts in the Netherlands and Germany, where BVO was not used. The highest levels of bromine were found in fat tissues of children.
In 1997, a man who had consumed two to four liters of soda containing BVO daily was admitted to the University of California, Davis emergency room for memory loss, tremors, fatigue, loss of muscle coordination, headache, and ptosis in his right eyelid. He was diagnosed with severe bromine intoxication and put on hemodialysis, and eventually recovered.
Among the approximately 10,000 chemical additives approved for use in foods in the U.S., about 3,000 have never been reviewed for safety by the FDA, according to Pew.
The FDA removed brominated vegetable oil from its list of food additives generally recognized as safe in 1970, but BVO reappeared on the list a few years later after industry group studies "demonstrated a level of safety," according to Scientific American. In 1977, BVO was placed on a list of chemicals approved on an "interim basis," pending further safety studies, where it has been since.
"Any change in the interim status of BVO would require an expenditure of FDA's limited resources, which is not a public health protection priority for the agency at this time," a spokeswoman for the FDA told the Times.