Col' Brew: 'The Late Show With Stephen Colbert' Gets Its Own Coffee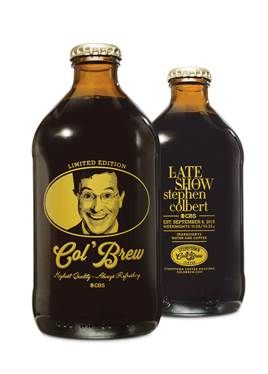 First, Stephen Colbert got his own network late night show, and now he's getting his own fancy coffee. Stumptown Coffee Roasters, a Portland, Oregon, coffee joint that grew into a nationally beloved brew, is teaming up with The Late Show to create the custom Col' Brew.
The limited-edition bottles will only be available on September 8 in New York City. They will be handed out for free on the streets to celebrate the start of Colbert's new show, which he is taking over after David Letterman's retirement earlier this year.
The flavor will be standard cold brew, but the bottle is all custom, featuring Colbert's face. This is Stumptown's first such bottle collaboration, but it makes sense: You'll probably need some strong coffee after you stay up to watch The Late Show.