Colbert and Kimmel Do Similar Mitt Romney Candle-Blowing Joke on Their Late-Night Shows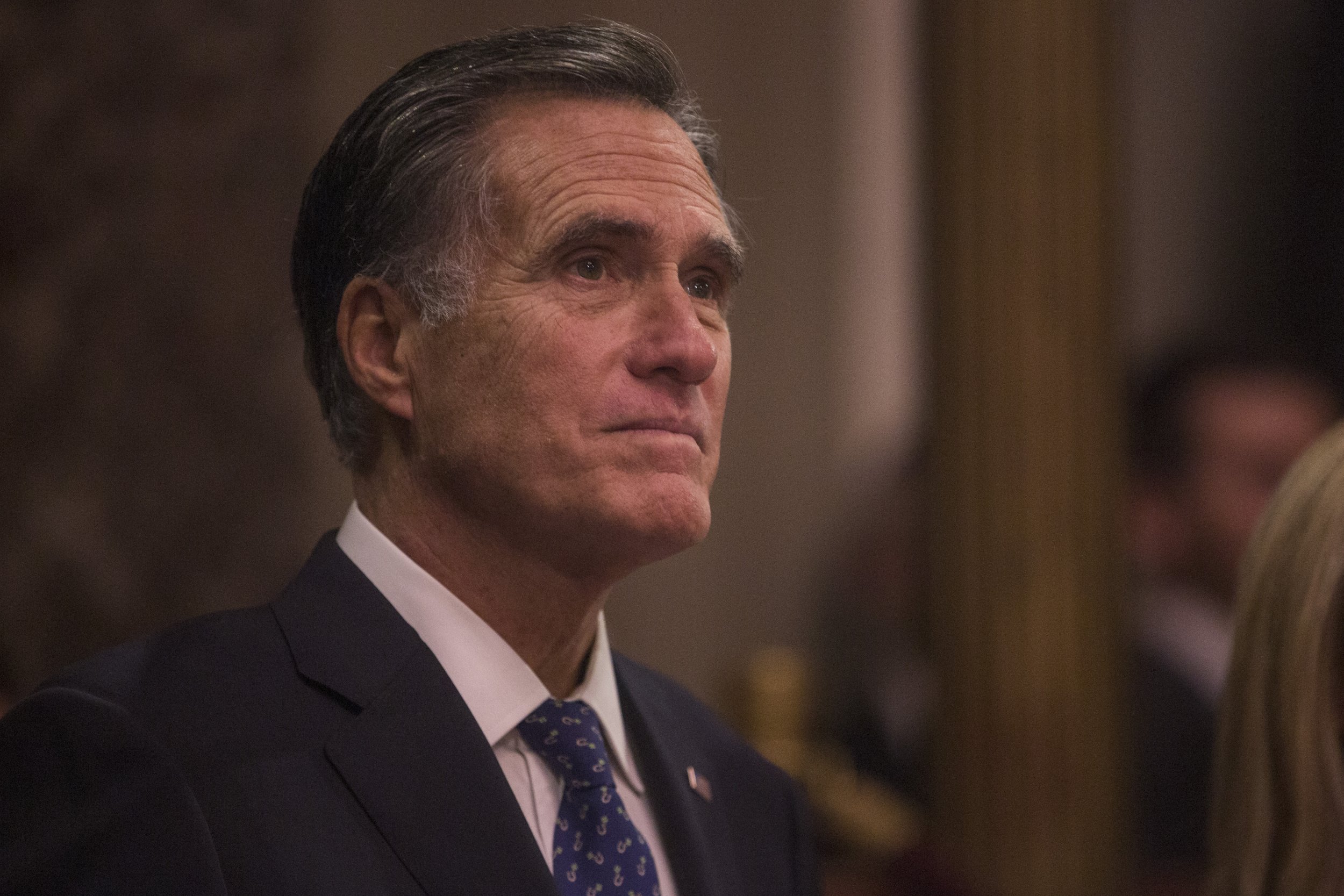 Late-night hosts Jimmy Kimmel and Stephen Colbert performed similar bits about Mitt Romney's birthday cake video on Tuesday.
Romney celebrated turning 72 on Tuesday with a surprise Twinkie cake from his colleagues. Instead of sending well wishes to the Utah Senator and congratulating him on his big milestone, social media users could not stop mocking the way Romney chose to blow out his candles. The Republican leader handpicked each candle and blew them out individually.
CBS's The Late Show with Stephen Colbert and ABC's Jimmy Kimmel Live! equated Romney's behavior to be alien-like.
"Just like Twinkies, Mitt Romney doesn't age and he's even whiter on the inside. But the weird part is Romney blew out the candles by picking them up and blowing them out individually. Ok, that does it. He's a Skrull," Colbert, 54, said as he compared Romney to the shape-shifting alien race from Captain Marvel. "There's no way. Everything he does is like an alien googled 'How to do a normal.' 'Do I blow out the flaming wax cylinder with air flow or am I to ingest them within the mouth region? Either way, fun!'"
Kimmel suggested the world has learned "more about Mitt Romney from this video than the entire campaign from 2012." Like Colbert, he mocked the way Romney chose to blow out his candles "not all at once but one by one like an alien to our planet."
"It'll be time for his next birthday by the time he finishes," Kimmel, 51, said. "Look, Twinkies really are the perfect Mitt Romney snack. White on the outside, even whiter on the inside."
Jokes aside, Romney was thrilled by his colleagues's Twinkie cake creation. "Oh my goodness, what I've always wanted," Romney said in a video he posted to Twitter on Tuesday.
"Look at that! Holy cow, that's fantastic. Wow, what are you guys going to have?" he continued to say, picking up the candles individually to blow them out. "These are all the wishes I'm getting. All these wishes."