Colbert Imagines How Trump Would React to Another 'Radical Leftie' — Jesus
Tuesday's episode of The Late Show With Stephen Colbert produced a moment that still has people talking. The show did not hold back its biting social commentary against President Donald Trump, this time bringing Jesus into the mix. Colbert was no fan of Trump spreading the conspiracy theory about peace activist Martin Gugino staging his own injury against the Buffalo Police Department.
Last week, the Buffalo police were caught on video as they shoved Gugino to the ground. Police were recorded looking on as, on the ground, Gugino's head started bleeding. The two Buffalo police officers who shoved the 75-year-old protester have been suspended and charged with assault.
During yesterday's response to Gugino's attack, Trump claimed the Buffalo protester faked the whole incident because he was "an ANTIFA provocateur." Trump also accused ANTIFA of allegedly sabotaging police scanners and blocking communications. After watching the viral video, Trump accused Gugino of falling "harder than was pushed."
During last night's monologue, Colbert mentioned Gugino was actually a member of the nonprofits, Western New York Peace Center and PUSH Buffalo. Not only is Gugino invested in protecting human rights, he is also fighting for affordable housing.
In reaction Trump's allegations, the former Daily Show comedian imagines how the 45th president would have responded if it had been Jesus who was pushed by the police and joked that he didn't think Trump's response would be that different. The Late Show "Hey, what do you expect? Jesus was a radical leftie. No shoes. No property. Redistributed all the loaves and the fishes."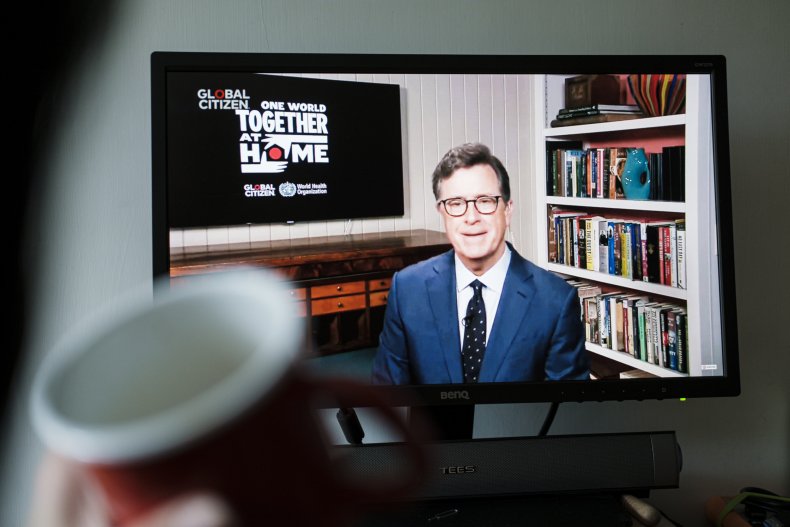 "And I heard he was crucified harder than he was nailed! ANTIFA!" Joked Colbert.
It is important to know that theology isn't something Colbert takes lightly. In fact, he has been very open about being a practicing Roman Catholic. But it wasn't always that way, in fact, for many years Colbert was an out and proud atheist. That all changed when he was 22, and he told America Magazine, a Jesuit review, all about it in an interview.
Colbert described feeling anxious about his life and opening the Bible at random and found himself reading a section from the 'Sermon on the Mount': "Therefore I tell you, do not worry about your life, what you will eat or drink; or about your body, what you will wear. Is not life more than food, and the body more than clothes? ... Can any one of you by worrying add a single hour to your life?"
"I was absolutely, immediately lightened," said Colbert about the experience. "I stood on the street corner in the cold and read the sermon," he said. "And my life has never been the same."