Colbert Lets Rip on Melania Trump: 'It Is the Position of This Office That the First Lady Will Cut a Bitch'
Comedian Stephen Colbert ripped into Melania Trump and her staff on Tuesday night's Late Show after the first lady, in an unusual move, publicly called for Mira Ricardel—one of the President's top national security aides—to be fired.
The first lady and her team reportedly clashed with Ricardel—who was hired in April by John Bolton—over seating on a plane during Melania Trump's recent trip to Africa, as well as the use of National Security Council resources.
It has also been reported that Ricardel has strained relationships with Secretary of Defense Jim Mattis and White House Chief of Staff John Kelly.
"Once again Trump wants to fire somebody, but in a refreshing change of pace it's not Donald," Colbert said. "Because today we found out that in a stunning move, first lady Melania Trump is calling for the firing of Deputy National Security Adviser Mira Ricardel.
"I assume Melania's doing it with her traditional goodbye gift—a jacket that says, "U don't really work here anymore do U?" he joked, referencing a jacket the first lady wore ahead of a visit to unaccompanied migrant children earlier this year which was emblazoned with the slogan "I really don't care, do U?"
Colbert went on to talk about a Wall Street Journal article which reported that Melania Trump's team thought Ricardel was leaking negative stories to the press.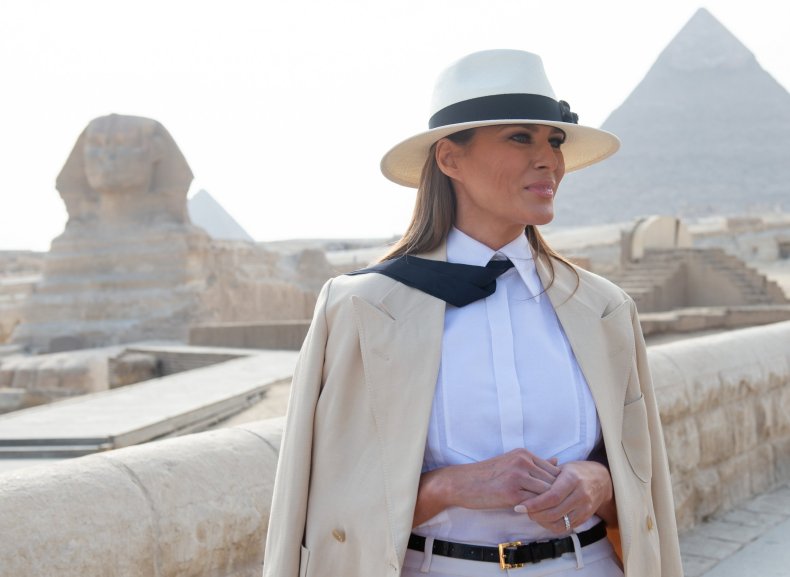 "Apparently, the first lady's team "suspect Ms. Ricardel is behind some negative stories behind Mrs. Trump and her staff," although an anonymous inside source is quoted as saying "No, I'm not. I mean she's not! Whatever, I gotta pack my stuff," Colbert joked.
The presenter then quoted another "blistering" statement from the first lady's spokesperson, Stephanie Grisham, which reads: "It is the position of the Office of the First Lady that she no longer deserves the honor of serving in this White House."
Colbert responded, "That is a classy way to diss somebody," before mimicking the voice of the spokesperson and saying: "Furthermore, it is the position of this office that the first lady will cut a bitch."