Stephen Colbert mocked Melania Trump's jacket on Thursday. In case you missed it, the first lady wore a coat that read "I really don't care, do u" before going to visit undocumented-immigrant children separated from their parents at a detention center near the U.S.-Mexico border.
The host of The Late Show on CBS wasn't about to the wardrobe choice slide.
"The story of the week has been Donald Trump's pro-baby-snatching agenda," Colbert began. "And today it took another weird turn. Because to try to humanize these child detention centers, the administration sent their most high-profile detainee: Melania Trump."
The show cut to a clip of the first lady saying she planned to figure out how she could help the kids who were detained.
"Ma'am, I know how you can help," Colbert said. "Unfortunately, it involves speaking to your husband, but desperate times call for desperate measures."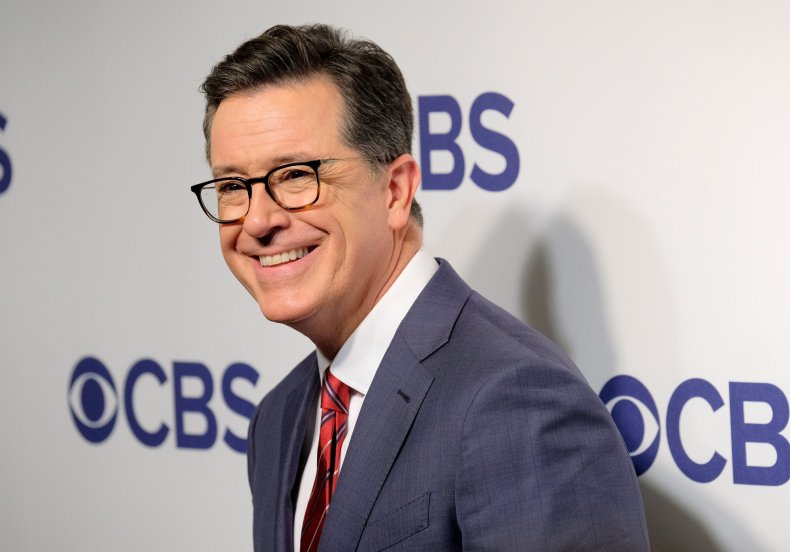 Colbert then cut to the photos of Trump in the jacket that read, "I really don't care, do u," adding that the show's staff checked to make sure it wasn't fake "so many times" because it seemed so impossible that it was real.
"That's what they settled on?!" the host said. "What was her first choice, a jacket that says 'womp, womp?'"
"Womp, womp" is a reference to former Trump campaign manager Corey Lewandowski, who—in a segment aired by Fox News—said that phrase in response to hearing the story of a 10-year-old girl with Down syndrome who was reportedly separated from her mother.
The first lady's spokeswoman, Stephanie Grisham, responded to the jacket story.
"It's a jacket," she told Newsweek on Thursday. "There was no hidden message. After today's important visit to Texas, I hope the media isn't going to choose to focus on her wardrobe."
Colbert responded to the comments from Grisham about there being "no hidden message."
"Right! It's definitely not hidden," he said. "It's right on the back. And I'm going to guess this was one message she did not steal from Michelle Obama."