Colbert Uses 'Bird Box' Parody to Mock Trump's Border Control Speech
Stephen Colbert is no stranger to criticizing President Donald Trump. After the former reality star gave a controversial Oval Office address to urge funding for a border wall amid the partial government shutdown, Colbert targeted Trump with a parody of Netflix's popular horror thriller Bird Box.
Starring Oscar winner Sandra Bullock, Bird Box centers on what happens after an unidentified force wipes out most of humanity. Malorie (Bullock) has to do whatever's necessary to survive in the postapocalyptic world five years after the initial attack, with a pair of young children by her side. However, once they enter the outside world, they must remain blindfolded to stay alive.
On Tuesday, The Late Show With Stephen Colbert drew on the terrible realities presented in Trump's speech by relating them to the terror depicted in Bird Box. In doing so, the brief segment was called Bird Box Part 2. The parody sketch opened in the same fashion as the Netflix film, which begins with Bullock speaking to her children—a boy and girl—about the dangers outside.
"Listen to me, I am only going to say this once," the woman in the skit began, "Under no circumstance are you allowed to take off your blindfold. If you take it off, I will hurt you. Do you understand? The president is making a speech tonight about the crisis on the border."
The young boy responded, "There's a crisis?" To this, the mother simply suggested that there "was no crisis."
"The point is, the speech will be so insane that if you watch it, you will want to hurt yourself. Do you understand?" the mom said as the kids nodded their heads in agreement. After the mother instructed them to put on their blindfolds, the young boy said, "Shouldn't we mute the TV so we can't hear it?"
"Oh my God. OK, find the remote," the mother urged. "Find the remote."
The Bird Box parody debuted after Trump's headline-making address Tuesday night. During his eight-minute speech, he stood by his promise to build a wall along the border between the United States from Mexico. He argued that the border situation was a "humanitarian crisis, a crisis of the heart and a crisis of the soul."
"My administration has presented Congress with a detailed proposal to secure the border and stop the criminal gangs, drug smugglers and human traffickers. It's a tremendous problem," he said. "Our proposal was developed by law enforcement professionals and border agents at the Department of Homeland Security. These are the resources they have requested to properly perform their mission and keep America safe. In fact, safer than ever before."
Minutes after his speech, House Speaker Nancy Pelosi and Senate Minority Leader Chuck Schumer gave a rebuttal address. "President Trump must stop holding the American people hostage, must stop manufacturing a crisis and must reopen the government," Pelosi said.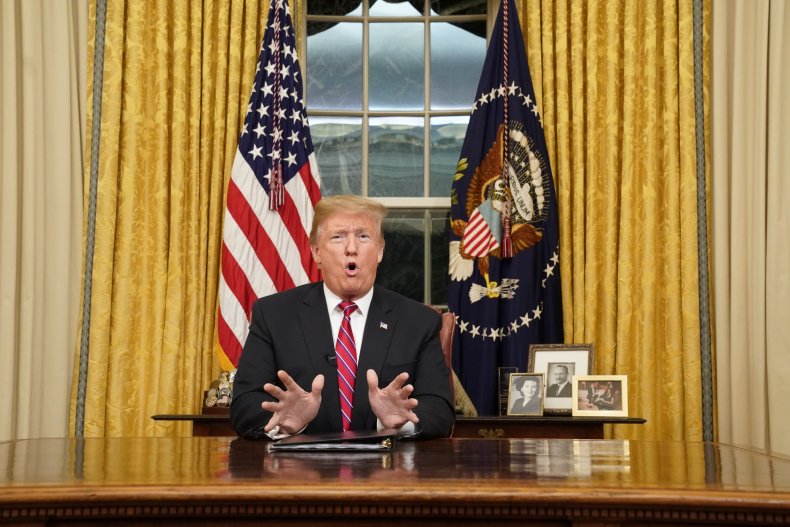 Colbert Uses 'Bird Box' Parody to Mock Trump's Border Control Speech | Culture