Cold Stone Employee Fired After Woman Says Kids Were Discriminated Against for Not Wearing Masks
A Cold Stone employee said she was fired from a store in Leavenworth, Washington following a confrontation with a customer last week over a face mask requirement.
The employee, identified as Paris Kaye, received news of her termination over text message and the customer, identified as Michelle Logan, received a Cold Stone gift card, according to iFIBER One News.
"Yes, I could've handled the situation more professionally but I don't think we should normalize the idea that 'the customer is always right' even when they're harassing employees," Kaye told the news outlet. "We had received so many customers refusing to comply with STORE POLICY and yelling at us for something we can't control."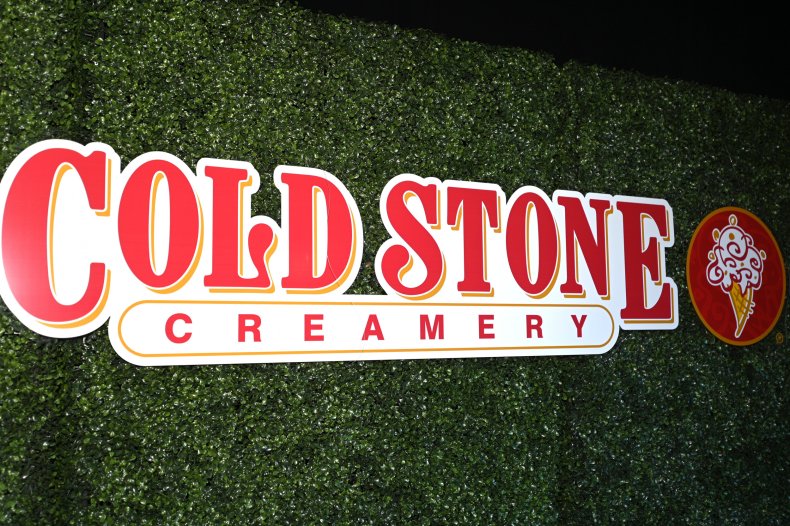 A video Logan recorded of the incident began spreading online this week. In the video, Logan can be heard asking why her children, whom she said had been covering their faces using sweatshirts, were asked to leave the store. Another employee explained the store owner required all customers to wear masks specifically while inside.
"The governor said a face covering," Logan said in the video. "It could be a scarf, it could be a bando, it could be anything as long as your face is covered. And my kids had their face covered, and they came here wanting ice cream, and you kicked them out after they waited for 15 minutes in line with their faces covered.
"You discriminated against kids," Logan told the employees.
Kaye can then be seen stepping in to dispute Logan's allegations of discrimination.
"We asked every person who did the same thing that your kids did today to leave the store," Kaye said. "We're just following what the owner of this store prefers. If you have a problem with that, then don't come to the store."
Though federal officials recommended Americans wear face coverings early in the country's fight against the coronavirus pandemic, a handful of states with spiking numbers of new cases recently began issuing stricter mandates. In Washington, where state health officials reported a total of 32,824 cases and 1,332 deaths by Monday, June 29, Governor Jay Inslee and Secretary of Health John Wiesman last week said face coverings that cover the nose and mouth must be worn in both indoor and outdoor public spaces. Stores like Cold Stone that allow customers to go inside are covered by the rule.
"As necessary economic activity increases and more people are out in their communities, it is imperative that we adopt further measures to protect all of us," Inslee said during a news conference announcing the mandate. "Until a vaccine or cure is developed, this is going to be one of our best defenses."
The order said acceptable face coverings included handmade and factory-made masks, as well as "multiple layers of fabric tied around the head."
Newsweek reached out to Cold Stone for comment but did not receive a response in time for publication.