'Cold War Is Back' As U.S. Trains Fighter Jets, Russia Practices Shooting Them Down in Europe
The top United Nations official has warned that relations between the U.S. and Russia have worsened to Cold War-era levels, and potentially much worse, as the two lead dueling military drills and diplomatic offensives.
U.N. Secretary-General António Guterres told Swedish television station SVT that the world has noted "the Cold War is back" but several major differences exist between the situation now and Washington and Moscow's decades-long struggle for political influence that defined much of the 20th century's second half. As the world's two leading military powers again contend for global power, especially in Europe and the Middle East, Guterres explained how this conflict appears to be even more reckless than the last.
"First, the United States and Russia do not control everybody, like it was the case in the Cold War," he said. "We have a number of countries that are very active in the region—Turkey, Iran, Saudi Arabia and others. It is clear that there are not two homogeneous well-controlled blocs," Guterres said, as translated by Russia's state-run Tass news agency.
"Second, during the Cold War there were mechanisms of dialogue, of control, of communication to make sure that whenever there was a risk of confrontation or incidents, things would not get out of control. These mechanisms today do not exist," he added, expressing hope about some recent steps toward de-escalation.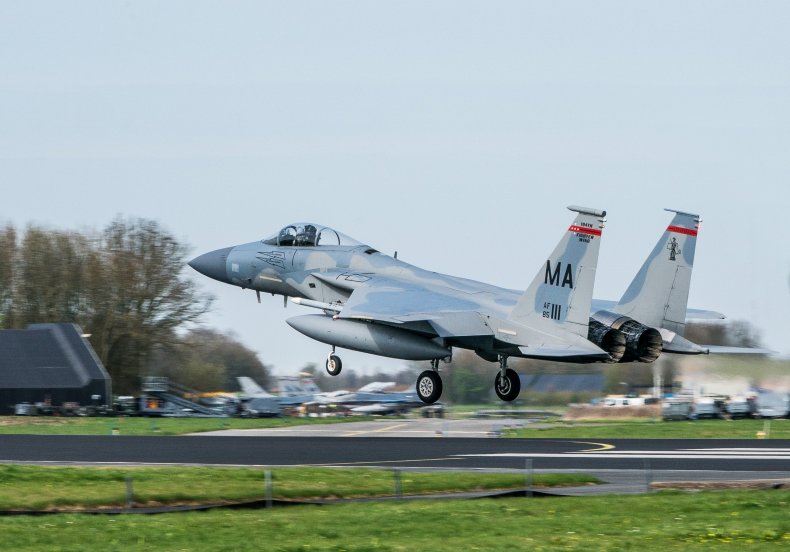 Eastern Europe has been the front line in a growing rift between the West and Russia since Moscow annexed the Crimean Peninsula in 2014 during unrest in Ukraine. Russia argued that the move was necessary to protect the largely ethnic Russian population as a political uprising toppled the pro-Kremlin government in Kiev, but the U.S.-led military alliance NATO saw it as an attack on Ukraine's sovereignty.
Both NATO and Russia have expanded their military capabilities along the borders of Eastern Europe, especially the Baltic states and Poland, and have increased the size and tempo of military drills. A dozen U.S. F-15 Eagle jets joined more than 50 aircraft from six fellow NATO countries for the Frisian Flag 2018 exercise, which took place over the past two weeks in the Netherlands.
Related: U.S., Russia and China respond as North Korea's Kim Jong Un freezes nuclear tests
Meanwhile, in Russia more than 1,000 personnel and 100 aircraft began a series of drills on Monday, practicing over 50 different kinds of missions in the Western Military District. The drills involved Sukhoi Su-27, Su-30SM and Su-35 fighter jets; Su-34 fighter-bombers; and Mil Mi-24, Mi-28N, Mi-35 and Kamov Ka-52 attack helicopters.
Under the supervision of Western Military District Air Force and Air Defense Commander Lieutenant General Alexander Duplinsky, the air force will train for repelling air attacks, conducting reconnaissance and launching "massive air strikes" on simulated ground targets, according to the Russian Ministry of Defense.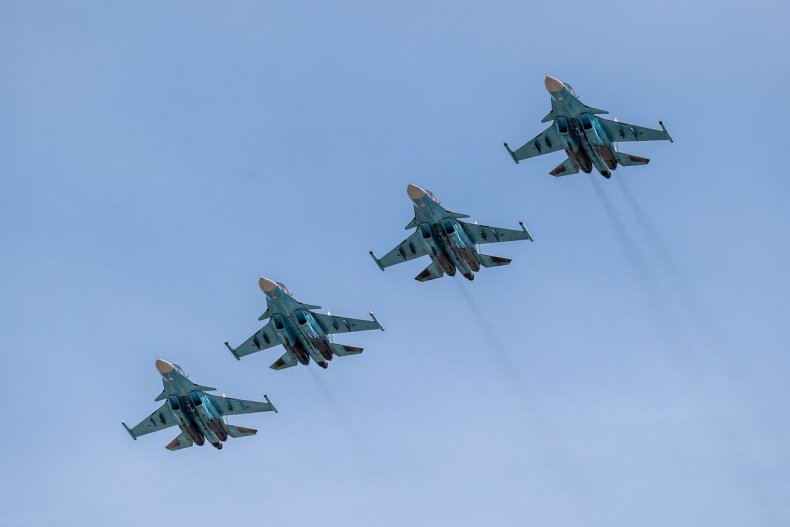 Despite pledging to enhance their countries' ties, President Donald Trump and Russian President Vladimir Putin have so far failed to achieve any major rapprochement. Washington lawmakers have continued to push for sanctions against Russia as punishment for its attempts to influence the 2016 election in Trump's favor, as well as its suspected role in a nerve agent attack last month against an ex-Soviet spy in the U.K. Another reason for sanctions is the alleged toxic gas attack conducted earlier this month by the Russia-backed Syrian military against what was the last rebel-held region of eastern Ghouta, near Damascus.
The tensions threatened to erupt into violence between the rival powers as Trump warned he was considering military action against the Syrian government and Russia vowed to retaliate if its own personnel was threatened. The U.S. went through with the attack, enlisting its French and U.K. allies, and struck three sites suspected to be involved in chemical weapons production. Russia condemned the move but it did not strike back, saying it provided the U.S. with "red lines" it was not allowed to cross during the operation.