Cold Weather System to Cover West and Pacific Northwest in Snow
Several U.S. States are under winter storm watches for this weekend as a cold-weather system brings widespread snow for the West Coast and Pacific Northwest.
According to the National Weather Service (NWS), tomorrow and Saturday will see the heaviest snowfall, especially for higher elevations.
Heavy Snow for California and Pacific Northwest
The northern Sierra and southern Cascade mountain ranges, Coast Range, and portions of the Sierra Foothills this weekend will see snow develop on Saturday, with it becoming moderate to heavy at times during the night through to Sunday evening, according to NWS. Mountain travel will become difficult and hazardous beginning Saturday and continuing into Monday. The weather service recommends those who are traveling should plan accordingly and keep up to date with the latest forecast.
Snow accumulations will range between 2 to 4 feet above 4,000 feet, with locally higher amounts possible. Local accumulations of 4 to 8 inches possible down to around 2,500 feet, according to the NWS. Wind gusts will range between 40 to 60 miles per hour over the Sierra crest.
The Pacific North West is also under watch as "big changes" are set to arrive tomorrow. According to the NWS, moderate to locally heavy snow accumulations are possible along the East Slopes of the Cascades into the northern valleys and mountains tomorrow morning through Saturday morning. Winds could gust as high as 50 miles per hour in the North Idaho Panhandle and Columbia Basin.
In the Mission Ridge area, local total snow accumulations of up to 15 inches are predicted, with valley roads becoming briefly snow-covered from tomorrow morning. By Saturday morning, the NWS forecasts that temperatures will plummet as snowfall increases.
Blizzards Predicted for Montana
A winter storm watch is in effect for several areas in Montana with heavy snow forecast, according to the NWS. From tomorrow afternoon through to Saturday night, total snow accumulations of between 4 to 6 inches are forecast for Musselshell, Golden Valley, Judith Gap, and Southern Wheatland, says the weather service. Gusty winds will also cause blowing and drifting snow, creating poor visibility.
The NWS also says that very cold air and gusty winds will combine to create bitterly cold wind chills during the weekend nights.
Portions of north central Montana, total snow accumulations of 10 to 16 inches are possible from late today until Saturday afternoon. According to NWS, "dangerously cold" wind chills as low as 45 below zero could cause frostbite on exposed skin in as little as 10 minutes.
For the Kootenai and Cabinet regions, total snow accumulations of 5 to 7 inches in the mountains and 1 to 4 inches in the valley are possible. Winds could gust as high as 40 miles per hour, the NWS says, with pockets of blowing snow and wind chills down to 20 degrees below zero.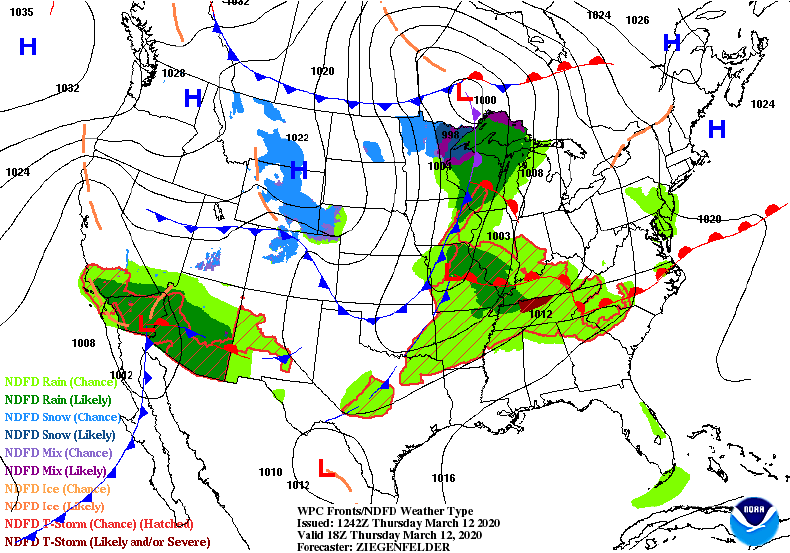 For travelers, from tomorrow morning through to Saturday morning Highway 2 Kalispell to Libby, Highway 37 Eureka to Libby, Highway 56 Bull Lake Road and Highway 93 Eureka to Whitefish could see very difficult conditions. The NWS forecasts that areas of blowing snow could significantly reduce visibility. Sub-zero temperatures could cause frostbite on exposed skin in as little as 30 minutes, meaning in the event of becoming stranded people need to be prepared. Read this winter survival kit before traveling this weekend.
The West Glacier region is also under a winter storm watch between tomorrow a.m. and Saturday morning, with total snow accumulations of 6 to 9 inches in the higher terrain and 2 to 6 inches in the valley. Local damaging winds of 45 miles per hour are predicted, creating blowing snow and frozen areas on roads such as Highway 83 Bigfork to Swan.
Colorado, Utah and Nebraska snowed under throughout Friday
Heavy snow is forecast for above 8,500 feet with total accumulations ranging between 7 and 14 inches, the NWS says. The La Sal and Abajo Mountains in Utah and the southwest San Juan Mountains in Colorado could see winds gust as high as 35 miles per hour. A watch is in effect throughout tomorrow with travel being very difficult over any high passes.
In Nebraska, areas such as Loup, Garfield, Valley, Sherman, Dawson and Buffalo have a winter storm watch in effect from tomorrow afternoon through Saturday afternoon. According to the NWS alert, heavy snow is possible with total snow accumulations of 4 to 6 inches possible. Anyone planning to travel in these areas should plan on slippery road conditions leading to hazardous travel.
For the latest travel updates in the State, dial 511 or visit the State's Department for Transport website.