Buffalo Bills wide receiver Cole Beasley recently offered to buy tickets for an unvaccinated fan following the team's announcement of its new COVID-19 vaccine policy to attend games.
On Tuesday, the Bills and Highmark Stadium announced that in order to attend games, fans 12 and older will be required to show proof of COVID-19 vaccination. According to the announcement, for games on September 26 and October 3, fans will be allowed inside if they show proof of one COVID-19 vaccine dose, but starting on October 31, fans will be required to be fully vaccinated to enter the stadium.
The announcement also noted that a negative COVID-19 test will not be accepted.
"We've worked collaboratively with the county over the last several weeks, months, all throughout the pandemic," Pegula Sports and Entertainment Executive Vice President Ron Raccuia said in the announcement. "We are looking to provide the safest environment for our fans that we possibly can. We're thankful for this collaboration. We feel like this is the right move going forward."
Shortly after the team announced the new COVID-19 vaccine policy, a fan tweeted at Beasley saying that while he already bought tickets to a Bills' game in December, he will be unable to attend because he is not vaccinated.
"@Bease11 sad day for me as a Buffalo fan. I was bringing my 10 year old daughter to her first game in December all the way from Albuquerque. Already bought tickets. I won't get the shot so now I don't know what to do. I probably need to sell the tickets and find an away game," Twitter user Chris Hauquitz wrote in a tweet.
In response, Beasley wrote, "If you find an away game you are able to go to then I will buy the tickets for you guys. DM me names and every thing snd [sic] I'll figure out the best way to make it happen. Wish she could witness the mafia!"
Beasley has been vocal about his stance against receiving a COVID-19 vaccine, despite the NFL's strict protocols for players that are unvaccinated.
In addition to Beasley, Bills long-snapper Reid Ferguson also offered to purchase a fan tickets for an away game. Twitter user Jordan Larrington tweeted at Ferguson, saying, "I guess the new rules for the stadium will keep me out. I guess I'll have to watch @SnapFlow69 from the parking lot if I even go to Buffalo now..."
Ferguson then responded by saying, "I hear you brother. If you can find your way to an away game this year, tix are on me."
Newsweek reached out to the Bills for comment but did not receive a response in time for publication.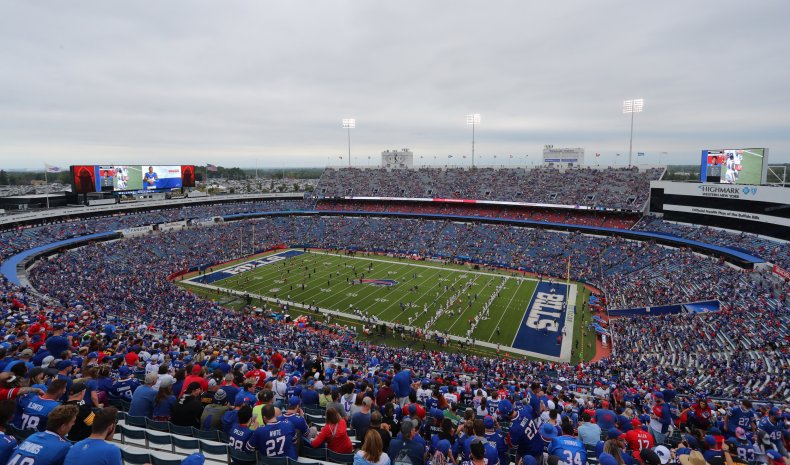 Uncommon Knowledge
Newsweek is committed to challenging conventional wisdom and finding connections in the search for common ground.
Newsweek is committed to challenging conventional wisdom and finding connections in the search for common ground.
About the writer
Matthew Impelli is a Newsweek staff writer based in New York. His focus is reporting social issues and crime. In January 2023, Matthew traveled to Moscow, Idaho where he reported on the quadruple murders and arrest of Bryan Kohberger. Matthew joined Newsweek in 2019 after graduating from Syracuse University. He also received his master's degree from St. John's University in 2021. You can get in touch with Matthew by emailing m.impelli@newsweek.com. Languages: English.