Coleen Rooney and Rebekah Vardy: U.K. Soccer Wives at War and Britain is Going Wild on Twitter
U.K. Twitter erupted Wednesday not over Brexit but a war of words between soccer wives Coleen Rooney and Rebekah Vardy and the curious case of leaked tabloid stories taken from Rooney's Instagram Stories.
On Wednesday morning, Rooney, wife of former England soccer captain and current Major League Soccer player Wayne Rooney, accused fellow soccer wife and girlfriend—or WAG, as they're known in the U.K.—of selling stories from her private Instagram Stories to a British newspaper.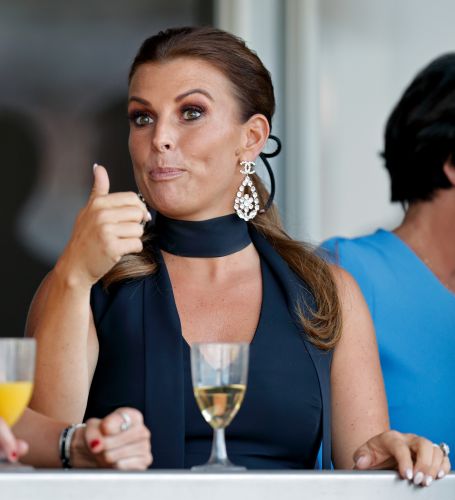 "For a few years now someone who I trusted to follow me on my personal Instagram account has been consistently informing The Sun newspaper of my private posts and stories," wrote Rooney in a statement on Twitter.
"There has been so much information given to them about me,my friends and my family - all without my permission or knowledge.
"After a long time of trying to figure out who it could be,for various reasons, I had a suspicion."
Rooney explained that she laid a trap to find the culprit of the leaked stories—planting "a series of false stories to see if they made their way into the Sun newspaper." Rooney said she made the posts accessible to just one person: Rebekah Vardy.
Rooney wrote: "It's been tough keeping it to myself and not making any comment at all, especially when the stories have been leaked; however, I had to. Now I know for certain which account/individual it's come from.
"I have saved and screen-shotted all the original stories which clearly show just one person has viewed them.
"It's ... Rebekah Vardy's account."
In a response on Twitter, Rebekah Vardy, whose husband is Leicester City F.C. striker Jamie Vardy, denied the claims telling Rooney "what would I gain from selling stories on you?"
Vardy said she is "disgusted that I'm even having to deny this" and said she wished Rooney had called her with her suspicions instead of publicizing them on Twitter.
U.K. Twitter goes wild over Coleen Rooney and Rebekah Vardy feud
The public argument between the two soccer wives was the talk of Twitter Wednesday morning, with many users joking that Rooney should become an investigator or be awarded for her investigative journalism skills.
"If Coleen Rooney doesn't become a private investigator and use RNEY as her logo then she has squandered a golden opportunity," said one viral tweet.
Netflix U.K. responded: "we're going to have to make a documentary about this, aren't we"
See more humorous tweets below:
Rooney's husband Wayne Rooney plays for MLS team D.C. United.