Donald Trump Urged to Testify in Impeachment Trial By SNL's Colin Jost
On Saturday Night Live's Weekend Update segment, anchor Colin Jost urged former president Donald Trump to testify at his upcoming impeachment trial.
Trump's Senate trial begins Tuesday. He is charged with inciting a violent mob of supporters that stormed the U.S. Capitol on January 6.
Earlier this week, House Democrats asked the former president to testify under oath. Trump adviser Jason Miller has said that Trump won't testify while his lawyers have dismissed the request as a publicity stunt.
But on Saturday night, Jost suggested reasons why Trump—who he dubbed a "former social media influencer"—should reconsider.
"Former social media influencer Donald Trump will not testify at his impeachment trial next week and I think I speak for all of us when I say, come on, please?" Jost said.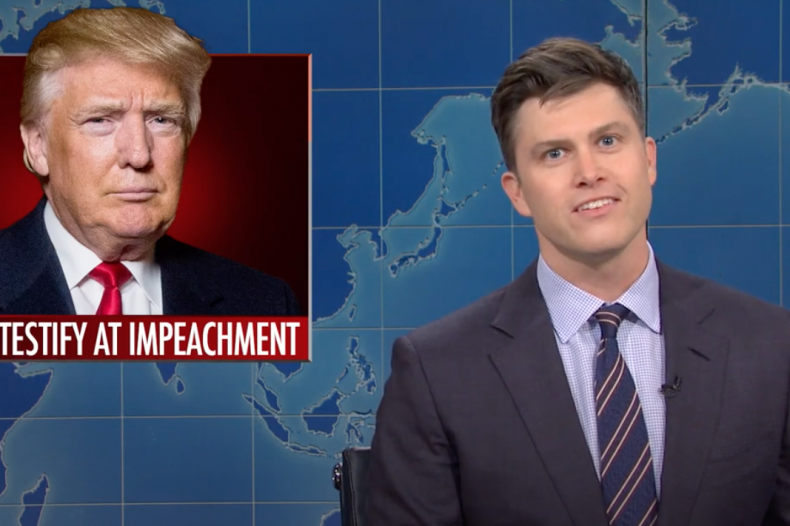 He continued: "Give us one last show, man! You know, stop feeling sorry for yourself, put in your extensions and burst into that trial like it's Maury Povich and you are not the father."
Jost suggested the trial could be an opportunity to share the thoughts Trump hasn't been allowed to post on Twitter since his account was permanently suspended last month.
"Come on, think about it, you can yell out all the tweets you haven't been allowed to post for the past month," he said.
"You know, like 'worst inauguration ever, poem barely rhymed' or 'no noms for Tim Allen? #GlobesTooBlack.'"
Jost went on: "Sadly Trump is not going to be doing that, but he will be defended at the trial by the lawyers who refused to prosecute Bill Cosby and who agreed to represent Jeffrey Epstein before his death... which raises the question, what does Trump think he's being impeached for?"
Elsewhere in the segment, Jost's jokes targeted President Joe Biden, Senate Minority Leader Mitch McConnell and Rep. Marjorie Taylor Greene.
"President Biden said Friday that he will move ahead with his $1.9 trillion stimulus plan with or without Republican support," Jost said. "Because this economy needs a massage and Joe Biden isn't waiting for permission."
Then speaking as an image of McConnell was displayed on screen, Jost continued: "Mitch McConnell, seen here ignoring a toddler who fell through the ice, criticized GOP representative and conspiracy theory huffer Marjorie Taylor Greene, saying that her 'loony lies and conspiracy theories' are a 'cancer' for the Republican Party. But keep in mind, Greene believes cancer is a bioweapon created in a secret Jewish lab."
Greene was stripped of her committee assignments by the House this week, after social media posts surfaced that showed she had endorsed conspiracy theories and political violence.