Colin Kaepernick or Cam Newton? Comparing Career Stats of The Two Free Agents Who Had Similar Trajectories
Nationwide protests for racial justice and police reform have led sports figures to bring back talk of kneeling during the national anthem to support the protests. Former NFL quarterback Colin Kaeperninck's name usually resurfaces along with such protests, and many players are calling for an NFL team to sign him.
Kaepernick has not started an NFL game, or appeared on any roster, since the 2016 season. It was during preseason of 2016 when Kaepernick began kneeling during the national anthem to protest police brutality.
"I am not going to stand up to show pride in a flag for a country that oppresses black people and people of color," Kaepernick said in a post-game press conference in 2016. "To me, this is bigger than football and it would be selfish on my part to look the other way. There are bodies in the street and people getting paid leave and getting away with murder."
There had been teams interested in signing Kaepernick—Seattle Seahawks and Baltimore Ravens in particular—but no team signed him for one reason or another. The Seahawks felt Kaepernick was a starter, but they already had Russell Wilson. The Ravens worried about a PR nightmare and a shellacking at the ticket office, so they backed off.
Now Kaepernick is the talk of football fans who believe he deserves to be back on an NFL team.
However, after a topsy turvy offseason on the quarterback carousel, teams would need to look hard before signing him. Of note, Cam Newton remains a free agent after getting released from the Carolina Panthers.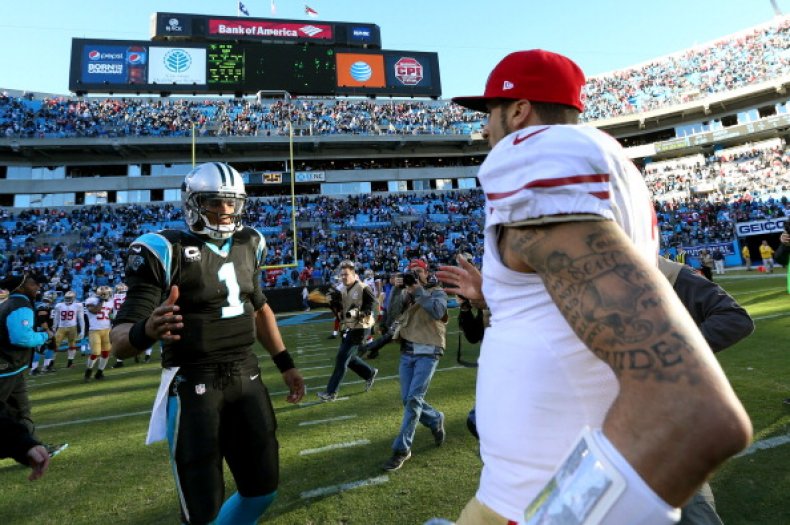 Before looking at a Kaepernick-Cam comparison, here are some of the offseason quarterback moves around the NFL:
Tom Brady went from New England to Tampa Bay
Teddy Bridgewater went from New Orleans to Carolina
Philip Rivers went from LA Chargers to Indianapolis
LA Chargers drafted Justin Herbert in first round
Green Bay Packers drafted Jordan Love in the first round to back up Aaron Rodgers
Cincinnati Bengals drafted Joe Burrow first overall
Miami Dolphins drafted Tua Tagovailoa
Nick Foles went from Jacksonville to Chicago
Marcus Mariota went from Tennessee to Las Vegas
Jameis Winston went from starter in Tampa Bay to backup in New Orleans
That said, here are the comparisons between Kaepernick and Cam Newton.
Age
Kaepernick: 32
Cam Newton: 31
Year/Round Drafted
Kaepernick: 49ers (2011, Round 2, 36th Overall)
Cam Newton: Panthers (2011, First Overall)
College Highlights
Kaepernick: Only NCAA QB to pass for 10,000 yards and rush for 4,000 yards in a career (and still the only one). Guided Nevada to 34-31 win over Boise State in 2010, ending the Broncos' 24-game winning streak.
Cam Newton: Won the 2010 Heisman Trophy and every major quarterback and player of the year award with Auburn while guiding the Tigers to a 14-0 record and national championship. In 2009, Newton guided Blinn College to the NJCAA national championship.
Super Bowl Appearances
Kaepernick: (2012, Lost to Baltimore)
Cam Newton: (2015, Lost to New England)
Major NFL Awards
Kaepernick: None
Cam Newton: 2015 NFL MVP
Career Regular-Season Record
Kaepernick: 28-30 (48% win percentage)
Cam Newton: 68-55-1 (55%)
Career Playoff Record
Kaepernick: 4-2 (66%)
Cam Newton: 3-4 (43%)
Career Passing Yards
Kaepernick: 12,271
Cam Newton: 29,041
Career Passing Touchdowns
Kaepernick: 72
Cam Newton: 182
Career Completion Percentage
Kaepernick: 59.8
Cam Newton: 59.6
Seasons with 3,000-plus passing yards
Kaepernick: 2 in 6 seasons
Cam Newton: 8 in 9 seasons
Career Rushing Yards/Touchdowns
Kaepernick: 2,300 yards/13 TDs
Cam Newton: 4,806 yards/58 TDs
Game-Winning Drives
Kaepernick: 7
Cam Newton: 17