The Patriots Have an Obvious Quarterback Solution That Donald Trump Will Hate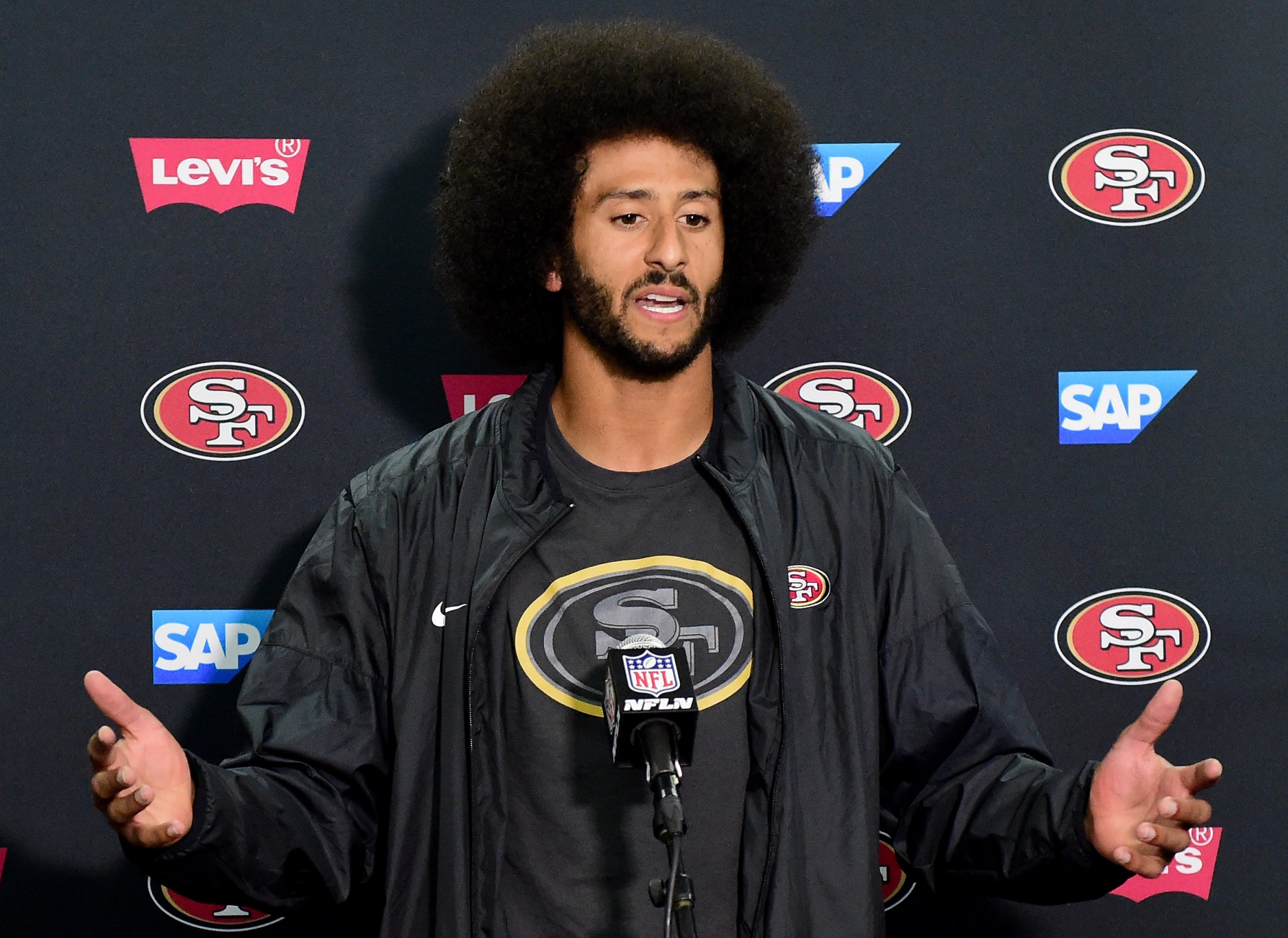 They couldn't, wouldn't do it. Would they? Could they? They might, you know.
After numerous NFL franchises in need of an experienced backup quarterback passed on Colin Kaepernick, for whichever reason you want to believe—because he has been typecast as a troublemaker, because his abilities have been overstated and he would absorb too much of an offensive coordinator's energies with the need to recalibrate a playbook, because of a combination of those reasons, as unfair or plausible as they may seem—he could end up in the most shocking, yet obvious, place of all.
Who in the NFL likes to take the biggest, most calculated risks? The kind whose logic becomes obvious slowly, interminably, and kind of beautifully? Bill Belichick and the New England Patriots, of course.
Belichick did a Belichick on Monday night, sending Jimmy Garoppolo to the San Francisco 49ers in exchange for a second-round 2018 NFL Draft pick. "The coldest decision-maker the game has ever known," was how an eye-opening ESPN piece published Tuesday described him. Garoppolo was no longer content to play backup to Tom Brady, according to reports. The Patriots were probably going to have to use their franchise tag on him to keep him around. Getting what will be a high second-round pick for him made sense.
Right now, the Patriots don't have anyone to back up a 40-year-old Brady. Brian Hoyer, just released by the 49ers, could work. Hoyer has played under Belichick and served as Brady's deputy before. Signing Hoyer would be coldly logical, but also kind of boring. More, "Oh, the Patriots did that," than "Oh hell, what did the Patriots just do?"
Signing Kaepernick would be both cold and deliciously outre. "After [Donald] Trump called protesting players 'SOBs' and suggested NFL owners fire them, Patriots fans were among those who booed kneeling players the next game," USA Today noted in a piece published on Tuesday that argued signing Kaepernick, "makes too much sense not to happen."
Patriots owner Robert Kraft donated $1 million to Trump's inauguration fund, according to Federal Election Commission records released in April. Kraft and Trump are close friends, as CBS reported in a September piece that also contained a strong rebuke from Kraft for Trump's comments made at an Alabama rally in which he said NFL team owners should "fire" players who kneel during the national anthem. "I am deeply disappointed by the tone of the comments made by the President on Friday," Kraft said. "I am proud to be associated with so many players who make such tremendous contributions in positively impacting our communities. Their efforts, both on and off the field, help bring people together and make our community stronger."
There is, of course, the strangely putative friendship between Brady and Trump. "No sports team has been more closely associated with a new president, or perhaps any president, at least since Richard Nixon very publicly adopted the Washington Redskins as his own and even called occasional plays for Coach George Allen," a New York Times piece read in February, in the build-up to Super Bowl 51 in Houston. That Brady and Belichick are friendly with Trump is open knowledge, now treated with coyness in the wake of Trump's election victory. Brady did call Trump's Alabama rally comments "divisive."
Brady also told CBS in September that he believed Kaepernick should still be playing in the NFL. "I've always watched him [Kaepernick] and admired him, the way that he's played he was a great young quarterback," Brady said. "He came to our stadium and beat us and took his team to the Super Bowl. He accomplished a lot in the pros as a player. And he's certainly qualified and I hope he gets a shot."
All of this is to say that none of this matters. If that ESPN profile of Brady, and by association Belichick, taught us anything it's that Belichick is hard-wired to make whatever decision is best for his football team, regardless of whose feelings he hurts in the process. Including Brady's and Kraft's and certainly Trump's. Signing Kaepernick would be cold and logical—classic Belichick.