Fox News Contributor Says Colin Kaepernick Funds 'Terrorists' by Supporting Social Justice Groups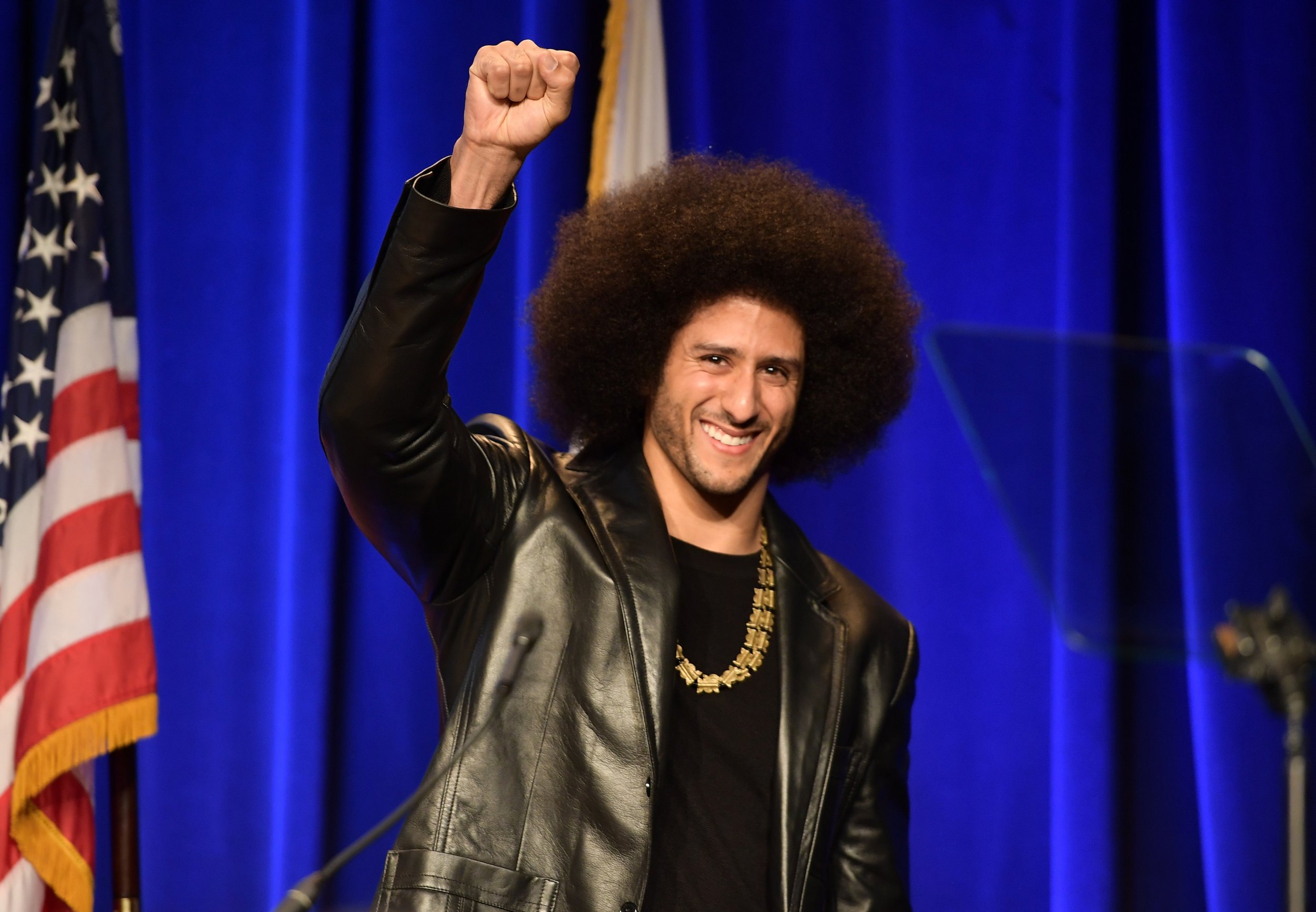 A Fox & Friends contributor last week falsely claimed controversial NFL star Colin Kaepernick "gives money to terrorists" because of the former quarterback's donations to social justice and civil rights groups.
Contributor Kevin Jackson said Kaepernick, who started the movement of NFL players protesting the national anthem by kneeling, did not deserve winning a recent social justice award because of how he spends his money.
"Colin Kaepernick gives money to terrorists," Jackson said in Friday's episode. "So look at the people he has donated money to, these are radicals in many cases. Very anti-American, ethnocentrically racist black organizations."
Jackson did not name any such organizations, likely because there are none to name. Kaepernick has pledged $1 million from his jersey sales to organizations focused on activism, social justice and immigrant rights. Those have included Meals on Wheels; DREAM, a Harlem charter school; the Coalition for the Homeless, an organization offering assistance to homeless people in New York City; and Justice League NYC, an organization opposing child incarceration. Kaepernick lists all of the donations online.
A website tracking the donations says Kaepernick is only $100,000 short of his million-dollar goal. One of the most controversial donations went to a Chicago-based group called Assata's Daughters, which protests police violence and is named after a former Black Panther, Assata Shakur, who was convicted of murdering a New Jersey state trooper. Kaepernick donated $25,000 to the organization, intending for it to support a garden, library, workshop for teenagers and a Cop Watch program. The alt-right website Breitbart slammed Kaepernick for "donating to groups named after cop-killers."
Kaepernick has become a target for conservatives since he started the kneeling protests last year, and he has been unsigned since leaving the San Francisco 49ers. The right-wing anger at him escalated this year after President Donald Trump complained about Kaepernick's protest and called him "a son of a bitch," sparking a running feud between Trump and the NFL over player protests. Kaepernick had said he meant to protest police treatment of black people, but Trump has distorted the demonstration into a supposed attack on the American flag and military.
Fox News dragged Kaepernick a day after Sports Illustrated awarded him its annual Muhammad Ali Legacy Award, which is given to an athlete who embodies "the ideals of sportsmanship, leadership and philanthropy and has used sports as a platform for changing the world."
Jackson complained about the publication's choice, saying it "turned Muhammad Ali's Legacy Award into toilet paper."
"Look, Kaepernick is no Ali," Jackson said. "And the idea that the left continues to want to sell this lie to America, that this man stands for something that supposedly is happening in this country that's not, just shows you that the left will never give up on this narrative."
Former Arkansas governor Mike Huckabee, an avid Trump supporter, took to Twitter on Friday to call out Sports Illustrated for selecting Kaepernick.
"New name for old magazine- @ SInow will become "Sports ELIMINATED." Kaepernick gets Ali award. Heck, I've played in as many NFL games this year as he has, but then he's done a lot to destroy @ NFL so makes sense," Huckabee tweeted.
In an essay explaining Sports Illustrated's decision, writer Michael Rosenberg said Kaepernick has been a victim of political attacks and tricks that have derailed his football career.
"In the last 16 months, Kaepernick's truth has been twisted, distorted and used for political gain," Rosenberg wrote. "It has cost him at least a year of his NFL career and the income that should have come with it. But still, it is his truth. He has not wavered from it. He does not regret speaking it. He has caused millions of people to examine it. And, quietly, he has donated nearly a million dollars to support it."
Kaepernick was also the recipient of the ACLU's Eason Monroe Courageous Advocate Award on Sunday night for speaking out about racial injustice.
Jackson has often appeared on Fox & Friends to criticize Black Lives Matter, the civil rights network that he said should be classified as a hate group.