Colin Kaepernick Says It's A Lie He Would Stand For Anthem If Signed To NFL Team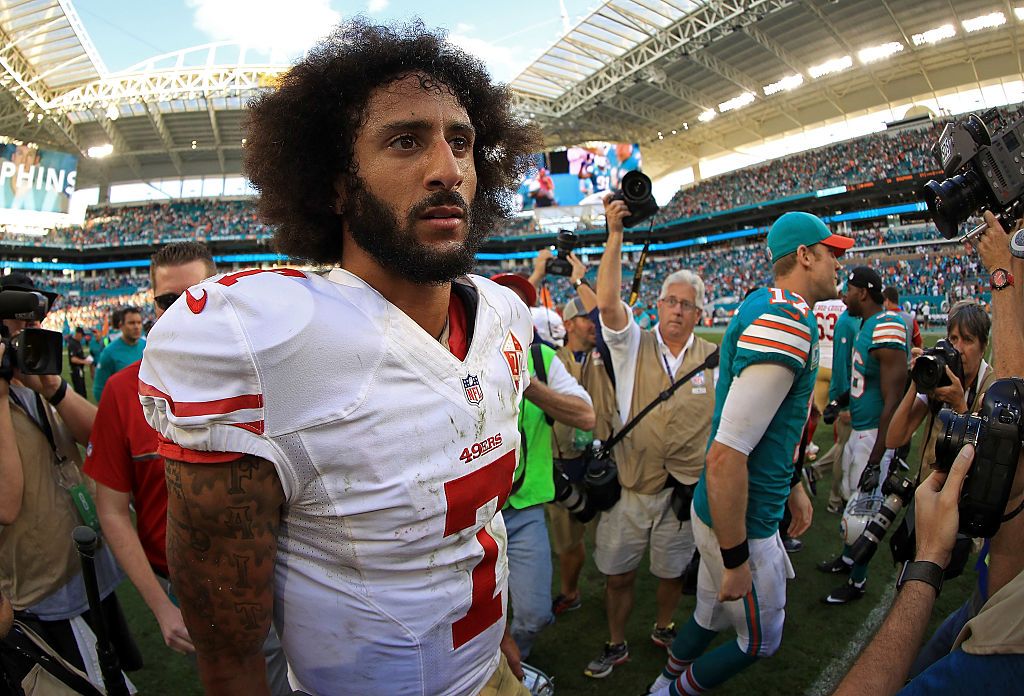 Former San Francisco 49ers star Colin Kaepernick has hit out at a report he would stand for the national anthem if he was offered a spot on an NFL team, deeming it a lie.
Kaepernick, who refused to stand during the national anthem to protest police brutality towards African Americans, was previously a quarterback for the 49ers prior to opting out of his contract.
On Sunday, he responded to a report that said he would stand if he was signed again, writing on social media: "A lie gets halfway around the world before the truth has a chance to get its pants on. Winston S. Churchill."
Kaepernick's girlfriend Nessa Diab also said the report, from CBS Sports' Jason La Canfora that he would be prepared to stand during the anthem should an NFL team sign him in future.
"The reports that Colin will stand for the anthem are completely false! He has never discussed this with anyone," Diab said.
Indeed, La Canfora has dialed back on the report, acknowledging Kaepernick did not specifically mention standing for the anthem during their conversation.
"Standing for Anthem wasn't something that I spoke to Colin about sat. I relayed what had been reported about him standing in the future..." La Canfora wrote on social media.
The issue of peaceful protests by NFL players has dominated headlines in recent weeks, with more than 200 players taking a knee during the anthem several weeks ago.
President Donald Trump has slammed NFL players' decision to protest, stating at a speech in Alabama: "Wouldn't you love to see one of these NFL owners, when somebody disrespects our flag, to say, 'Get that son of a bitch off the field right now. Out. He's fired. He's fired!'"
But NFL players have insisted their protest has nothing to do with the flag, veterans or the national anthem, instead reiterating that the protest is about the treatment of African Americans.
Indeed, when Kaepernick initially refused to stand for the national anthem, he spoke with former Green Beret Nate Boyer who felt it would be more respectful for Kaepernick to kneel if he wished to protest.
"We were talking to [Boyer] about how can we get the message back on track and not take away from the military, not take away from fighting for our country, but keep the focus on what the issues really are," SBNation reported Kaepernick as saying.
"And as we talked about it, we came up with taking a knee. Because there are issues that still need to be addressed and it was also a way to show more respect to the men and women who fight for this country," he added.