Other Players Join Colin Kaepernick in National Anthem Protest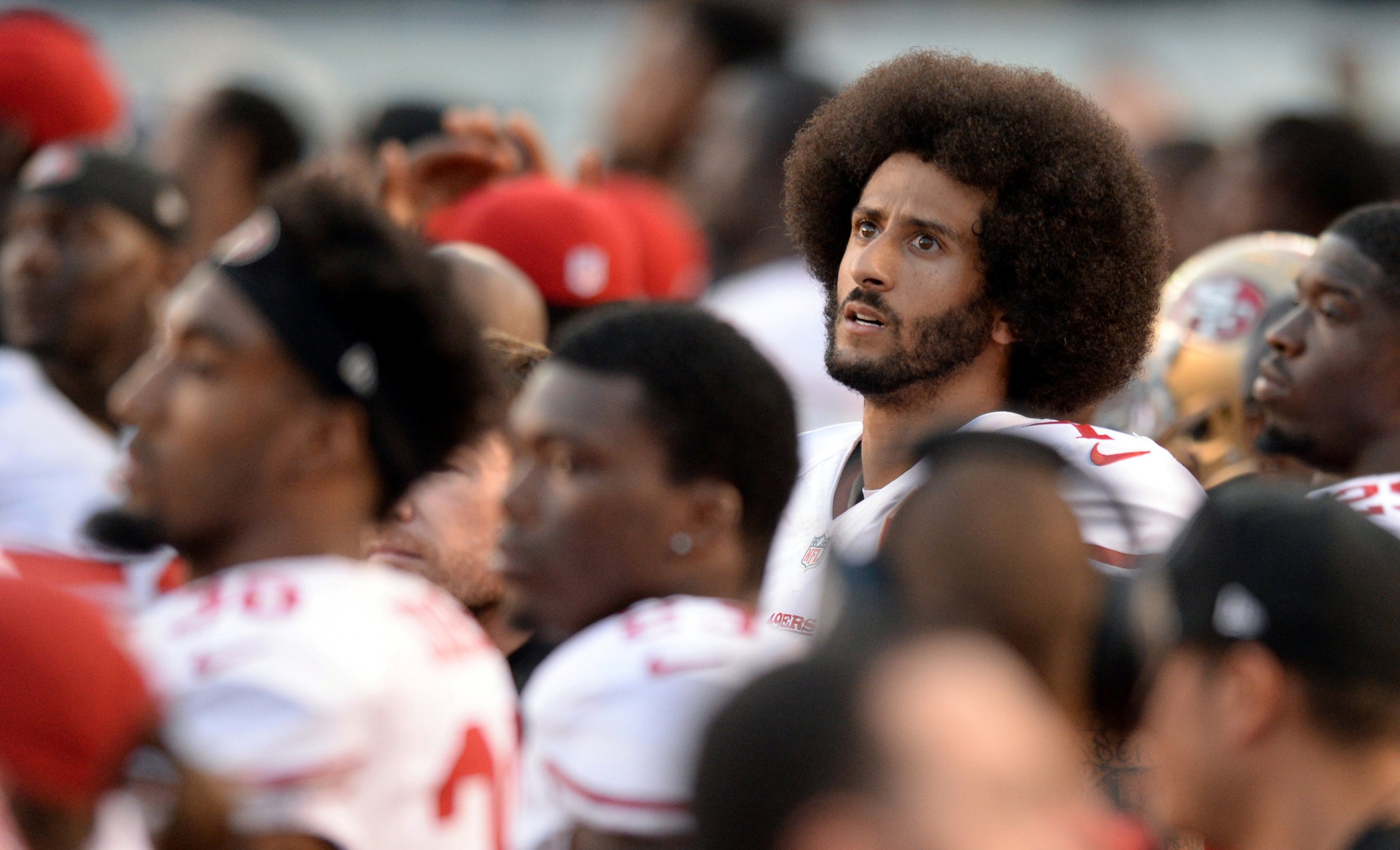 Colin Kaepernick on Thursday night fulfilled his promise to continue his national anthem protest, kneeling as the song was played prior to the 49ers preseason game against the San Diego Chargers. The decision took on added significance, as it was "Salute to the Military" night in San Diego, the home one of the largest Navy bases in America.
While many viewed Kaepernick's refusal to stand during the team's game against the Green Bay Packers last Friday as an affront to the Armed Services, Kaepernick has said his protest is against racial oppression and police brutality in the United States.
In addition to the fierce criticism that was levied against Kaepernick in the week leading up to Thursday's game, he has seen plenty of support. NFL Hall of Famer Jim Brown said he is with Kapernick "100 percent," while many members of the Armed Services showed their support on Twitter with the #VeteransForKaepernick hashtag. He's also received support from several colleagues in the NFL, two of whom joined his protest on Thursday: Seattle Seahawks cornerback Jeremy Lane sat during the anthem before his team's game against the Oakland Raiders, and Kaepernick's 49ers teammate Eric Reid joined him in taking a knee in San Diego.
Kaepernick said after the game that a number of players had reached out to him. "I think there are a lot of conversations happening not only in NFL locker rooms but around the country," he said. "I've also had friends that aren't on football teams say, 'I respect what you're doing, I support you,' and I've had more conversations about human rights and oppression and things that need to change in the last week than I've had in my entire life. And the fact that those conversations are happening is a start."
Kaepernick and Reid's decision to kneel instead of sit on Thursday was intentional. Before the game, they spoke with NFL long snapper Nate Boyer, a former Green Beret who wrote an open letter to Kaepernick following the quarterback's decision to sit down during the anthem last Friday. "We were talking to him about how can we get the message back on track and not take away from the military, not take away from pride in our country but keep the focus on what the issues really are," Kaepernick said of his and Reid's meeting with Boyer. "As we talked about it, we came up with taking a knee because there are issues that still need to be addressed and there was also a way to show more respect for the men and women that fight for this country."
Boyer stood next to Kaepernick and Reed as they knelt during the anthem prior to the game. Though he knelt for the anthem, Kaepernick stood and clapped during military-related tributes throughout the night. "Once again, I'm not anti-American," Kaepernick said after the game. "I love America. I love people. That's why I'm doing this. I want to help make America better. I think having these conversations helps everybody have a better understanding of where everybody is coming from."
Kaepernick started the game at quarterback, and led the 49ers to a touchdown on the game's opening series. He finished 11-18 for 103 yards while rushing for 38 yards on 4 carries.