Trump Will Invite Colin Kaepernick, Kanye West To Race Summit Talks, Outside White House Adviser Says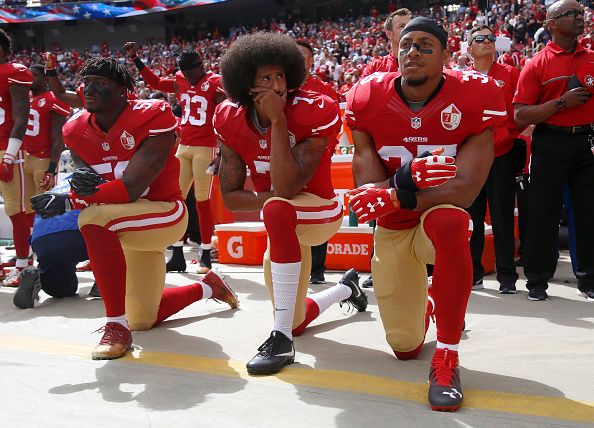 President Donald Trump has invited Colin Kaepernick and Kanye West to meet with him to discuss race, an outside White House adviser says.
Darrell Scott, a pastor from Cleveland, told PEOPLE on Thursday after the ceremony for the National Day of Prayer.
"He is 100 percent for it," said Scott. "He was very enthusiastic about it."
Scott said the event will not just be a "black-only event," and said that the discussion will include a "melting pot" of athletes and musical artists.
"I want people from the left to attend. I want it to get heated but I want it to be respectful," said Scott. "I want them to see and know the Donald Trump I know and they will say, 'This guy isn't who I've been lead to believe he is.'"
West professed his admiration for Trump on Twitter in April, which caused a great deal of backlash for the rapper. He called the president his "brother" and said the two both had "dragon energy."
"You don't have to agree with trump but the mob can't make me not love him. We are both dragon energy. He is my brother. I love everyone. I don't agree with everything anyone does. That's what makes us individuals. And we have the right to independent thought," West tweeted.
Kaepernick and Trump have had an ongoing dispute since the former San Francisco 49ers Quarterback led an outburst of protests when he knelt on the field during the national anthem before an NFL game to honor black people who have died at the hands of police violence. Trump has previously said NFL players who kneel during the anthem should be fired.
"Wouldn't you love to see one of these NFL owners, when somebody disrespects our flag, to say, 'Get that son of a bitch off the field right now, out, he's fired. He's fired,'" Trump said.
Trump has also been slammed for his response to incidents involving race. In January, Trump ranted about immigrants coming from "shithole countries," in Africa and asked why "people from countries like Norway" did not migrate to the U.S. as often. Last year, he called white nationalists "very fine people" during a large rally that broke out in Charlottesville, Virginia.
Scott said the summits will be held at the White House during the summer, with a gathering of musicians for one meeting and an event with athletes for another. Other athletes who are being invited include Mike Tyson, Evander Holyfield, Herschel Walker, and Jim Brown.
"These are guys on the president's side," said Scott.
The news comes right after the White House's announcement of the newly elected board members of the President's Council on Sports, Fitness & Nutrition. Some of the board members include Dr. Oz, New England Patriots Coach Bill Belichick, former New York Yankee Mariano Rivera and volleyball gold-medalist Misty May-Treanor.